David L. Crawford Lifetime Achievement Award
Bob Mizon, United Kingdom Commission for Dark Skies
Bob Mizon has a proven track record in helping inform and influence government policy on artificial light at night in the UK. He has been coordinator of the UK Commission for Dark Skies nearly since its inception in the 1980's and, in this capacity, has worked with both government and industry to attempt to forge closer working ties. Bob was awarded the "Member of the Order of the British Empire," awarded in the Queen's birthday honors list 2010.
as a Member of the British Empire in 2010 for light pollution services, and he was the recipient of IDA's prestigious Galileo Award in 2006.  In addition to his public service,
Bob has also written a number of books on artificial light at night, including Light Pollution: Responses and Remedies, and Finding a Million-Star Hotel: An Astro-Tourist's Guide to Dark Sky Places. Bob has never wavered in his efforts to reduce light pollution, and is an inspiration and example to us all.
---
Hoag Robinson Award
Rod McConnell, Edmonton, Alberta
Rod has been extremely active and successful in reducing light pollution in Canada. His light pollution abatement policies of "Light Efficient Community" (LEC) have been adopted in his hometown, neighboring communities, county governments, and are now being considered at the provincial level of Alberta.  As a young amateur astronomer, Rod became acutely aware of the disappearance of the night sky in1964, which inspired his work to educate others about light pollution and to mobilize them into action.  One of his earliest achievements was to revise Edmonton's lighting polices, laying the groundwork for a new lighting ordinance and, subsequently, the LEC.  Rod remains active and continues his work to reduce light pollution by engaging and mentoring others, sharing his experience and educational resources, and consulting with policy makers to restore the night sky in Canada.
---
Lighting Design Award
Natural History Museum of Utah at the Rio Tinto Center, University of Utah
With special recognition to Ennead Architects (NY), GSBS Architects (UT), and Brandston Partnership (NY)
The Rio Tinto Center, home of the Natural History Museum of Utah, is layered into the foothills of the famed Wasatch Mountains overlooking Salt Lake City and the Great Salt Lake.  According to Museum Executive Director, Sarah George, the museum was designed to be an extension of the natural environment "whose architecture, site, and exhibitions were integrated and conceived as one," says Sarah George, Executive Director, "and always envisioned it as the trailhead to the state of Utah."  The Museum's exterior lighting consists almost entirely of fully shielded shoebox fixtures in the parking lot, louvered path bollards and fully shielded lights by the loading dock. There is no landscape up lighting, and at night the building appears as nothing more than additional contours of the mountain.  A telescope program is offered every Wednesday night and, despite the brightness blight in the city below, the dark-sky lighting of the Rio Tinto Center allows excellent stargazing.
---
Lighting Design Award
Matthias Hahner, IDS Sternenpark Rhon, Germany
Matthias Hahner, Managing Director of Osthessen-Netz, has been awarded the 2016 Lighting Design Award for installation of a sustainable and dark sky friendly lighting on the Wasserkuppe in the IDA Dark Sky Reserve UNSECO Biosphere Rhön, Germany.  The Wasserkuppe is the highest peak in the Sternenpark Rhön, and attracts more than one million visitors each year. The site is also extremely popular for star gazing and ideal for educating the public about light pollution.  Under Matthias' guidance, lighting was installed only where absolutely necessary, limiting the number of luminaires to and requiring them to be full cut-off luminaires with reduce blue light content, and installing smart control technology which switches off at night during the entire summer season.  Not only did the project reduce energy consumption by 90 percent, but it served as a showcase to the media, municipal decision makers and motivated some of Germany's largest lighting companies to build and offer luminaires with amber colored LED.
---
Rising Star Award
Lora Callahan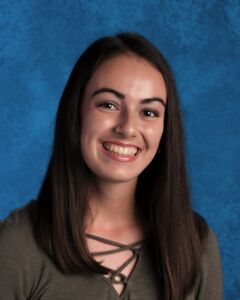 We proudly honor Lora Callahan, a high school student from Lynchburg, VA, who has become the kind of dark skies champion and advocate to which we all aspire.  An outdoor enthusiast and veteran Girl Scout who intends to visit all of Virginia's 37 state parks, Lora teamed up with the James River State Park volunteer coordinator to pursue an IDA Dark Sky Park certification for the Park.  Since then she has volunteered more than 100 hours toward the effort, far exceeding the 80-hour requirement of the Girl Scouts' Gold Award.  Lora and friends hand-built and installed 35 wooden shields for the exterior lights in the Park's cabin area, conducted extensive light sky readings that were submitted to IDA, conducted a lighting inventory of the entire park and its facilities, changed bulbs to lower intensities, installed and set timers, replaced some fixtures with FSA approved designs, and disconnecting unnecessary lights including antiquated 'dusk to dawn' post lights within view of the riverside campground.  This past June Lora spent a weekend assisting with dark sky-focused interpretive programs and she continues to keep up with outreach to surrounding communities and regional astronomy clubs to build support and attract more partners for ongoing program development.  Not only have Lora's ongoing efforts made James River State Park an ideal place to view the night sky and experience the natural night, she has brought valuable public attention to the cause of night sky conservation and responsible lighting practices while continuing to elevate dark skies as a priority for the Virginia State Parks.  We are fortunate to have Lora Callahan on the side of dark skies in Virginia and IDA can only benefit from her leadership and its full potential.
---
Rising Star Award
Starry Chicago Student Team
The Starry Chicago student team from Amundsen High School are, in the words of those who know them best, "awesome!"  Not only has the Starry team focused on light pollution in entering the "Aspen Challenge" – a national competition in which students identify an environmental concern that affects their community and identifies solutions ways to boost community awareness – but have spoken at the Chicago Astronomical Society, aired on talk a local green radio show to discuss light pollution, participated in the Starlight, Beyond Light Pollution Leadership Training Summit, joined the "Cosmic Convergence" with the Chicago Sinfonietta at Orchestra Hall to communicate their message to the public, and have given public comment at the Chicago Infrastructure Trust board meeting.  The Starry team has also participated in a teen team conservation exhibition hosted by Brookfield Zoo, conducted astronomy outreach sessions using loaner telescopes, created a video and an online short story-book about light pollution, and so much more.  It is impassioned, committed and dedicated students, such as the Starry Chicago team, who truly represent a "bright spot" for tomorrow's efforts to reduce light pollution.
---
Dark Sky Defender Award
Gene Fioretti, Cindy Malicki, Craig Weaver, Nicole Rodriguez
The ongoing conversion of publicly-owned lighting around the world from conventional technologies to LED is one of the biggest challenges that IDA has faced. While there is much to lament, there are a handful of success stories. Gene, Cindy, Craig and Nicole are helping to write one of those stories.  For two years, they have led efforts to persuade the City of Phoenix, Arizona, not to adopt high color-temperature white LED in replacing its nearly 100,000 luminaires lighting Phoenix's streets and parks. This included extensive discussions with city officials, including the Mayor and various City Councilors, providing city staff with up-to-date and fact-based arguments against the emission of excessive amounts of blue light, and attended numerous public meetings and hearings. After further lobbying efforts, the City agreed to further reduce the color temperature of its new lighting system to a commonly available product with a value of 2700K. These individuals embody the notion that a small group of dedicated people can engender important changes in support of IDA's mission.