Education and outreach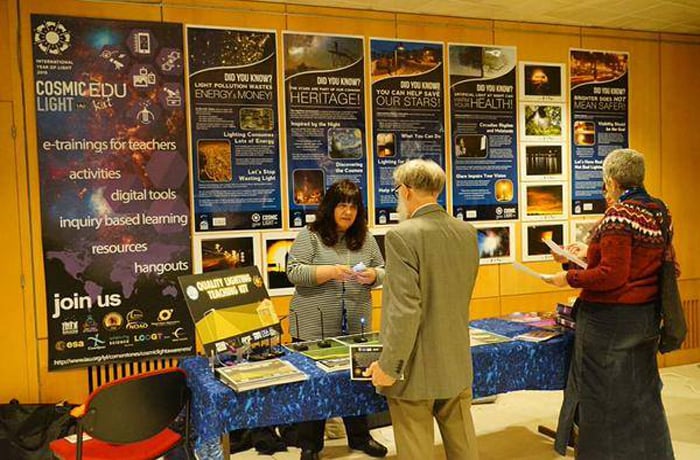 DarkSky has been spreading the word about light pollution since 1988. Education and outreach are woven into almost every aspect of our programs. Here are some of the ways we do it.
---
Conferences and trade shows
DarkSky's annual Under One Sky Conference brings together a wide-range of policymakers, scientists, thought leaders, grassroots advocates, government representatives, and others to discuss night sky preservation. There is simply no better event for those interested in learning more about light pollution and how to join ranks with like-minded individuals working to protect the night sky. Under One Sky also includes civic planners, lighting industry representatives, and others from the business sector who play a critical role in reducing light pollution.
DarkSky staff and volunteers also gives talks, presentations, and exhibits at conferences and tradeshows throughout the year, including the annual Artificial Light at Night Conference, the European Symposium for the Protection of the Night Sky, LightFair, and Strategies in Light.
DarkSky chapters
Regional chapters are composed of committed grassroots activists who work tirelessly in their local communities, advocating for the protection of night skies. DarkSky's volunteer chapters do many things, from organizing dark sky festivals to educating municipalities and the public about light pollution, and are an integral part of our organization's success.
International Dark Sky Week
International Dark Sky Week draws attention to the problems associated with light pollution and promotes simple solutions available to mitigate it. Created in 2003 by high-school student Jennifer Barlow, International Dark Sky Week has grown to become a worldwide event and a key component of Global Astronomy Month.
International Dark Sky Places
Our acclaimed Dark Sky Places program promotes night sky conservation across the globe and is a powerful outreach tool for communicating to the public the importance of reducing light pollution. Dark Sky Place designations are based on stringent outdoor lighting standards and innovative community outreach.
Public outreach materials
DarkSky is dedicated to empowering individuals and organizations so they can educate their communities about the importance of protecting the night skies. We provide our chapters, members, volunteers, and the public with a variety of educational public outreach materials to help them make even an greater impact in their communities. These materials include brochures, infographics, postcards, and the film Losing the Dark, available for free download in more than a dozen languages.
Articles and how-to guides
Our website features many articles about light pollution and its effects, plus how-to guides on everything from lighting ordinances to
Publications and social media
We publish the electronic newsletter Nightwatch and the quarterly print magazine Nightscape to provide members and the public timely updates on light pollution research, DarkSky programs, eco-friendly lighting, and ways to make a difference in one's community. We also have a thriving presence on social media, including Facebook, Twitter, Instagram, YouTube, and Tiktok.
Nightwatch subscribe
Sign up form for Nightwatch, the monthly e-newsletter of DarkSky International.