News
News
Act Now to Preserve the Grand Canyon Area Night Skies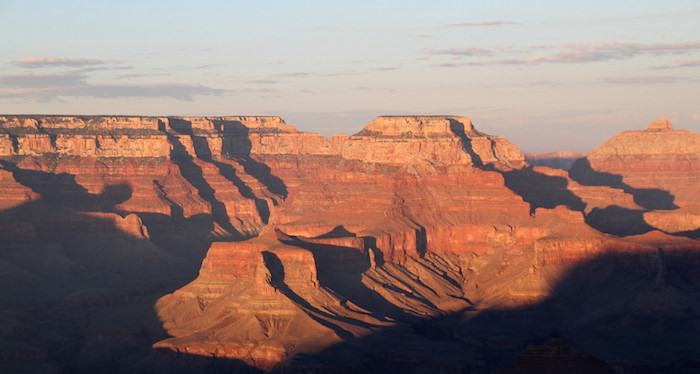 We need your help! You've probably heard the exciting news that Grand Canyon National Park has been designated a Dark Sky Park! Well, right now there is a rare opportunity to extend night sky protections to public lands immediately bordering the park.
You can make a difference!
We urge you to contact President Barack Obama and Secretary of the Interior Sally Jewell and ask them to designate Greater Grand Canyon Heritage National Monument (sample letter and contact information below).
The proposed national monument enjoys the support of many Arizona businesses, elected officials, major conservation groups, regional Native American tribes, and 80 percent of Arizona voters.
In addition to its various cultural and natural resources, the night skies over these public lands are among the darkest and most pristine of the lower 48 United States. The best way to bring the gloriously dark night skies over these lands under permanent conservation is to create a new, protected federal status for them.
The best chance for its creation will come from an executive order by President Obama. IDA has joined with the Center for Biological Diversity and a host of other environmental groups and organizations asking the President and Secretary to designate Greater Grand Canyon Heritage National Monument. Your opinion matters, and you can be heard, too!
Below is a brief description of the proposed monument, a sample letter and contact information for the President and Secretary. Please tell President Obama and Secretary Jewell today that you want them to designate this area a National Monument to protect the precious dark sky resources of the Colorado Plateau.
---
ABOUT THE PROPOSED MONUMENT
The Greater Grand Canyon Heritage National Monument consists of 1.7 million acres (688,000 hectares) of publicly-owned lands in northern Arizona. These are the North Kaibab and Tusayan Ranger Districts of the Kaibab National Forest, as well as Arizona lands north of the Colorado River that are managed by the Bureau of Land Management. The boundaries also enclose the entirety of the Kaibab Plateau above the Grand Canyon's North Rim.
These lands are home to more than 3,000 ancient Native American archaeological sites, over 125 creeks, springs and seeps that feed the Colorado River, and a variety of native plant and animal species. Outdoor activities in this area generate $32 million of annual economic activity and support hundreds of local jobs.
National monument status provides for continued existing activities, including public access, rights-of-way, sightseeing, and a variety of outdoor activities. This level of protection will provide land users with ongoing recreation opportunities such as hunting, conserve rare old-growth forests, and preserve archaeological sites. It will also prevent damage to the land and the Colorado River watershed from future uranium mining in the area.
---
SAMPLE LETTER (You can also use the form on the Center for Biological Diversity's website.)
Dear President Obama and Secretary Jewell:
I respectfully request that you act swiftly and use the 1906 Antiquities Act to create the Greater Grand Canyon Heritage National Monument in northern Arizona. Time is running out to create this new National Monument and we need your help!
The protection of the night sky over the proposed National Monument is of paramount importance to human health, the area's ecology and ecosystems, and the Arizona tourism economy. Furthermore, it provides a significant buffer against future development that threatens the dark night skies over Grand Canyon National Park and Grand Canyon-Parashant National Monument, which have been designated as International Dark Sky Parks by the International Dark-Sky Association.
Finally, the dollar and carbon cost of producing energy that is wasted to light pollution is much too high to ignore. The International Dark-Sky Association estimates that as much as four billion dollars' worth of electricity is wasted each year as a consequence of poorly-designed lighting of U.S. residential properties alone.
The designation of the proposed National Monument will help protect the night sky resource in perpetuity for future generations.
Sincerely,
(name)
---
ADDRESS YOUR CORRESPONDENCE TO:
President Barack Obama
The White House
1600 Pennsylvania Ave NW
Washington, DC 20500
Tel.: 202-456-1414
White House Comment Form
Secretary Sally Jewell
Department of the Interior
1849 C Street NW
Washington, DC 20240
Tel.: 202-208-3100
Email: [email protected]