News
News
Call to Present at IDA 2020 Virtual AGM & Conference | The Movement to Protect the Night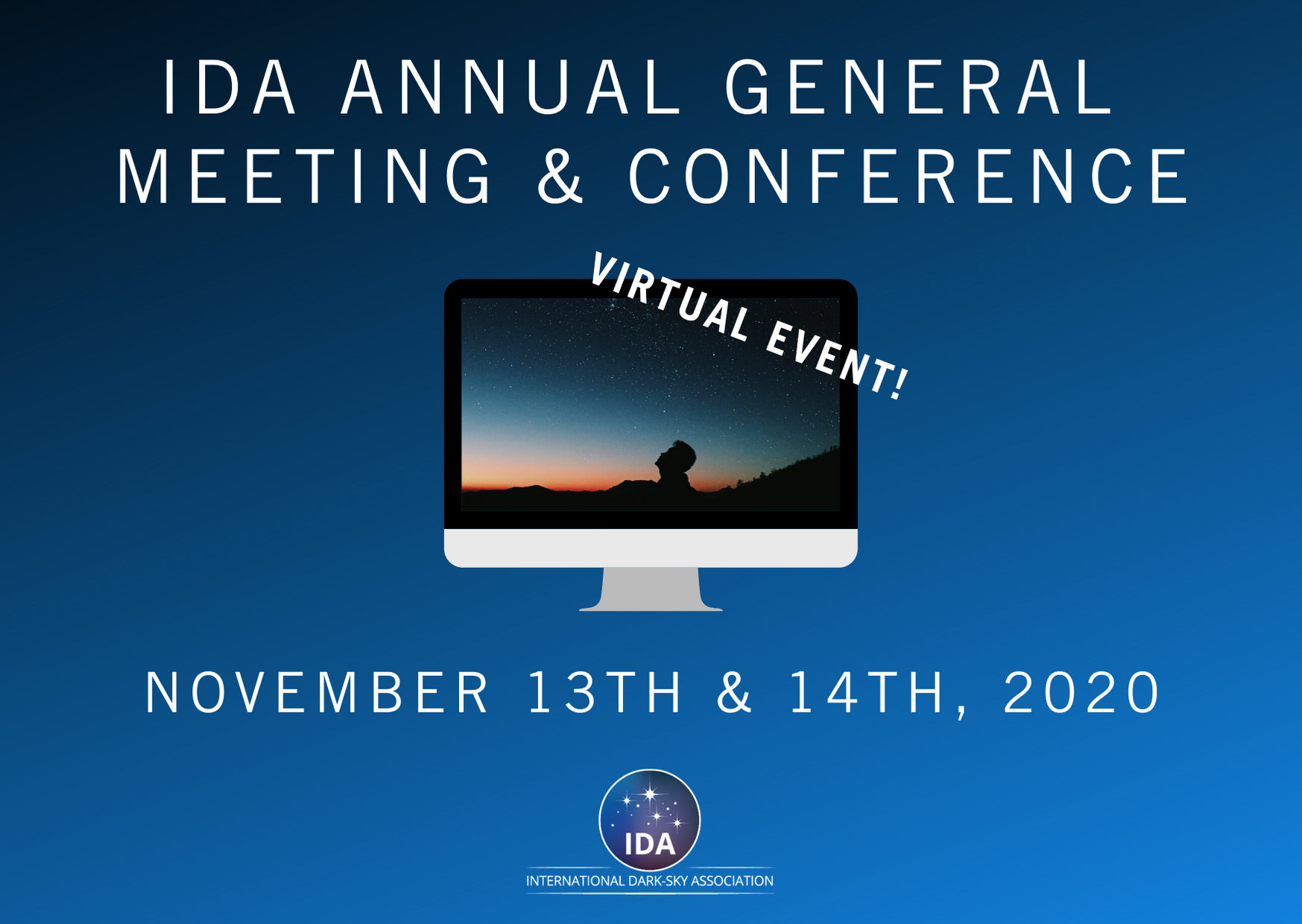 Since 1988, IDA's work to protect the night from light pollution has grown into a movement, led by a worldwide community of dark sky advocates from around the world. 
Right now, thought leaders in the movement are asking, what is next for the dark sky movement? What does it mean to protect the night and why does it matter? How do we build on the movement to drive lasting change? 
If you have unique expertise or a viewpoint that will both challenge and empower the dark sky network, IDA invites you to submit an application to present at the 2020 Virtual Annual General Meeting and Conference. 
Please submit your session proposal by August 31. 
About the IDA 2020 Virtual Annual General Meeting & Conference
The conference will be held November 13th & 14th, 2020. We are excited to take this important discussion directly to our international audience with a virtual conference, and allow our global network to safely and conveniently connect with our work from home.
Before you Apply: 
Be prepared to be open and personal in your proposal application. We are looking to deeply understand who you are and the unique perspective you have to offer to the dark sky network. 

IDA is looking for speakers who are able to facilitate and provoke a conversation among conference attendees around the movement to protect the night.  Think beyond a Powerpoint presentation. As the conference will be held on a virtual platform, it is essential that presentations be engaging and interactive for the audience at home.

Presenters will be asked to incorporate interactive tools into their presentations such as live polls, quizzes, word clouds, or other interactive tools. You must invite attendees to some sort of

action

during the meeting. IDA will provide guidance on implementing these tools. 

IDA strongly encourages diverse and traditionally underrepresented voices to submit an application to present. All applicants must consider diversity, equity, and inclusion for their session. Read IDA's statement on inclusion '

Towards a Dark Sky Movement

' before submitting your proposal. 

Presenters must have access to a stable internet connection and proper video conference equipment (ex: laptop) as well as a quiet environment to give their presentation in order to minimize distractions and disruptions. 
The IDA AGM & Conference is an excellent opportunity to introduce new ideas and make a difference in the dark sky movement. Selected session leaders will be offered free access to the 2020 AGM & Conference. Speaker bios will be distributed to conference attendees and sessions will be recorded and shared widely after the event. 
Questions? Thoughts? Need a little help pulling together an idea? Please contact Amanda Gormley at [email protected]. 
To submit an application to present at the IDA 2020 AGM and Conference, please complete this form before August 31, 2020.
Submit your Session Proposal for 2020 Virtual AGM