News
News
IDA Partners with Appalachian Mountain Club to Name First International Dark Sky Park in New England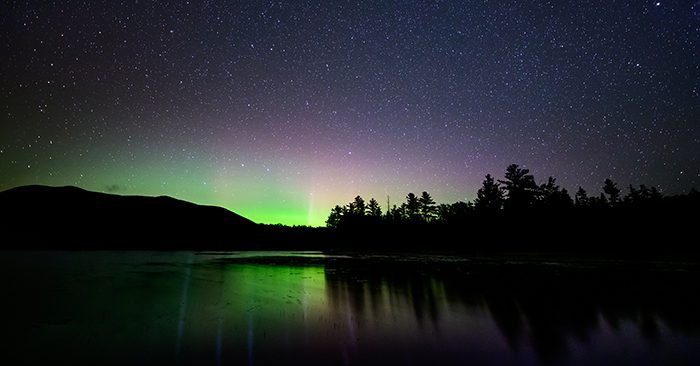 The Appalachian Mountain Club's (AMC) Maine Woods property on Tuesday became the first International Dark Sky Park designated in New England. Because of significant light pollution affecting most of the eastern United States, there are only a few International Dark Sky Parks in the region.
Alongside nearby Katahdin Woods and Waters National Monument, which was designated an International Dark Sky Sanctuary in 2020, establishing the AMC Maine Woods International Dark Sky Park is an important step in preserving this area and driving future conservation opportunities, such as creating a large International Dark Sky Reserve in the future.
The AMC Maine Woods Dark Sky Park lies at the edge of the North Maine Woods, an expanse of more than 14,000 square kilometers of largely uninhabited forest land that stretches from Monson, Maine to the border of Canada. This region is one of the darkest places remaining on the U.S. East Coast and has also been identified as an area of exceptionally high habitat connectivity and climate change resilience.
"Today's announcement is an important step in recognizing the strategic importance of the vast amount of remaining nighttime darkness in the North Maine Woods," said IDA Executive Director Ruskin Hartley. "We hope this designation will draw further attention to the value of this natural resource as well as its regional scarcity."
In recent decades, many natural wild places in New England have vanished due to the increase of urban development. Much of the North Maine Woods is owned by timber companies and, although there are large surrounding tracts of private and public lands under conservation protection, including land managed by AMC, it continues to be at risk of a similar fate.
"While the AMC North Maine Woods region retains its rugged character defined by the enormity of the forest here, it stands on the advancing edge of development that brings with it the end of the dark night sky," said Steve Tatko, AMC Director of Maine Conservation and Dark Sky Park Superintendent. "I see this designation as a way for the people of this area to re-envision the immense importance of this forest in a way that makes tangible the intrinsic beauty of the night sky we all cherish."
Since 2003, the Appalachian Mountain Club has acquired and permanently conserved 75,000 acres in the North Maine Woods and adjacent 100-Mile Wilderness landscape through the Maine Woods Initiative project. This effort has been centered in active conservation work to develop a holistic approach to land conservation, sustainable forestry, outdoor recreation, environmental education, and now the preservation of the night sky.
AMC has also been a lead partner in the Mountains of Stars public science education and outreach program, which uses astronomy to engage audiences in many aspects of the natural environment, such as dark skies preservation. Every AMC facility is outfitted with telescopes and astronomy education equipment; programs are held daily by on-site astronomy guides at the AMC Maine lodges in the summer and weekly during other parts of the year. Mountains of Stars staff also present to local residents and vacationers by holding astronomy programs at other locations, such schools and libraries.
"AMC recognizes that the dark sky in the 100-Mile Wilderness is an important natural resource and the AMC Maine Woods Dark Sky Park designation is an important step in protecting it," said John Judge, AMC President and CEO. "The creation of this park goes hand in hand with our existing conservation efforts in the area and will greatly benefit many species living in this region in addition to providing local economic opportunities by opening the door for astronomy-based tourism."