News
News
Announcing the 2022 IDA Award Recipients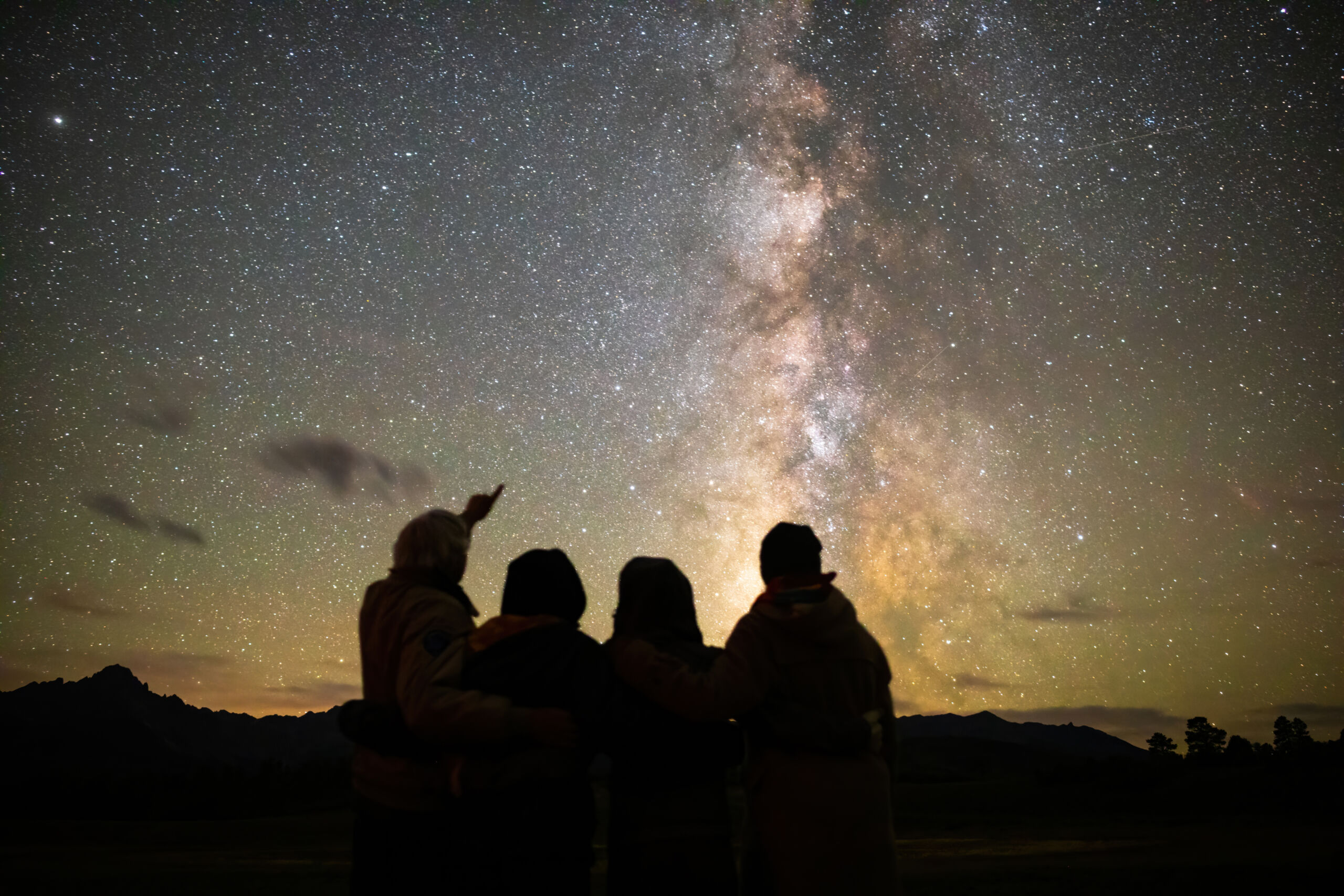 We are very excited to announce the 2022 IDA award recipients! Each year, the International Dark-Sky Association recognizes and celebrates the incredible achievements of individuals and groups who are committed to our mission to preserve the night. As leaders in their communities, the awardees play a crucial role in strengthening the global dark sky movement and empowering others to join the fight against light pollution.
Crawford Hunter Lifetime Achievement Award
This award represents the highest honor that IDA bestows upon individuals who, in the course of their lifetime, have contributed an extraordinary effort to light pollution abatement.
Dr. Kellie Pendoley

Australia
Dr. Kellie Pendoley has been an active and powerful defender of the natural environment for nearly forty years. Over the last twenty years, she has played a pivotal role in measuring and implementing management strategies that protect the natural nighttime environment. As the Executive Director and Principal Scientist at Pendoley Environmental, Dr. Pendoley has been involved in countless projects throughout Australia that address the ecological impact of light pollution leading to the development of a novel method for quantifying and monitoring light pollution. 
Her commitment to the issue of light pollution was formally recognized with her election to the board of directors for the International Dark-Sky Association in 2015 and again in 2019 when she became one of nine inaugural directors of the Australasian Dark Sky Alliance (ADSA). Through this role, she co-developed ADSA Approved, the first Australian lighting certification system with a dedicated certification for wildlife. In 2020 she developed the National Light Pollution Guidelines for Wildlife, including marine turtles, seabirds, and migratory shorebirds. The Conference of the Parties endorsed these guidelines to the Convention on the Conservation of Migratory Species (CMS). The resolution endorsing the guidelines called on 133 countries that are party to the CMS to raise awareness of the impacts of artificial light on wildlife. Finally, Dr. Pendoley is an accomplished peer-reviewed scientist with over 60 published scientific reports and peer-reviewed journal articles and is regularly invited to present at national and international conferences on light pollution impacts, measurement and monitoring techniques, and wildlife conservation.
The Dr. Arthur Hoag and William T. Robinson Award
This award is given to an outstanding individual who has educated governmental organizations, businesses, and the public about the merits of outdoor lighting control ordinances.
Steve Butler

New Zealand
For 30 years, Steve Butler has drawn widespread attention to light pollution issues in the South Island of New Zealand. His diploma in Environmental Management from Auckland University has led him to develop design protocols, lighting guidelines, and ordinances for the Mackenzie District, NZ. Steve's professional background was for much of his career working for the Department of Conservation in Southland. This government department is charged with protecting land in the conservation estate, including national parks and numerous reserves. In 2009 he served as the New Zealand contact for the 2009 IAU/UNESCO International Year of Astronomy. As a result of his expertise and engagement, Steve was an active member of the Working Party, which led to the IDA recognition of the Aoraki Mackenzie International Dark Sky Reserve 2012. His advocacy also led to IDA recognition of the Great Barrier Island in 2017 and Rakiura Stewart Island in 2019 as Dark Sky Sanctuaries, and the Wai-iti Dark Sky Park in 2020. Following a rural forum adoption of a remit at the 2019 International Starlight Conference, Steve has actively promoted NZ as a Dark Sky Nation.
Steve is also an amateur astronomer. In 2002 he joined the Royal Astronomical Society of New Zealand (RASNZ) and, since 2020, has served as its president. He founded the RASNZ Dark Skies group the year after joining the society and has been the group leader ever since. Throughout his professional and volunteering careers, Steve has excelled for his quiet efficiency and tireless energy, and he is widely respected for his deep knowledge of lighting-related legislative matters. 
Galileo Award
This award is given in recognition of outstanding achievements in research or academic work on light pollution over a multiple-year period.
Travis Longcore

U.S.
Travis has been one of the most prominent researchers in this field since he organized a conference on the Ecological Consequences of Artificial Night Lighting in 2002 and published his book on ecological light pollution with his wife, Catherine in 2006 called Ecological Consequences of Artificial Night Lighting. Their work had a major impact on forming the three large ecological research groups in Europe around 2010, and the field has only grown since then. He has continued working on research and advocacy related to light pollution in the years since and has published many research papers on the topic. He has also worked on educating governmental organizations, including guidelines for the U.S. National Parks. Travis' recent work includes tracking light pollution in the Central Idaho Dark Sky Reserve in 2021 and studying the effects of LEDs on terrestrial wildlife. 
Bob Gent Community Leadership Award
This award is given to an IDA Chapter or Chapter member who has demonstrated outstanding achievement at the local level in combating light pollution and fostering support for IDA's mission and programs.
Bruce McMath

U.S.
Through Bruce's direct action, the problem of light pollution in Arkansas has achieved broad awareness and a rapidly growing public action and government commitment to future mitigation. In 2015 Bruce assumed leadership of the nascent Arkansas Chapter and built it into the IDA affiliate it is today, known as the Arkansas Natural Sky Association, where he and others led the effort to certify the Buffalo National River as an International Dark Sky Park in 2019. His involvement of almost 20 years in the dark-sky movement has been instrumental in raising awareness of the issue. Bruce created the city survey of lighting plans, giving cities a clear blueprint for measuring progress toward achieving more responsible lighting. He has also led educational outreach for students and others in several areas of the state by providing access to telescopes and training in night sky observation and appreciation. Bruce's efforts constitute a real extensive body of concrete contributions over a long period to achieving the mission of the International Dark-Sky Association.
Lighting Design and Technical Innovation Award
This award is given to individuals, organizations, or businesses that – through progressive design, construction, technological innovation, and entrepreneurship – support IDA and its mission to preserve night skies by promoting quality outdoor nighttime lighting. 
Thorn Lighting Limited

U.K.
Like many UK local authorities, Cumbria County Council has invested in replacing obsolete street lighting with LED technology. The main driver for this was the reduction in energy and the associated financial savings. However, a "one size fits all" policy was not suitable for Cumbria as it has strong and diverse communities with different requirements. Lighting manufacturer Thorn Lighting Limited's Plurio lighting fixtures provided a perfect solution, applying adaptive lighting to meet those requirements. The fixtures feature NightTune technology, which uses a twin-channel array with both amber and cooler LEDs that allow consideration of responsible lighting practices to meet the needs of both people and the environment. The Plurio fixture also emits zero upward light thanks to a range of internal shields. This, paired with the NightTune technology, ensures only the appropriate colored light at the right time illuminates only where required. Thanks to this success provided by Thorn Lighting Limited, Cumbria County council has now extended the number of pilot sites and is formulating policy and guidance to ensure new lighting installations and housing developments use adaptive lighting technology and warmer color temperatures.
Dark Sky Defender Award
This award is given to individuals and organizations in recognition of their efforts to promote and advance the mission and programs of IDA to preserve night skies on each of the six inhabited continents.
Rayan Khan

Pakistan
Rayan is the founder of Cosmic Tribe, one of Pakistan's leading social enterprises working to protect the environment from light pollution through public events, STEM education, and outreach campaigns while making astronomy and space education more accessible to a wider audience. Rayan provides regular public engagement through various activities to educate people about dark skies and light pollution. One notable example of this is his "Dark-Sky Hero" costume that he designed to "collect all the light from the sky" to "sparkle" more interest in younger students through creative imagery.
Dani Robertson

Wales, U.K. 
Dani is the Dark Sky Officer at the Snowdonia National Park Authority and Prosiect Nos. Her accomplishments have achieved tangible results by improving the quality and awareness of dark skies in the North Wales region (Snowdonia, Clwydian Range & Dee Valley Range). Her work has been featured on BBC One and other media platforms, raising broad recognition and awareness of this critical issue. Dani regularly organizes and hosts stargazing and nature events and will even drive a mobile observatory to reach remote places and communities in order to share her passion for the stars and important environmental values. Dani has developed unique techniques to help the local authorities and communities tackle light pollution. She targets significant light polluters in an area, offering them lighting solutions that are specific to their needs in order to improve the existing conditions. 
Bob Meadows

U.S.
For nearly 20 years, Bob has made valuable contributions to the state of knowledge of the natural nocturnal environment in U.S. National Park lands. Traveling to destinations in U.S. National Parks with a specialized camera, he has amassed a record of the state of the night sky that is without peer. These all-sky datasets are an archive of existing conditions at the time they were taken and will be a constant reminder now and in the future of how pristine the night sky was in many of these areas. He has also worked for years in education outreach, instructing and helping Park Rangers interpret the night sky for visitors. He has participated in numerous outdoor lighting evaluations and recommendations, improving the nocturnal scene in developed areas of parks. His dedication and perseverance at these tasks have resulted in a body of work that represents a major contribution to night sky protection.
The NPS database is available publicly here with over 600 data sets. This information is invaluable in creating awareness of the rarity of pristine night skies and their value. 
Samyukta Manikumar

Kenya
Born and raised in Kenya, Samyukta found her love of dark skies while visiting safari camps with her family as a child. These early experiences under the East African sky and out in nature, interacting with animals in unconfined and respectful, distant spaces instilled a love for the natural world in Samyukta and encouraged her to pursue studies in science and astronomy.
After university, she was involved with Sayari, an astrotourism-for-development pilot project in Kenyan game reserves. It was then that she got in touch with IDA and learned more about the issue of light pollution and how dark skies could be a useful selling point for Kenya's tourism development plans. She also worked with Travelling Telescope, a Kenyan social enterprise promoting social change using astronomy, specifically focusing on raising awareness about the gender imbalance in STEM.
Samyukta created a database that catalogs the impacts of light pollution on wildlife species in Kenya by cross-referencing the research conducted in other places. In the future, Samyukta wants to compile Kenyan cultural stories of the night together with information about how Kenyan wildlife is affected by light pollution into what she calls an "astro-journal" — a book that would encourage people to go outside and engage with the night sky.
Marcelo de Olivera Souza

Brazil
An astrophysicist and cosmologist, Marcelo de Olivera Souza has been teaching astronomy to university students and the public in Brazil for more than 30 years. In addition to teaching astrophysics at the Universidade Estadual do Norte Fluminense (UENF), he founded and coordinates the hugely popular Louis Cruls Astronomy Club in the city of Campos dos Goytacazes. For 26 years, the club has drawn hundreds of participants for online events and urban stargazing sessions around the city.
Marcelo regularly appears in the Brazilian media, including writing a weekly newspaper column. He has brought numerous astronauts to Brazil for speaking events, including Buzz Aldrin, Charlie Duke, Paolo Nespoli, and Anousheh Ansari. He arranged for Brazilian students to participate in the Global Science Opera in 2021, for which they wrote songs about light pollution and astronomy. During the pandemic, he presented "drive-in astronomy" events at a shopping center: an imaginative option for Covid-safe gatherings.
In 2021, Marcelo assisted in the founding of Desengano International Dark Sky Park – the first IDA-certified Dark Sky Place in Latin America. The park covers a huge area (more than 1,400 sq km/540 sq mi) and touches three cities: Santa Maria Madalena, which serves as the park's headquarters, São Fidélis, and Campos dos Goytacazes, where Marcelo lives. The interior is almost entirely wild mountains and forests with night hiking trails and camping.
Rising Star Award
This award honors students of any grade level who demonstrate an enthusiasm for and commitment to dark sky conservation or research into natural darkness and light pollution.
Jacob Koglin

Germany
Jacob, grade 7, has classified almost 7,000 individual light sources in his neighborhood of Berlin, walking more than 80 city blocks in the process for the citizen science project "Nachtlichter." He covered all public spaces in almost one square kilometer. Jacob's efforts put him in the top 5th percentile out of several hundred Nachtlichter participants for most streets walked. His data are part of a larger nationwide contribution to the overall project dataset. He has since joined his town's main "co-design" team as they analyze the collected data and prepare papers for research. He even takes meeting minutes at most meetings and has submitted an abstract to present about his experiences at the upcoming European Citizen Science Association meeting.
Amireza Goli

Canada
Amireza is a senior undergraduate student who has made considerable strides toward light pollution abatement advocacy in his community through many innovative initiatives. Amireza was awarded a $1,000 grant by the Government of Canada's National Science and Engineering Research Council to be a Student Science Ambassador. The grant allowed him to create his initiative, "Children of the Stars," an astronomy outreach program that works with marginalized inner-city youth to experience the night sky, which addresses the social barriers to accessing a night sky. The Children of the Stars program has been impactful in recruiting volunteers to do outreach to students, and not only hopes to inspire the next generation of youth and foster a dedication to the night sky among them but also creates a mentorship opportunity that persists beyond the program.
Biraj Nainabasti

U.S.
Biraj has kickstarted a program with Texas Parks and Wildlife State Parks like Village Creek State Park in order to educate people about the impact of light pollution on our environment and health. He has also sent a bill to the mayor council in his city of Beaumont,TX. Biraj is also a believer in engaging with a wider audience through online multimedia experiences through published writing pieces surrounding the negative effects of poor lighting choices and light pollution on online platforms. He is looking forward to publishing one of his pieces surrounding the rise of light pollution over the past decades in an astronomical newsletter. Biraj also has done substantial work in his home country of Nepal as well where he was first introduced to stargazing. He has given presentations aiming to improve the lighting infrastructure to local city officials in Nepali cities such as Bhadrapur and Bhaktapur.
Nocturnal Habitat Protection Award
The Nocturnal Habitat Protection Award recognizes individuals or entities whose decisive actions have been instrumental to the conservation of substantial nocturnal habitat for terrestrial and/or aquatic wildlife species on public or private land and water resources.
Bryan Boulanger

U.S.
Dr. Bryan Boulanger is the Chair of the Department of Civil and Environmental Engineering at Ohio Northern University. Bryan is a past recipient of the US EPA's Mission Award, a past US National Academy of Science Research Council Associate, and active wilderness and nocturnal habitat conservationist. Since 2015, Bryan has provided public land managers with the data and decision-making capacity they need to mitigate their artificial lightscapes. His innovative tools, lighting designs, and design recommendations have been used to improve natural lightscapes in national parks, monuments, and communities throughout the United States and Canada, reducing or improving light sources and saving energy. Bryan currently serves on the editorial team of the Journal of Dark Sky Studies, as a member of the Consortia for Dark Sky Studies out of the University of Utah, and as an International Dark Sky Association Delegate. In addition, he is a founding member of the Great Lakes Night Sky Cooperative, as well as a member of the Western Night Skies Council and the Basin and Range Dark Sky Cooperative. He has published over 15 peer-reviewed reports, papers, and articles in the Dark Skies area. What began as a single project with Yellowstone National Park to help them better understand their exterior lighting has since evolved into projects with 28 other partners across the US and Canada. His contributions have led to 11.7 million acres of designated dark sky places, with another 4.4 million acres pending.
Bryan is passionate about using engineering and education to protect nocturnal habitats and has spent much of the last decade working to do that. He has worked with a broad range of partners, and the projects they have done together have impacted a huge number of acres, predominantly in the form of GIS-tied lighting inventories. The inventorying process that he developed not only characterizes and evaluates existing lighting within public lands against dark sky lighting guidelines but also provides decision-making and design support to address non-compliant lighting to protect nightscapes. The end result of his contribution is often that the parks become IDA-recognized Dark Sky Places
Dark Sky Place of the Year Award
This award is given in recognition of a recent exceptional achievement to an International Dark Sky Place.
Sternenpark Rhön International Dark Sky Reserve
Germany

Sternenpark Rhön was certified as a silver-tier International Dark Sky Reserve in 2014. It comprises 1,720 square kilometers of protected lands, including the entire central region of the Rhön Mountains, where the German federal states of Hesse, Bavaria, and Thuringia meet. Reaching elevations of up to 950 meters, the Rhön region is often referred to as the Land der offenen Fernen ("land of endless horizons"). Rhön has established itself as a leader of dark sky efforts across local and federal levels. Advocates in this International Dark Sky Reserve helped provide funding to lighting projects by partnering with local energy suppliers. Their participation decreased light pollution from public lighting in the communities within and in the surrounding municipalities of the Sternenpark Rhön. Most notably, Rhön advocates helped lead the initiative to certify Fulda as an International Dark Sky Community (IDSC), the largest certified European municipality and second-largest certified IDSC to date. Since receiving the designation, many administrations, management agencies, and political entities of German cities have been asking for information on how to prevent light pollution. In addition, there have never been so many inquiries from television stations, and local advocates refer to this movement as the "Fulda effect". Rhön advocates also heavily support initiatives to protect the nocturnal environment, specifically for freshwater insect populations. Their notable efforts include providing community science opportunities to monitor these populations and publishing their own recommendations to remedy light pollution's impacts. Rhön advocates helped establish a cross-federal state structure to further protect dark skies in Germany to allow district council administrations to collaborate and find sustainable and efficient solutions to protecting the night.
Congratulations to all of the 2022 IDA Award winners!
Previous Winners:
2021 award recipients
2020 award recipients
Full list of award winners