News
News
Arkaroola Wilderness Sanctuary becomes South Australia's first International Dark Sky Sanctuary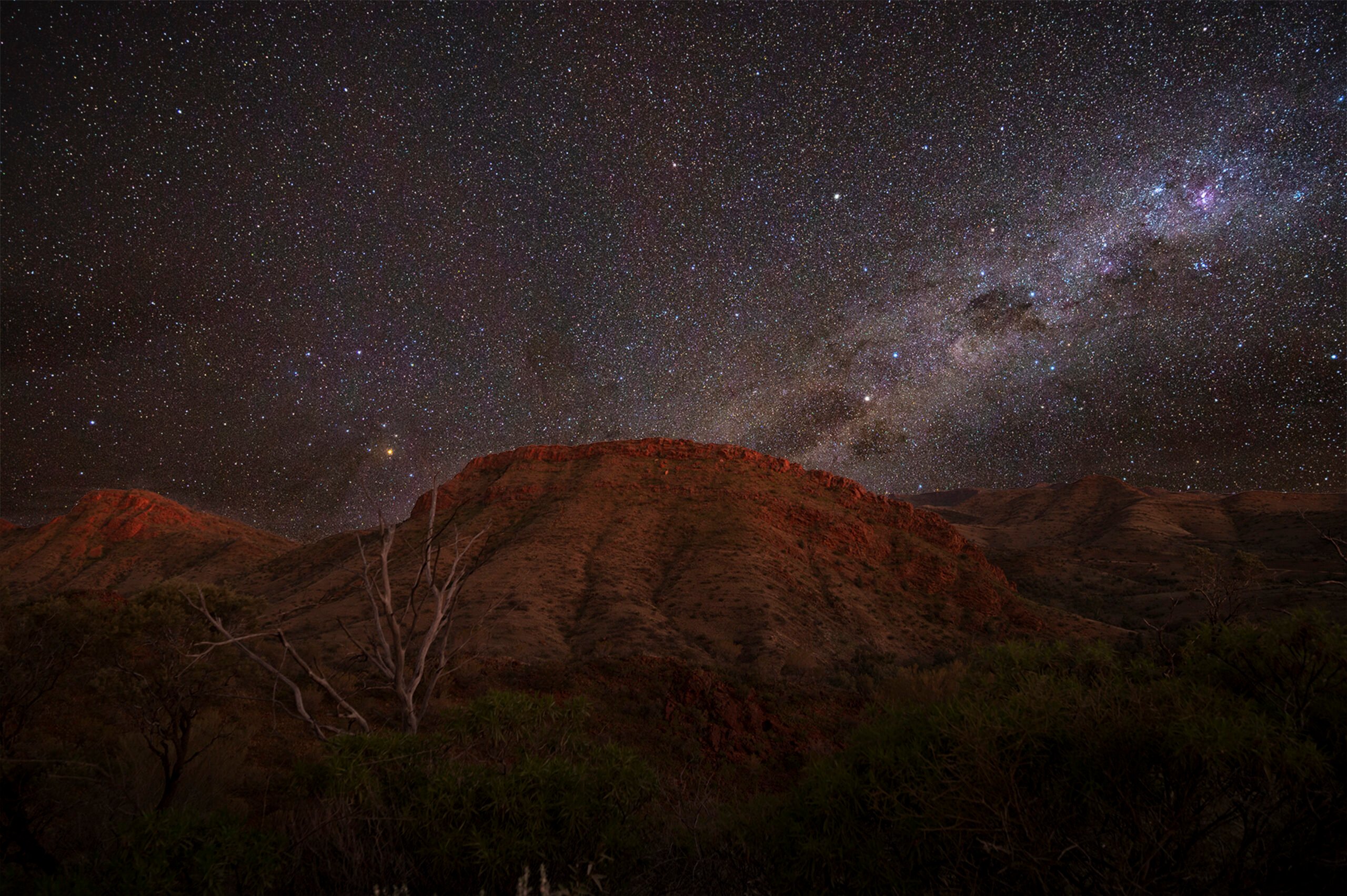 ARKAROOLA WILDERNESS SANCTUARY, Flinders Ranges, South Australia – Arkaroola Wilderness Sanctuary, located in the northern Flinders Ranges, South Australia, has been designated as an International Dark Sky Sanctuary by DarkSky International. Arkaroola is committed to preserving the uniqueness of the rugged mountainous landscape, its flora, fauna, geology, and night skies for all to enjoy. This recognition is a significant milestone for the Arkaroola team and others in the broader region, as the destination is firmly placed on the map as one of the best places in the world to see the night sky.International Dark Sky Sanctuary status will help Arkaroola and its not-for-profit entity, the Arkaroola Education and Research Foundation, to further encourage education, conservation, and research activities.
Arkaroola Wilderness Sanctuary comprises over 63,000 hectares of conservation land in the Flinders Ranges and Outback of South Australia. It is significant for the Adnyamathanha people, whose cultural connections to the land remain strong and vibrant, with stories that relate directly to the landscape. It is one of Australia's outstanding geological "hotspots", with a rich biodiversity recognized by the Arkaroola Protection Act 2012. Established in the rugged, arid mountain environment in 1968 by Dr. Reg Sprigg and his wife, Griselda, their aim was for tourism activities to promote and support ongoing conservation, education, and research.
Arkaroola is located in the southern part of the arid center of Australia and is 100 kilometers from the nearest town, Leigh Creek (population approx. 90). The arid environment, elevation, and location make for exceptional seeing conditions. The dark, clear sky has long been a feature of a stay at Arkaroola, with the first observatory built in 1986 and the first Dark Sky Policy introduced in 2005. Today, Arkaroola has 6 Designated Observatories.
"This certification is a celebration of the natural and cultural resources that the 'outback' area of South Australia is known for. It demonstrates the power of collaboration and partnership in ensuring the continued protection of land and sky resources. The Arkaroola Wilderness Sanctuary embodies all of the qualities that make International Dark Sky Sanctuaries so special – a dark, rugged, and remote environment, protected by a dedicated team of advocates," remarked Amber Harrison, Dark Sky Places Program Associate.
Each year, Arkaroola welcomes more than 12,000 visitors from around the world. The Sanctuary has a range of accommodation and camping options for visitors and a variety of guided and self-guided experiences. Many visitors come to see yellow-footed rock-wallabies (Petrogale xanthopus), a vibrantly marked species of wallaby that thrives on the cliffs of Arkaroola. Being crepuscular and nocturnal, they need a dark nighttime environment for their well-being. There are three different astronomy experiences: traditional eye-to-telescope observing; a real-time, state-of-the-art digital Astro Experience; and reclining in a camp lounge chair, learning about the night sky with astronomical binoculars. The Ridgetop Sleepout overnight hosted experience, supported by the South Australian Government, allows visitors to camp overnight and sleep under the stars atop our most remote and best vantage positions. Keen astronomers are encouraged to bring their equipment and can use the roll-off roof observatory.
To support the efforts of Arkaroola to become a Dark Sky Sanctuary, an enthusiastic team of both professional and amateur astronomers and staff designed and built a darkness monitoring program that has been operating for several years, entertained and educated guests about our dark sky and the importance of its conservation, worked on the application, and upgraded lighting to comply with the Dark Sky Certification. This accreditation happened because of the expertise and efforts of this enthusiastic team.
Conservationist Doug Sprigg, a custodian of Arkaroola for over 50 years, is honored to celebrate this achievement. "As a team, we continue to focus our energy on giving visitors not just a great experience but an appreciation of furthering our knowledge of the world around us, and the importance of its conservation. Becoming a Dark Sky Sanctuary helps us to spread that message and inspire others to continue that work."
Astronomer and astronomy guide, Alex Hine, is in his second year of showcasing Arkaroola's nighttime sky. "Arkaroola is truly one of the most beautiful places I have ever had the pleasure to live and work at. From the geologically impressive ranges to the astronomical spectacle of the night sky every night, I couldn't think of a better place to be. Only once you have experienced the vastness of the cosmos from a location like this do you truly realize how claustrophobic clouds and light pollution really make you feel. You lose the connection to the stars. Here though, you are free," says Alex.
We are committed to continuing to support ongoing research and education at Arkaroola and encourage visitors to experience our beautiful dark sky and appreciate and support its conservation. You can learn more about Arkaroola International Dark Sky Sanctuary at www.arkaroola.com.au.

About the International Dark Sky Places Program:
Founded in 2001, The International Dark Sky Places Program is a non-regulatory and voluntary program that encourages communities, parks, and protected areas worldwide to preserve and protect dark sites through effective lighting policies, environmentally responsible outdoor lighting, and public education. When used indiscriminately, artificial light can disrupt ecosystems, impact human health, waste money and energy, contribute to climate change, and block our view and connection to the universe.
Arkaroola Wilderness Sanctuary now joins more than 200 Places that have demonstrated robust support for dark sky advocacy and strive to protect the night from light pollution. Learn more by visiting darksky.org/conservation/idsp.
About DarkSky International:
The mission of DarkSky International is to preserve and protect the nighttime environment and our heritage of dark skies through environmentally responsible outdoor lighting. Learn more at darksky.org.
Media Contacts
DarkSky International:
Amber Harrison
Dark Sky Places Program Associate, DarkSky International
+1 (520) 347-6363
[email protected]
Arkaroola Wilderness:
Doug Sprigg
Sole Director and Chief Pilot, Arkaroola Wilderness sanctuary
+61 8 8648 4848
+61 407 397 692
[email protected]
Vicki-Lee Wilson
General Manager, Arkaroola Wilderness Sanctuary
+61 8 8648 4848
+61 407 174 046
[email protected]