News
News
Bryce Canyon National Park Certified as an International Dark Sky Park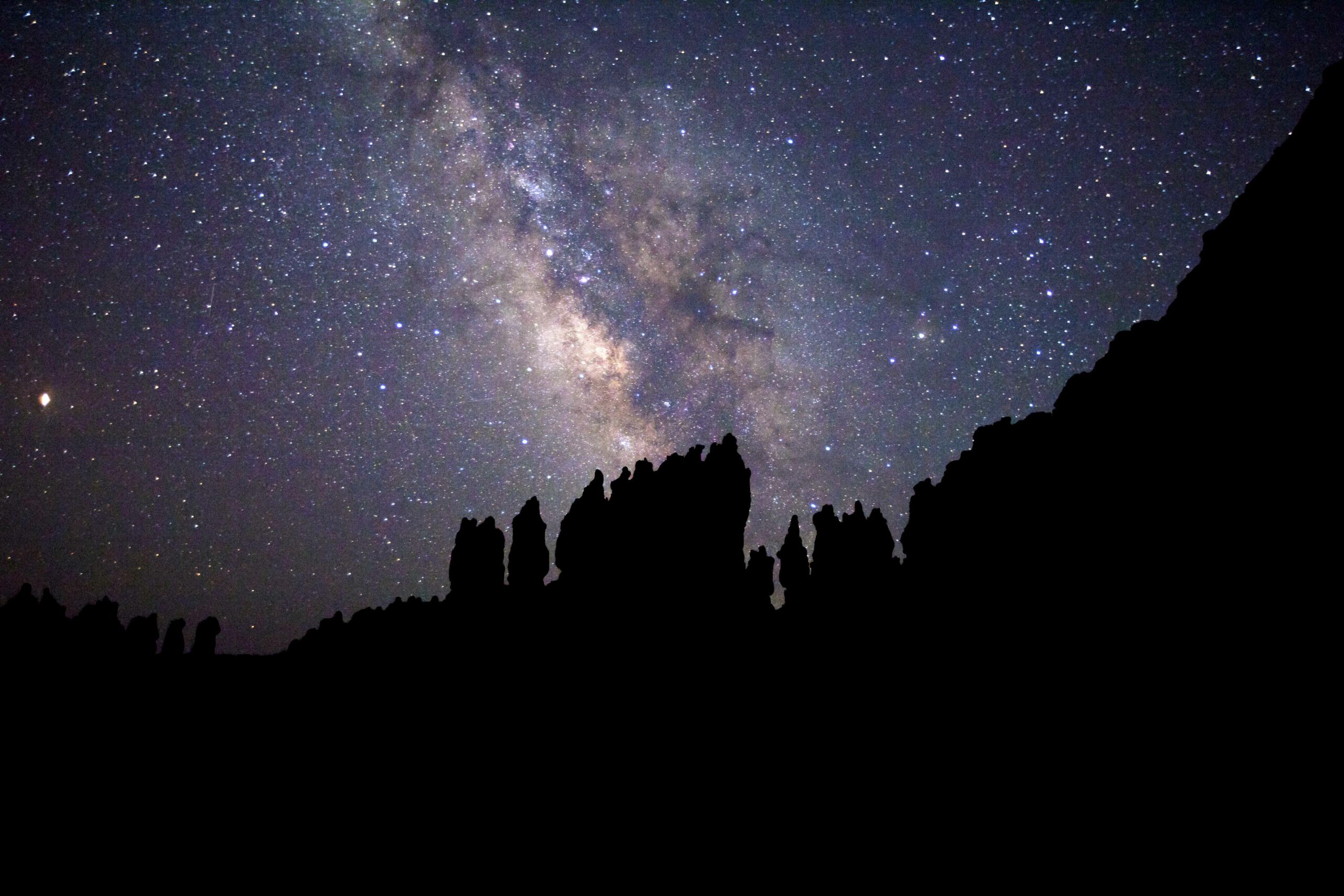 August 13, 2019
For Immediate Release
Peter Densmore (435) 834-4744
Bryce Canyon celebrates 50 years of night sky outreach and support 
BRYCE, UT – The National Park Service and the International Dark-Sky Association are pleased to announce Bryce Canyon National Park as an International Dark Sky Park. This certification recognizes the exceptional quality of the park's night skies and provides added opportunities to enhance visitor experiences through astronomy-based interpretive programming.
Bryce Canyon's certification comes as the park celebrates 50 years of astronomy programming. As one of the first national parks to offer night sky programs, this achievement continues a long tradition of dark sky conservation, advocacy, and education.
International Dark Sky Park certification promotes public education and astronomy-based recreation in parks while improving energy efficiency and reduced operational costs through outdoor lighting upgrades, which in turn creates economic opportunities for neighboring communities through astronomy-based tourism.
"We are very proud of this park's efforts to conserve and celebrate the inspiring beauty of its night skies, and the International Dark-Sky Association's recognition of over a decade of hard work to obtain this certification," said Linda Mazzu, Bryce Canyon National Park superintendent. "As fewer and fewer people are able to enjoy natural wonders like the Milky Way, dark places and commitments to protect them are more important than ever. Our national parks are some of the best places in America to see a breathtaking array of stars, planets, and neighboring galaxies."
The certification does not carry any legal or regulatory authority. The certification demonstrates a commitment by parks to improve night skies through the use of more energy-efficient, sustainable lighting. Certification also reaffirms the park's commitment to educate the public and gateway communities about the importance of park-friendly outdoor lighting and opportunities to work together toward common goals. The park was supported throughout the certification process by many park partners including the Bryce Canyon Association, Ruby's Inn, Bryce Canyon City and Garfield County Tourism Office. We will continue to work together with these partners and others on future dark sky visitor experiences.
The International Dark Sky Places Program was founded in 2001 to encourage communities, parks, and protected areas around the world to preserve and protect dark sites through responsible lighting polices and public education. Bryce Canyon now joins more than 100 locations that have followed a rigorous application process that demonstrates robust community support for dark sky certification.
To commemorate this milestone in dark sky conservation and interpretation, the park will be hosting a special Dark-Sky Party on Saturday, August 31st. The event will feature family-friendly daytime activities, special evening programs, and ranger-guided telescope viewing. Night sky enthusiasts are also invited to plan their visits during the park's 20th annual Astronomy Festival, which will run from 17 – 20 June, 2020.
Details for these and other programs can be found on the Calendar of Events page on the park's website www.nps.gov/brca.
About the International Dark-Sky Association: IDA's mission is to preserve and protect the nighttime environment and our heritage of dark skies through environmentally responsible outdoor lighting. Learn more at darksky.org.
-NPS-
About the National Park Service: More than 20,000 National Park Service employees care for America's 419 national parks and work with communities across the nation to help preserve local history and create close-to-home recreational opportunities.  Visit us at www.nps.gov, on Facebook www.facebook.com/nationalparkservice, Twitter www.twitter.com/natparkservice, and YouTube www.youtube.com/nationalparkservice.
—