News
News
Children's Books About Light Pollution & Giveaway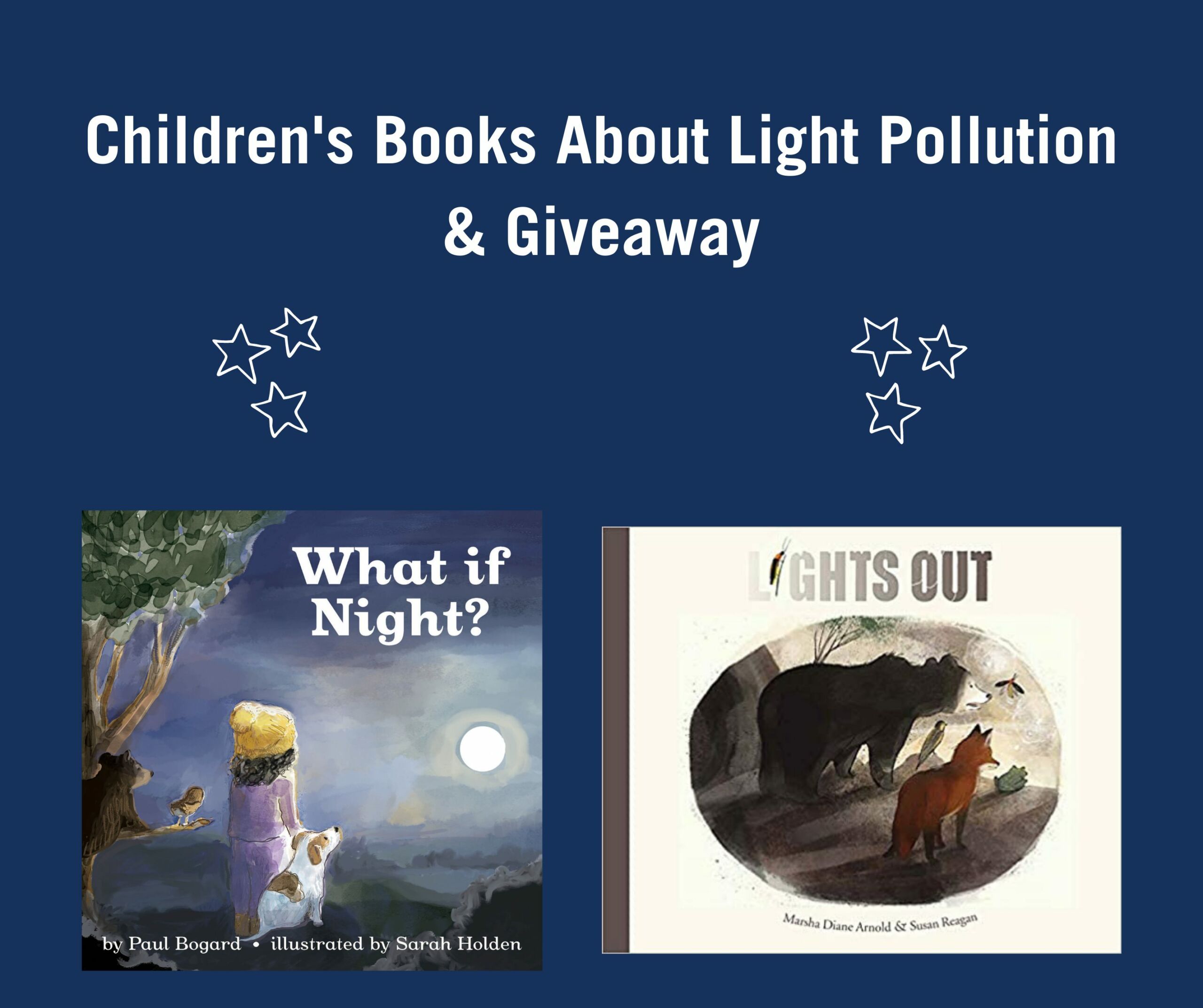 It is troubling that many children today will grow up without ever having experienced a naturally dark sky. Can today's children value something they have never been able to experience and relate to the threat that the overuse of artificial can pose? One of the best ways to educate them about the problem of light pollution is through stories that entertain and stir their imaginations. So, we've compiled a list of children's books about light pollution as a resource for you. These stories teach children from a young age to respect the dark, not fear it. That knowledge would make a wonderful gift for any child in your life this holiday season!
What if Night?
Paul Bogard
Illustrated by Sarah Holden


Ages 2-5
A new release, What If Night?, delves into the issues of light pollution and how even a small child can take actions that improve our world. The night sky over most cities is now nearly 100 times brighter than in the last century and children are missing out on the experience of the natural darkness. This charming story, along with stunning watercolors of night sky and wildlife, presents the thrill and wonder of a child exploring darkness without fear. This is a perfect read-aloud story for bedtime or any time. The vibrant illustrations and easy to read text makes it perfect for a child to practice reading as they grow.
A native Minnesotan, Paul grew up exploring the forest and watching the stars near a lake in the northern part of the state. He has lived and taught in New Mexico, Nevada, Wisconsin, North Carolina, and Virginia. He is now an associate professor of English at Hamline University in Saint Paul, Minnesota. You can learn more about Paul here.
Lights Out
Marsha Diane Arnold
Illustrated by Susan Reagan
Ages 6-8
In this book, released in August of 2020, the subject of light pollution is explored through the experiences of nocturnal creatures. Animals embark on a quest to find true darkness when too many artificial lights at night confuse migrating birds, silence singing frogs, and affect the survival of nocturnal animals. The book also includes brilliant and playful illustrations from Susan Regan to spark kids' imaginations.
Called a "born storyteller" by the media, Marsha Diane Arnold's picture books have sold over one million copies and been called, "whimsical," "inspiring," and "uplifting." Her books have garnered such honors as Best First Book by a New Author, Smithsonian Notable, Dolly Parton's Imagination Library, and the Green Prize for Sustainable Literature. You can learn more about Marsha here.
The giveaway is now closed.
Be sure to use the widgets to enter the giveaway below for a chance to win a copy of What if Night? by Paul Bogard or a copy of Lights Out by Marsha Diane Arnold! Three physical copies each of What if Night? And Lights Out are, unfortunately, only open to residents of the United States. However, Keystone Canyon Press has graciously offered an additional three digital copies of What if Night? to our global audience. Please be sure to use the appropriate widget based on where you reside. Both giveaways will close on Friday, December 11, 2020, at midnight MST. Winners will be contacted via email.
If you live in the United States please use this giveaway widget:
If you live anywhere else please use this giveaway widget:
Some Other Children's Books About Light Pollution:
Dark Matters Nature's Reaction to Light Pollution
Joan Marie Galat
Ages 9+
Told through the eyes of thirteen-year-old Joan who loves the outdoors, this book introduces young readers to the fragile animals that are impacted by our increasingly threatened nighttime skies.
Sophie's Night Sky Adventure
Jonathan Poppele
Illustrated by Maria Lorimer
Ages 6-10
Next, this book follows a little girl named Sophie, who lives in a big city with lots of light pollution, on a special stargazing trip with her Grandpa. She is awestruck by what she sees as she discovers some of the most popular constellations.

There Once Was a Sky Full of Stars
Bob Crelin
Illustrated by Amie Ziner
Ages 4-8
Last but not least, this lyrical, beautifully illustrated bedtime story helps children discover the wonders of our starry sky and explains how light pollution is slowly destroying this timeless treasure. Offering hope and encouragement, the book also describes some simple things everyone can do to bring back the majesty of the night sky.
Looking for more educational resources on light pollution for kids? We've got you covered here.
Giveaway winners: Marie D, Emily R, Lorelie W, David S, Janette, Vitor BH, Gabe W, Claire W, Cynthia I.