News
News
Dark Sky Advocacy During a Pandemic: Lessons Learned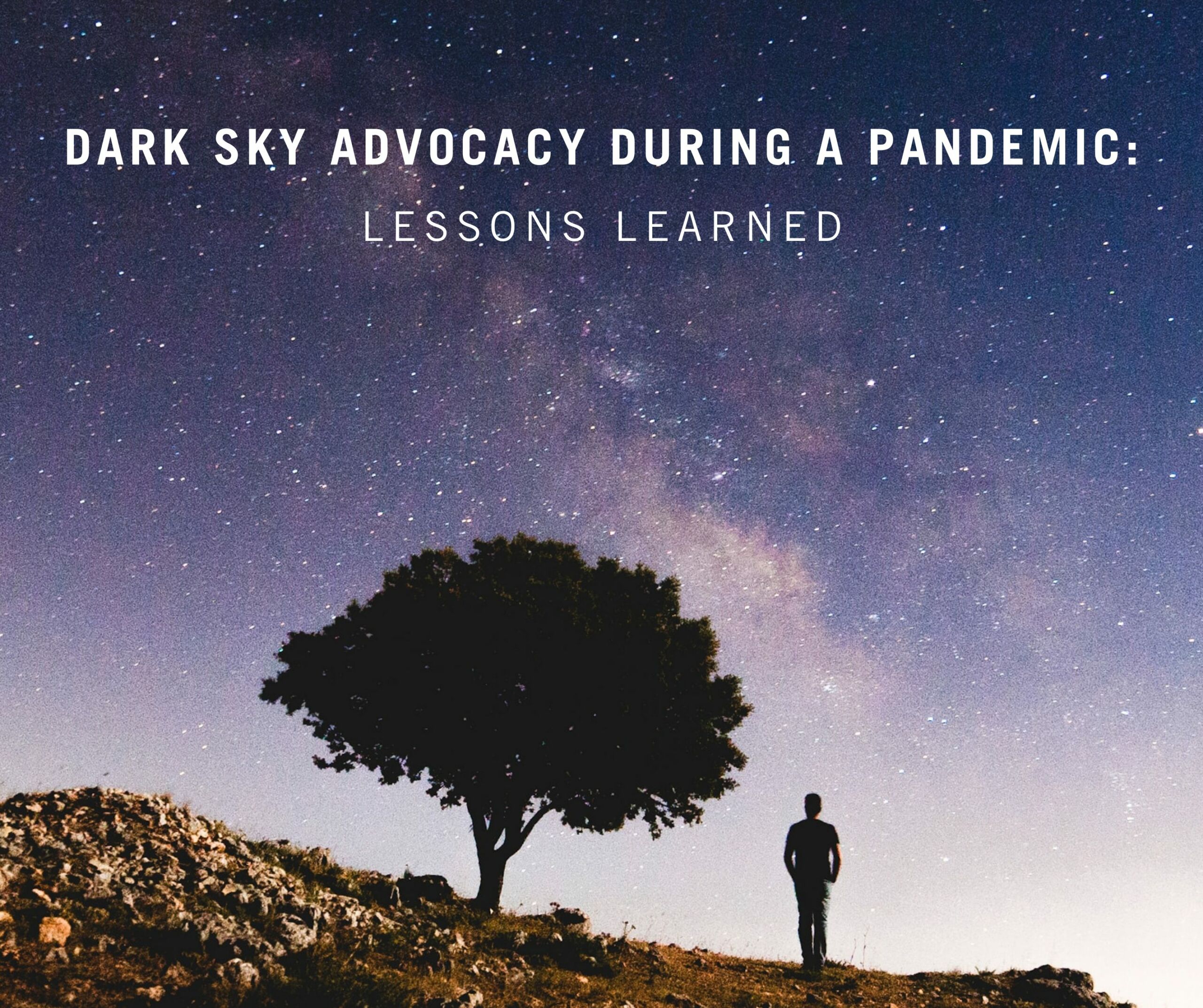 Being a dark sky advocate is not always easy. You often encounter people that don't know that light can be a form of pollution. You first have to educate them that light pollution is a critical problem that threatens our daily lives and environment before they can care about and support the dark sky movement. Then, there's the persistent battle against the misinformation about safety and a common fear of the dark.
The introduction of a pandemic added another layer of challenges to dark sky advocacy, the inability to host in-person events. Historically, in-person events that teach people the value of a naturally dark sky have been some of the most successful programs. When faced with an added challenge, it's easy to throw up our hands and say, "I can't do this." But, you can also look at it as an opportunity and get creative. You have to be nimble and adapt to many situations to be an effective advocate.
How Dark Sky Advocacy Changed During a Pandemic
In mid-March of 2020, Megan Eaves, an IDA Delegate based in London, noticed a lot of people on social media expressing their frustrations about social distancing. So, she decided to do something about it. Megan began to lead virtual stargazing sessions over Twitter. A few times a week, she would post to her Twitter about stargazing or a specific object in the night sky–such as a planet or constellation–and encourage people to look up. These sessions were wildly popular with people participating from all over the world. CNN even covered them! One of the best parts of these stargazing sessions was that they allowed lots of people to participate, even if they lived in a more light polluted part of the world.  
Several International Dark-Sky Places also stepped up to the challenge and made adjustments to their programming because of the pandemic. It was no longer possible for people to gather in large groups for outreach and light pollution education. So, they had to switch to hybrid or virtual programming. Dead Horse Point State Park in Utah reached an extraordinary amount of people by live-streaming their events. In fact, a total of 420 people attended one event! Additionally, Cévennes National Park in France managed to hold 50 events despite the pandemic. Swtiching to a virtual strategy for events has allowed people who may not otherwise be able to attend in-person to take part. Those people get to experience something they normally wouldn't have had access to.
Lessons Learned
Advances in technology have given us many wonderful tools that have made it possible to connect with new people from all over the world. Things like live telescope feeds and virtual events allow people who often feel left out of the dark sky movement to join the conversation. The ability to adapt to any situation, see obstacles as opportunities, make the most of what's available to us, and get creative are invaluable lessons for long after the pandemic is over. There will always be new challenges that arise in dark sky advocacy. Will you rise to them?