News
News
Q&A with DarkSky Advocate Nurul Syahirah Binti Nazarudin from Malaysia
Nurul Syahirah Binti Nazarudin, a DarkSky advocate and educator in Malaysia, uses her art to raise awareness about the importance of dark skies and light pollution.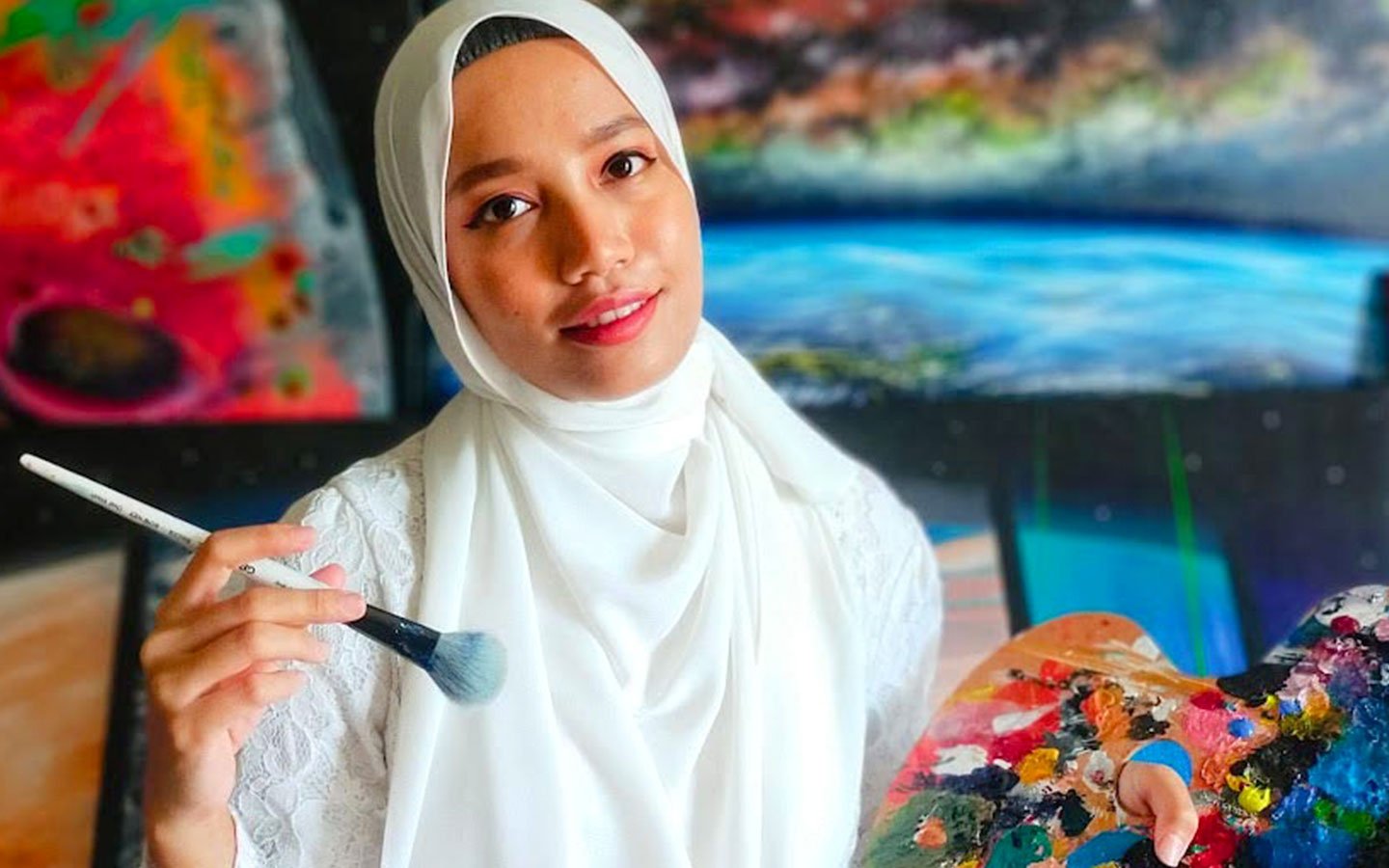 Each month DarkSky International features DarkSky Advocate from the worldwide network of volunteers who are working to protect the night. This month we're highlighting the work of DarkSky Advocate Nurul Syahirah Binti Nazarudin from Malaysia.
For our August Monthly Star feature, we sat down for a Q&A with Nurul Syahirah Binti Nazarudin, who goes by Syahirah. She is a DarkSky Advocate and primary school educator with a passion for educating the public about space, astronomy, and light pollution. She utilizes her gift for art and painting to help raise awareness in her country about the importance of dark skies.
Q: What got you interested in protecting dark skies?
I grew up in the rural part of Malaysia, Sungai Sok Village, which serves a spectacular Bortle 3 night sky. It got so dark at night since there weren't many street lights installed around the village where I lived, and I could see a lot of fireflies whenever I went out to stargaze. The sky in Sungai Sok was sprinkled with stars, and I could look up for hours, completely spellbound by the cosmic wonders above me. When I was a child, I didn't know that this pristine view of the night sky could disappear. Now that I am currently working in one of the most light-polluted cities in Malaysia, I realized the threatening effect of artificial lights at night; I can no longer see as many stars!
Under the Bortle 8 night sky of Johor Bahru City, the light from dimmer stars is completely washed out, and the sky glows in orange, which is more prominent in high humidity. I spent almost every night stargazing during my childhood up until I was in college. Living in a heavily light-polluted area disconnects me from the celestial objects above, and I lose the view that inspires me to be more curious about the world around me.

As I was desperately looking for ways to connect myself back to the night sky, the founder of Dark Sky Malaysia, Emma Zulaiha Zulkifli, approached me and offered me to be an advocate in educating Malaysian about light pollution and protecting the dark. Without hesitation, I accepted and became the Dark Sky Ranger of Dark Sky Malaysia.
Q: Can you tell us about Dark Sky Malaysia?
Dark Sky Malaysia is an organization built to spread awareness about light pollution and protect the dark sky. Consisting of a team of Dark Sky Rangers, we reveal the wonders from the dark skies in Malaysia through live observations, talks, classes, and online programs. We illustrate the importance of dark sky preservation through astronomy education and organize stargazing events in dark sky places. Currently, we are working to gazette the very first dark sky park in Malaysia and promote dark sky tourism in the Malaysian tourism sector.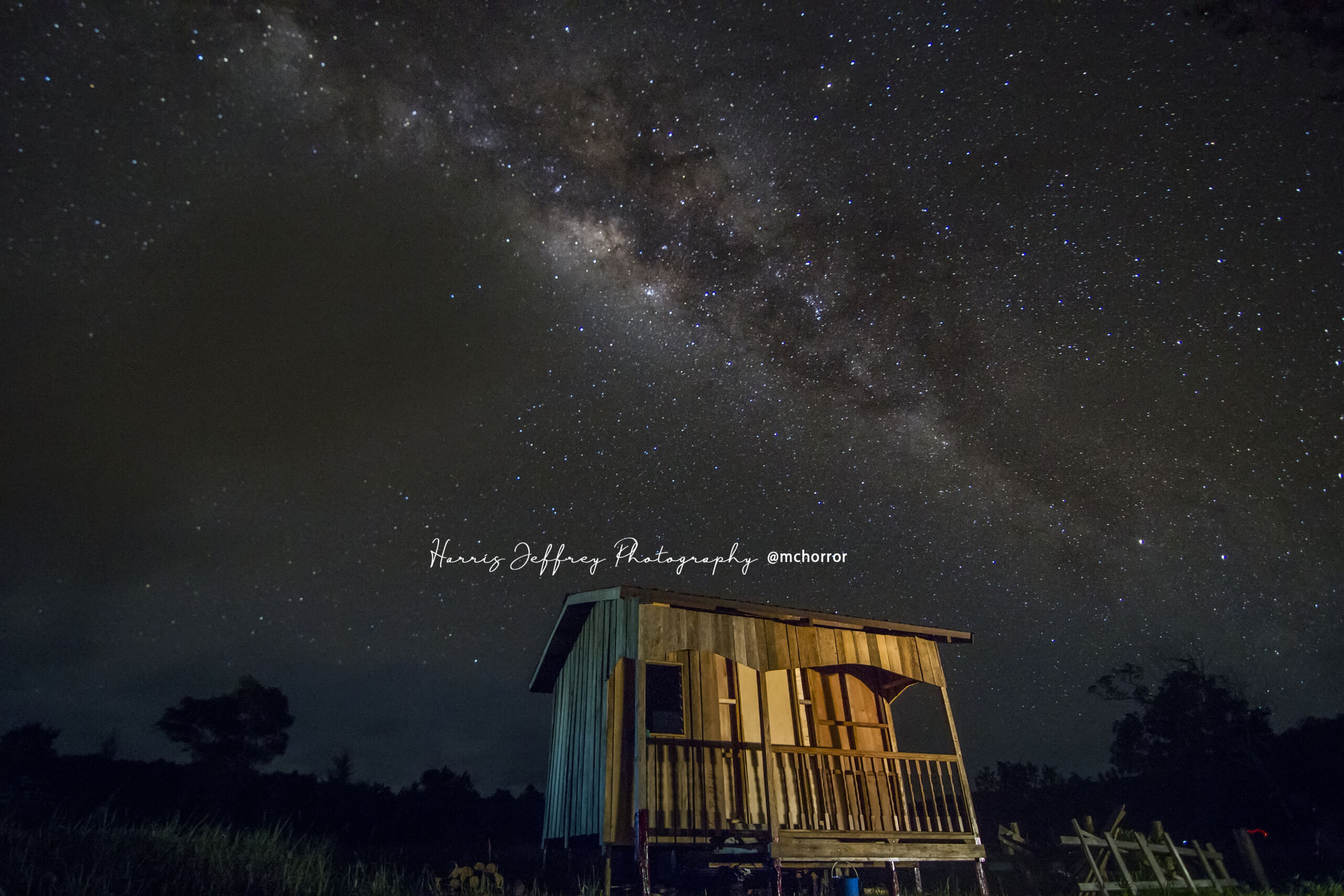 Q: How does your art influence your dark sky outreach work?
Known as the Dark Sky AstroArtist in Dark Sky Malaysia, I create art related to light pollution and dark sky awareness. Art influences my dark sky outreach work in a way that Malaysians are more aware of the astronomical objects that can be seen in the dark. They ask me if the subjects I painted can be seen in the night sky and tell me that they saw the object depicted in my artworks when they stargaze. I also created arts that carry the message of light pollution and dark sky awareness entitled "Lights Above Us" and "Losing Touch" with accompanying poems. Art communicates the message of dark skies that transcends words and evokes the observer's emotions.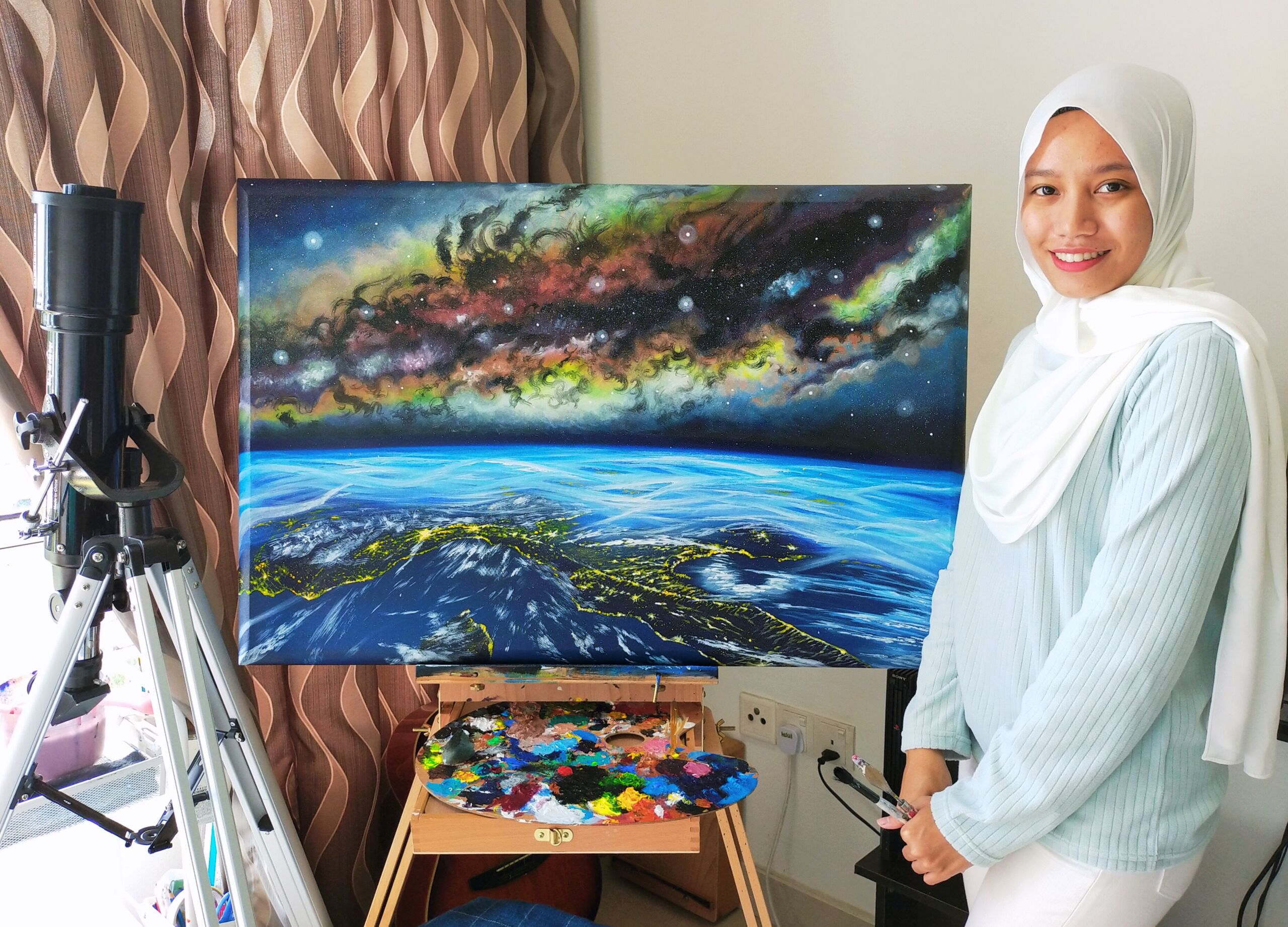 Q: How long have you been painting space and the night sky?

I've been painting space and the night sky for almost a year now, so it's actually pretty recent. I got into astronomy when I was seven years old and picked up drawing as my hobby for as long as I could hold a pencil. However, back then, I treated both interests as separate entities. Until I attended an event organized by Malaysia Space Initiative (MiSI) in October 2020. I was selected to talk about the implementation of Space and Art in my lessons, and I thought to myself: why don't I incorporate art in astronomy to make this field of knowledge more accessible to the public. I did just that, and when I joined Dark Sky Malaysia, I explored more ideas on how to make light pollution and dark sky awareness-themed art.
Q: What is your favorite piece of art that helps show the message of dark sky protection?
My favorite piece of art that helps show the message of dark sky protection is entitled "Losing Touch," featuring a series of three canvases combined into a painting. This piece is accompanied by a poem: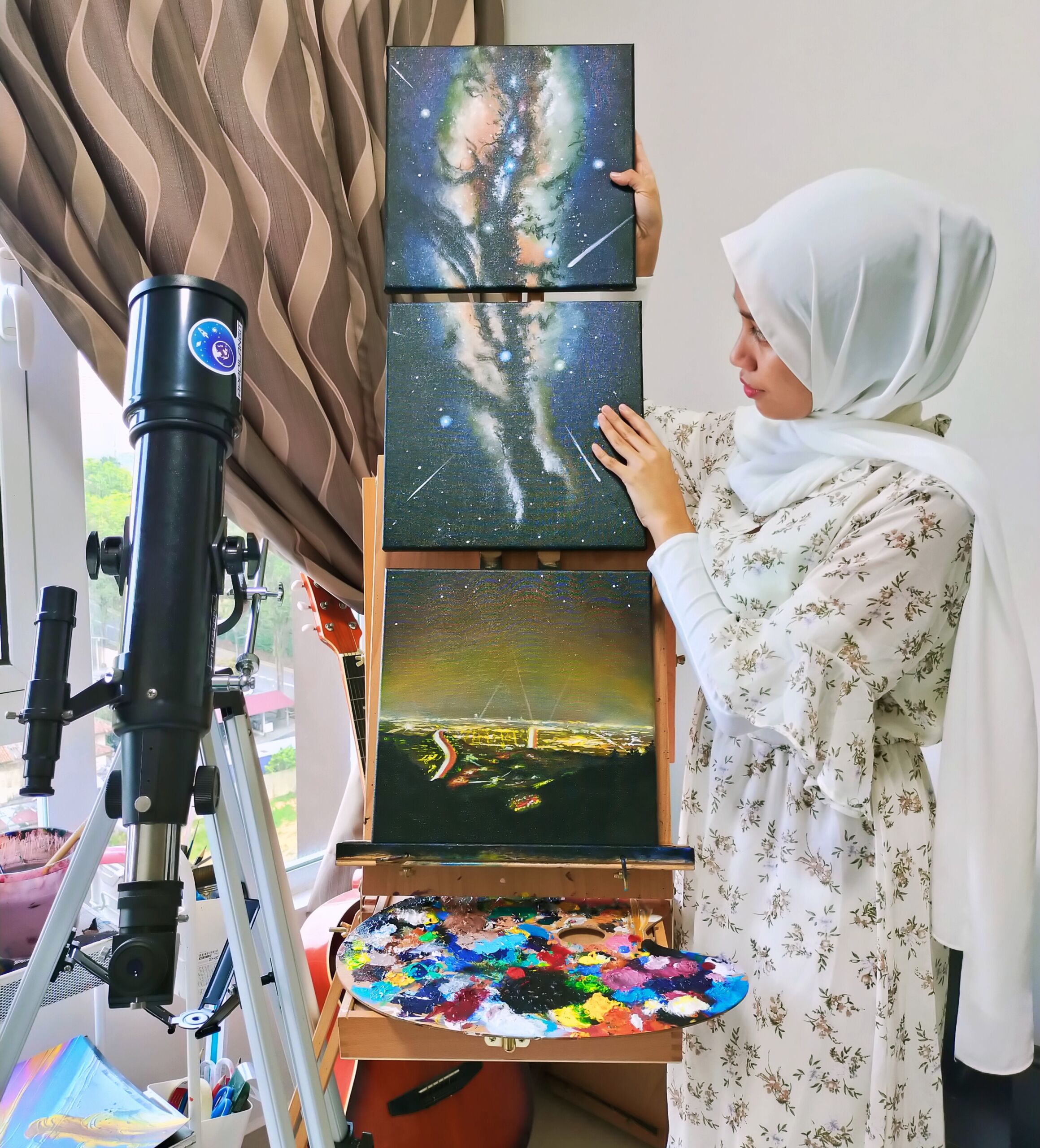 We are slowly losing touch,
With the star sprinkled night sky,
Desperately trapped in the bubble
Of man-made lights.
That river of light,
Stretching across the night sky magnificently,
As we glorify those colourful artificial lights,
Blinding us from the celestials above.
This painting is dedicated to us, who are slowly losing sight of the starry night sky due to serious light pollution, especially in the urban area. This art piece is divided into three 30×30 cm canvas, the most below depicting a heavily light-polluted city with visible dome-shaped skyglow. The other top two canvases show the Milky Way stretching across the night sky magnificently as our little light bubble prison beneath it glows insignificantly.
Q: Why is art important for dark sky awareness?
Art delivers messages that transcend words and is able to touch our emotions. Whenever I make space and dark sky art, I tend to get emotional and expressive, and I want others to feel those emotions too. I believe that having a strong emotional connection towards the night sky will drive us to protect it from light pollution. Through arts, I can reach out to others through brush strokes, forms, colors, values, and other artistic elements.

Art had been an integral medium for our ancestors to pass knowledge about celestial movements, to determine time, and navigate themselves across the Earth. I believe the same applies when it comes to dark sky awareness; art is a powerful tool to spread awareness about light pollution and the importance of having dark skies to the people in the present and to the future generations.
Q: Why is this work so important to you?
This work is important for me simply because humans, animals, and plants have the right to live under the dark sky and benefit from its presence. Losing touch with the night sky made us forget about what we actually need from the dark, in return making us more destructive by installing artificial lights which are misdirected and over-illuminate the night. As a dark sky ranger, it's my mission to educate people about what they're missing from the dark when the night is excessively bright and what they can do as individuals to make a change. The best thing is that I'm advocating light pollution and dark sky awareness in a way I'm best at, making art.
Q: What is your biggest challenge working in dark sky conservation?
One of the biggest challenges in working in dark sky conservation is, of course, to ensure others are consistently aware and taking action in saving and preserving the night sky. It's less challenging to get people into astronomical observations and joining programs related to dark sky awareness. However, to ensure that they are able to apply the knowledge that they have obtained from the programs is challenging and, honestly, beyond our control. Since light pollution and dark sky awareness is an unpopular and underrated issue in Malaysia, dark sky rangers of Dark Sky Malaysia have to work hard to truly embed the awareness into Malaysians by consistently organizing educational programs and keep building our dark sky community.
Q: What is your greatest success in dark sky conservation?
Most of my work in dark sky conservation is online, and my greatest success in dark sky conservation is during Full Moon Eclipse when the Dark Sky Malaysia team organized a live observation to bring the Full Moon Eclipse from the dark sky of the easternmost point in Malaysia to the screen. It was one of the most EPIC experiences to organize and host the live observation, and we received 30,000 viewers that night. It was one of the ways for Dark Sky Malaysia to bring dark skies closer to Malaysian through astronomical phenomena broadcasted from a dark sky area. This is how a Full Moon Eclipse looked from the dark sky place, captured by Emma Zulaiha Zulkifli: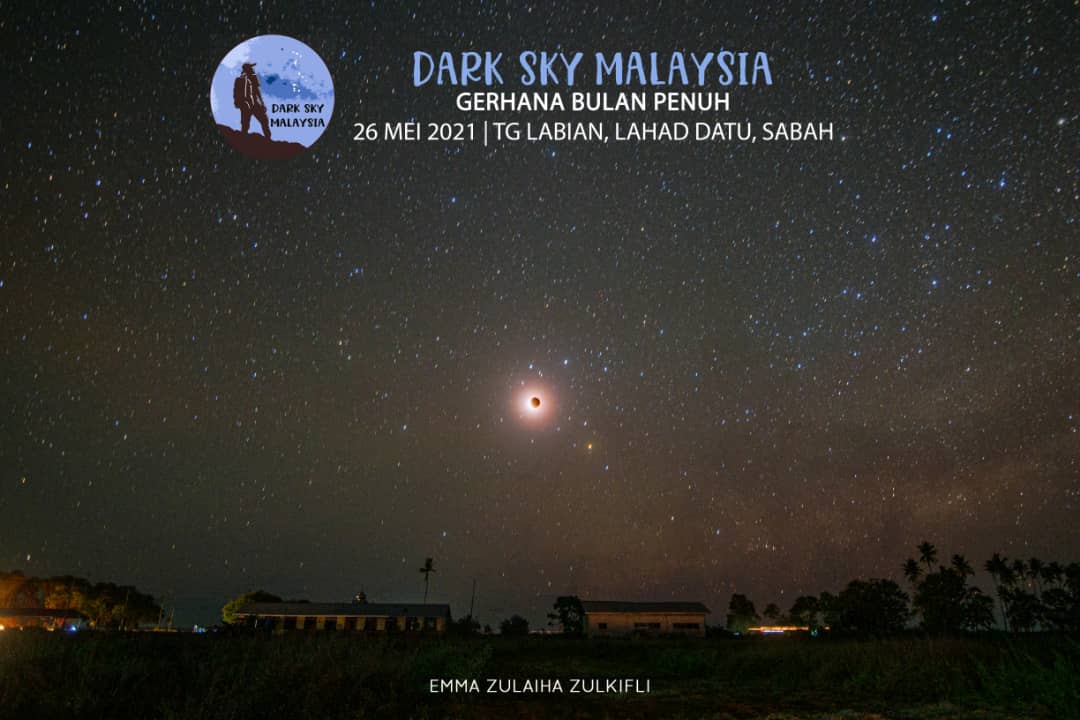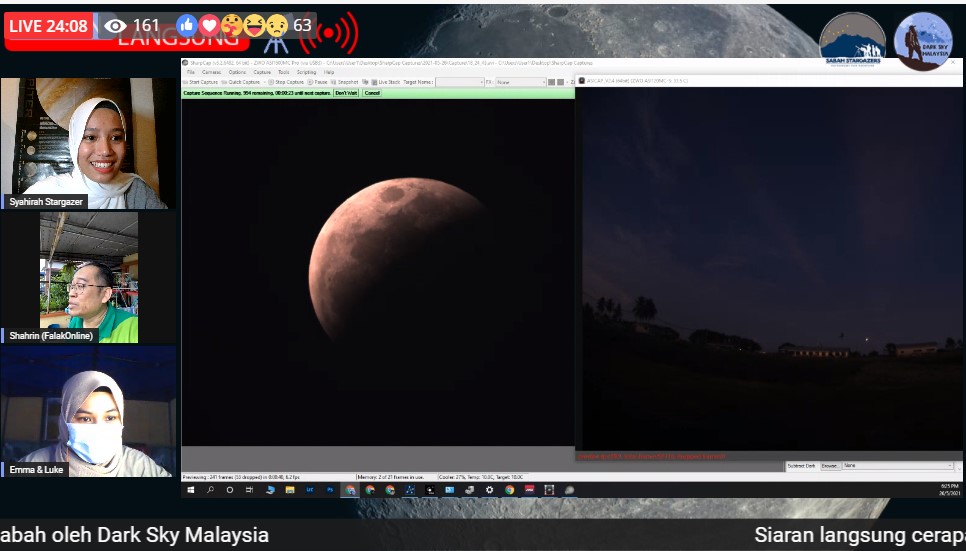 We also held a national-level event with collaborations from the local planetarium, university, and government agencies for Perseid Meteor Shower Live Observation on 12 August 2021. It was a huge online event, and we received more than 230,000 viewers that night who watched the Perseids on the screen live from the dark sky of Sabah. The Dark Sky Malaysia team stayed up all night just to bring the dark closer to Malaysians.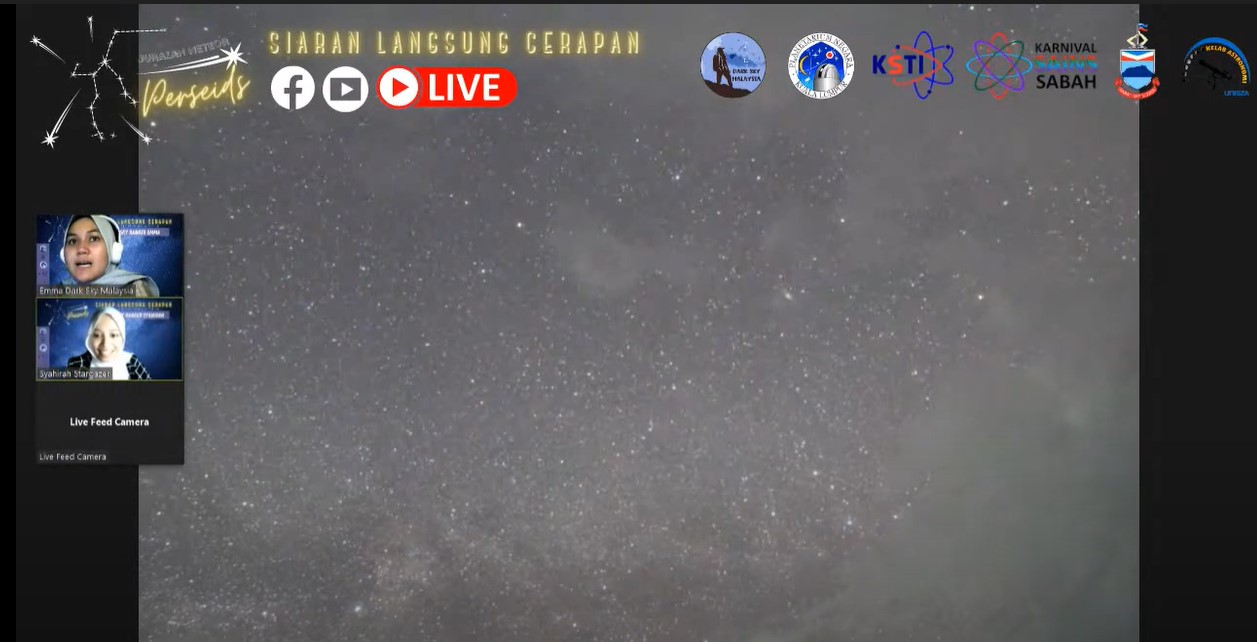 During this time of the pandemic, the world online became the main platform to connect and deliver information. Dark Sky Malaysia grabbed the opportunity and used the benefit of an online platform to the fullest.
Q: What is your favorite part about the night sky?
Every time I go for an escape to a dark sky place far away from the light-polluted area, I experience the starry night sky as the dominant presence that encapsulates me. This makes me feel so small, and any problems that I'm facing at that moment became insignificant. I can gaze at the night sky for hours without feeling bored even a little bit. When I look at the stars and the deep-sky objects, I am fully aware that I am time-traveling because the light that reaches my eyes has traveled hundreds, even thousands of years at the speed of light from where the celestial objects reside. Whenever I look up at the night sky, I think of the people in the past who had gazed at the same sky and felt very much connected to it. Even though I have never met them, I know that I am experiencing the same thoughts and awe as they did, which drove our passion further in astronomy.
Q: Who inspires you?
A lot of people have inspired me, and the person who encouraged me to pursue my passion in art is my art teacher, Chang Yong. He is an amazing professional artist who believes in my artistic skills despite not formally being educated in arts. The founder of Dark Sky Malaysia, Emma Zulaiha Zulkifli is experienced in astronomy education and dark sky protection for 10 years, and I am inspired by her determination and strength in building the first organization responsible for light pollution awareness and dark sky protection in our home country, Malaysia. She is my mentor in everything dark sky and astronomy. Emma constantly encourages and motivates me to pursue my passion for astronomy and dark sky preservation through the arts. Talented and experienced space artists in the International Association of Astronomical Artists inspired me to create more space art, and I'm truly proud to be a part of the international space artists community. I also admire the dark sky advocates all over the world and their astronomical effort in saving the dark. Their determination motivates me to carry this mission no matter what kind of obstacles lay in front of me. Under the night sky, we are together on this journey.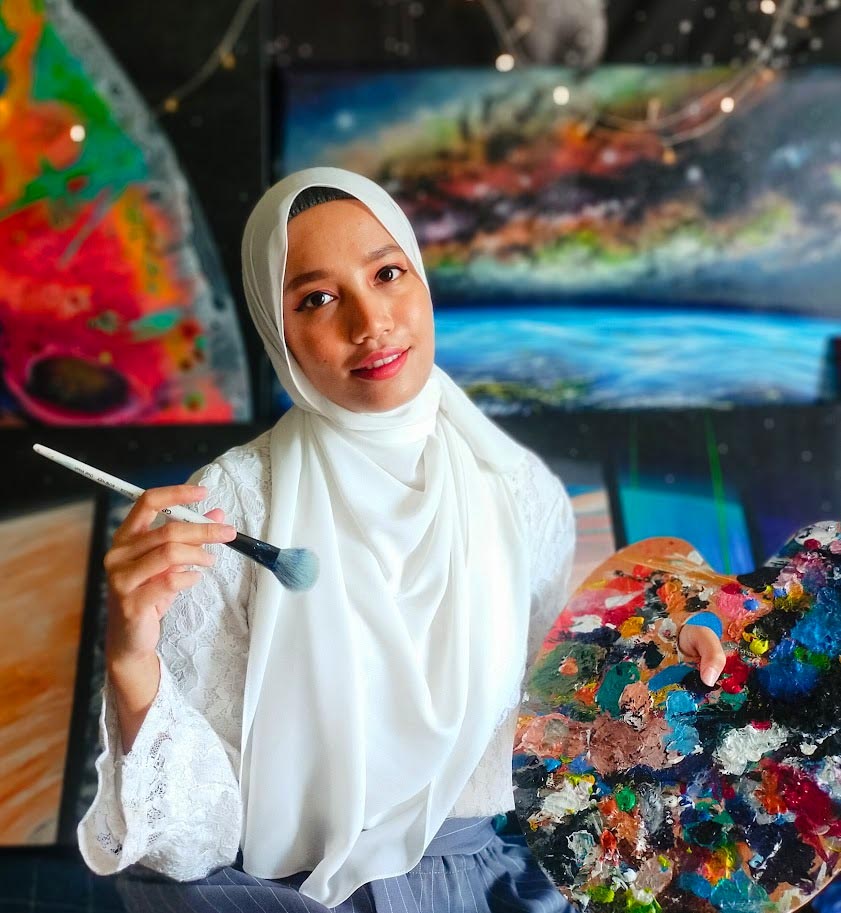 Q: Do you have a funny story to share about dark skies?
I actually do! There was a time when I went outside to do my nightly stargazing in my usual dark sky spot during my college years, and I forgot to check the spot for any hazards. The first 1-2 minutes of sitting down and gazing up at the night sky were okay when suddenly I felt insect bites all over my body. It turned out I accidentally sat on an ant nest, and the scout ants, which are quite big, bit my skin so hard it bled. I had tiny punctures on my feet, legs, arms, and back, and it was very painful. I learned that I have to always be aware of my surroundings whenever I go stargazing in an agonizing way, and this story never fails to bring me to laugh every time I bring it up.
Q: Is there anything else you would like to share?
I'm happy to announce that I'm currently on a big project to bring the beauty of the dark sky through the arts. I'm honored to offer little that I have in delivering light pollution and dark sky awareness. Even little contributions will go a long way in saving the night sky. Let's continue our effort to preserve the beauty of the dark sky and spread awareness about light pollution using any skills and capabilities that we have in hand.

I'm excited about more dark sky awareness collaborations! Do contact me if my fellow dark sky advocates have ideas to share on dark sky and arts:
Syahirah's Instagram
Twitter
Facebook
YouTube
Website
Blogspot
Learn more about the DarkSky Advocate Network and join here.