News
News
Dark Sky Book Lists For Your Reading Pleasure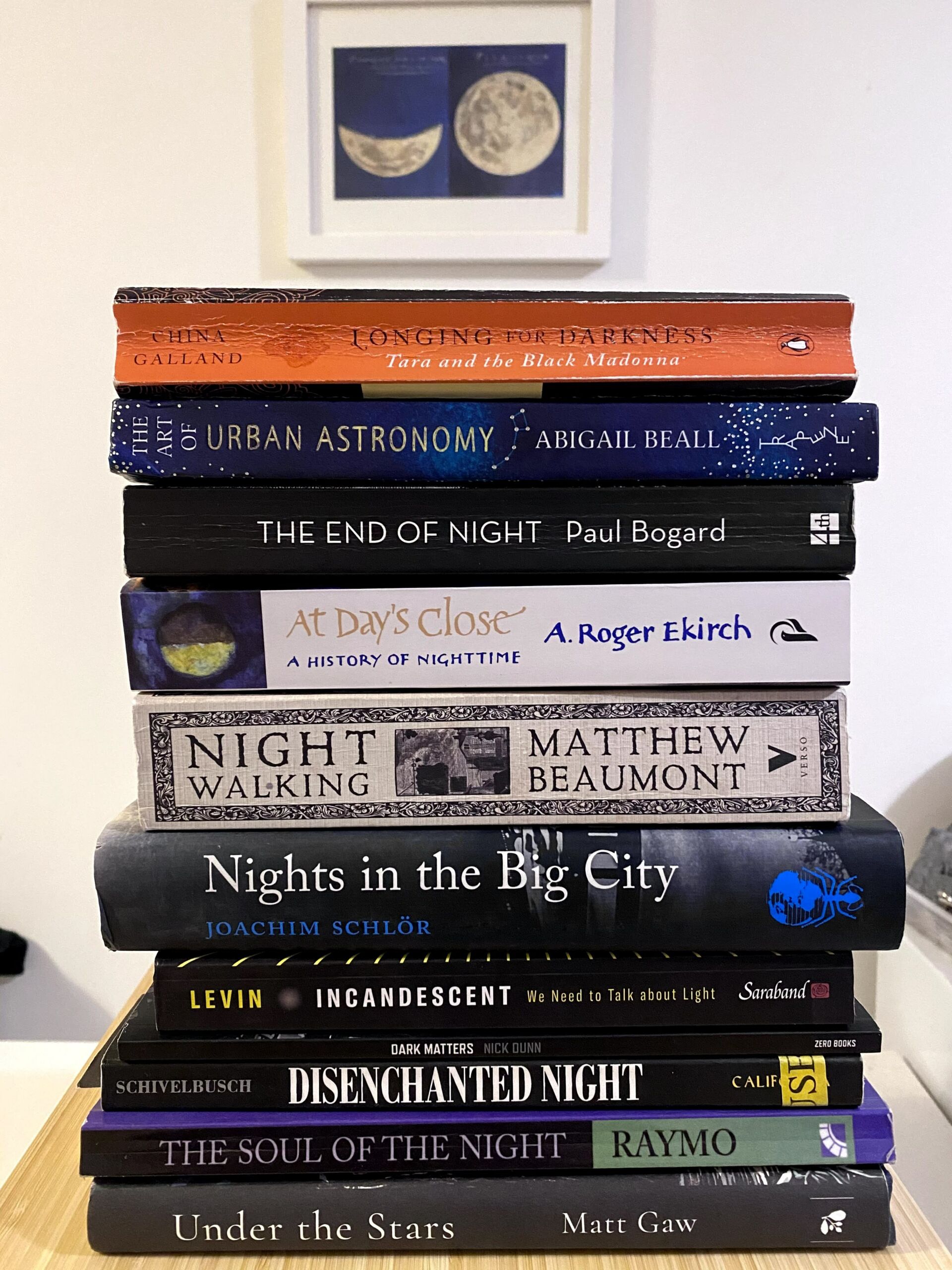 Looking for dark sky books for children and adults? We've got you covered! With International Dark Sky Week approaching, we've created a couple of book lists for you. The adult book list consists of various books to appeal to everyone's different interests, tastes, and knowledge levels. Whether you are just getting introduced to light pollution and dark skies, want a more technical deep dive into the topic, or a mystery novel set in an International Dark Sky Place, there's something for everyone. The children's book list includes some great books to introduce children to the concept of light pollution and the value of dark skies to kids. 
Adult Book List: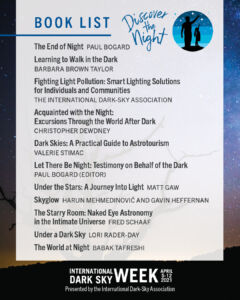 The End of Night by Paul Bogard
In The End of Night, Paul Bogard restores our awareness of the spectacularly primal, wildly dark night sky and how it has influenced the human experience across everything from science to art.
Learning to Walk in the Dark by Barbara Brown Taylor
This book by Barbara Brown Taylor approaches darkness from a spiritual perspective and touches on our tendency to associate all that is good with lightness and all that is evil and dangerous with darkness.
Fighting Light Pollution: Smart Lighting Solutions for Individuals and Communities by The International Dark-Sky Association
This book is geared to homeowners and renters, stargazers, nature-lovers, business owners, community leaders, and public officials–anyone with an interest in efficient and effective lighting. It covers how smart lighting can save energy costs and improve safety around the home, along the streets, and in public places–all while helping to preserve the night sky.
Acquainted with the Night: Excursions Through the World After Dark by Christopher Dewdney
In this book, Christopher Dewdney uses twelve chapters corresponding to the twelve hours of the night, where he illuminates night's central themes, including sunsets, nocturnal animals, bedtime stories, festivals of the night, fireworks, astronomy, nightclubs, sleep and dreams, the graveyard shift, the art of darkness, and endless nights.
Dark Skies: A Practical Guide to Astrotourism by Valerie Stimac
Lonely Planet's Dark Skies is a comprehensive companion that includes guides to 35 dark-sky sites and national parks, where to see the aurora, the next decade of total solar eclipses, and how to view rocket launches, plus the lowdown on commercial space flight, observatories, and meteor showers.
Let There Be Night: Testimony on Behalf of the Dark by Paul Bogard (editor)
In Let There Be Night, twenty-nine writers, scientists, poets, and scholars share their personal experiences of night and help us to understand what we miss when dark skies and nocturnal wildness vanish. They also propose ways by which we might restore the beneficence of true night skies to our cities and our culture.
Under the Stars: A Journey Into Light by Matt Gaw
This book is an exploration of the power of artificial lights of night and looks at the effects light pollution has on animals and people.
SKYGLOW by Harun Mehmednivić and Gavin Heffernan
This book includes stunning full-color astrophotography images and explores both the most light-polluted cities and darkest skies with a blend of images, stories, essays, and anecdotal captions.
The Starry Room: Naked Eye Astronomy in the Intimate Universe by Fred Schaaf
The Starry Room is a collection of essays that evokes the beauty and wonder of the night sky, explains to beginning skywatchers how to find and where to look for specific celestial objects.
Under a Dark Sky by Lori Rader-Day
This thrilling murder mystery by Lori Rader-Day is set in a dark sky park and follows a grieving widow as she tries to make sense of the chaos and lies to evade a ruthless killer.
The World at Night by Babak Tafreshi
The World at Night brings together the images of over 40 photographers across 25 countries and reveals the full beauty of our night sky revealed as never before in over 200 remarkable photographs.
Children's Book List: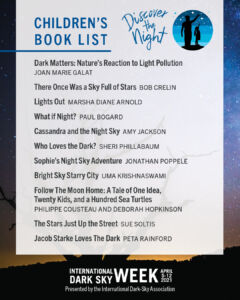 Dark Matters: Nature's Reaction to Light Pollution by Joan Marie Galat
Told through the eyes of thirteen-year-old Joan who loves the outdoors, this book introduces young readers to the fragile animals that are impacted by our increasingly threatened nighttime skies.
There Once Was a Sky Full of Stars by Bob Crelin
There Once Was a Sky Full of Stars is a lyrical, beautifully illustrated bedtime story that helps children discover the wonders of our starry sky and explains how light pollution is slowly destroying this timeless treasure. Offering hope and encouragement, the book also describes some simple things everyone can do to bring back the majesty of the night sky.
Lights Out by Marsha Diane Arnold
In this book, the subject of light pollution is explored through the experiences of nocturnal creatures. Animals embark on a quest to find true darkness when too many artificial lights at night confuse migrating birds, silence singing frogs, and affect the survival of nocturnal animals.
What if Night? by Paul Bogard
What if Night? delves into the issues of light pollution and how even a small child can take actions that improve our world. This charming story, along with stunning watercolors of night sky and wildlife, presents the thrill and wonder of a child exploring darkness without fear.
Cassandra and the Night Sky by Amy Jackson
This book tells the story of a nine-year-old princess, a royal tea party, and the magic and mythology that lends its voice to the explanation of the legends of the starry night sky.
Who Loves the Dark? by Sheri Phillabaum
In this story, a child finds himself alone and lost in a forest. Any child would be frightened in this situation, and this child has an especially deep fear of the dark. Luckily, he meets a wise owl who teaches him about many of the plants and animals who love and need the dark.
Sophie's Night Sky Adventure by Jonathan Poppele
Sophie's Night Sky Adventure follows a girl named Sophie, who lives in a big city with lots of light pollution, on a special stargazing trip with her Grandpa. She is awestruck by what she sees as she discovers some of the most popular constellations.
Bright Sky, Starry City by Uma Krishnaswami
This story follows a little girl named Phoebe and her dad who want to experience a special celestial event, but encounter light pollution and bad weather. Then, suddenly the power fails and the storm clears leading everyone to spill out into the street and revel in the splendor of the night sky.
Follow the Moon Home: A Tale of One Idea, Twenty Kids, and a Hundred Sea Turtles by Phillippe Cousteau and Deborah Hopkinson
This book tells the story of a little girl named Vivienne and her desire to help baby sea turtles make their way to the ocean by convincing the homeowners along the shore to turn off their lights and the journey they take to raise awareness about some of the impacts of light pollution.
The Stars Just Up the Street by Sue Soltis
The Stars Just Up the Street follows Mabel, who loves the stars but can't see many of them from her backyard. Then, her grandfather tells her that as a child he could see thousands. Mabel tries to climb a hill to find more stars but instead discovers that the glow from the nearby town makes them too hard to see. She then goes on a journey to see what it would take for her neighbors to turn off their lights for one night so everyone can see the stars.
Jacob Starke Loves the Dark by Petra Rainford
Jacob Starke is terrified of the dark until he gets to meet The Dark face-to-face and shares an amazing adventure through the wonders of the night sky.
These are by no means a comprehensive list of all the books about light pollution and dark skies. For more information on children's books about light pollution, click here.