News
News
Flagstaff Area National Monuments Named International Dark Sky Park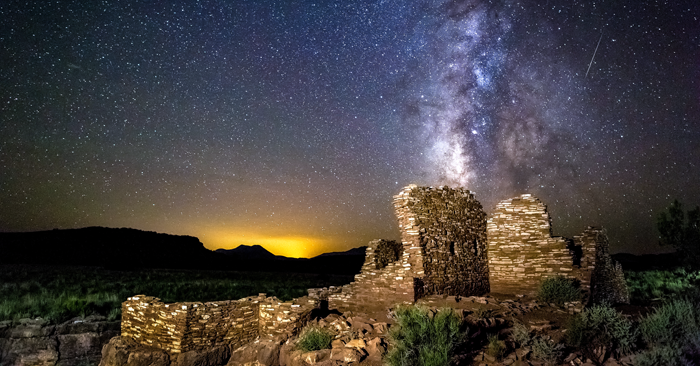 The National Park Service and International Dark-Sky Association are pleased to announce Flagstaff Area National Monuments – Sunset Crater Volcano, Walnut Canyon and Wupatki – have been designated as an International Dark Sky Park by the IDA. The monuments and their immediate environs produce little light pollution of their own, with minimal amounts from Walnut Canyon and Sunset Crater Volcano and almost no light pollution at Wupatki. The monuments are near Flagstaff, a city with a population of over 65,000 people. In 2001Flagstaff became the first International Dark Sky City and has progressive lighting codes that prevent unnecessary light pollution. Earlier this year, the NPS nominated the monuments for dark sky park status to celebrate efforts to protect their dark skies and share them with the public.
"Today's announcement of IDA Dark Sky Park status for Flagstaff Area National Monuments is an important step forward that ties dark skies preservation efforts in the City of Flagstaff to protected lands elsewhere on the Colorado Plateau," IDA Executive Director J. Scott Feierabend explained. "It also reminds us not only that fine views of starry night skies can still be found practically on the city's doorstep, but also that naturally dark nights are a key aspect of Northern Arizona's historical and cultural heritage."
"Each of the monuments offers a spectacular night sky that reflects the criteria for designation as a Dark Sky Park," said Caleb Waters, Maintenance Mechanic Supervisor, who led the effort. Waters went on to say, "Achieving this designation was a collaborative process. The park staff worked with our regional and national offices to gather and interpret data, make lighting retrofits, and get the message out to visitors." Using current research, addressing park lighting, and hosting astronomy events with community partners such as the City of Flagstaff, Flagstaff Dark Skies Coalition and Lowell Observatory, the Flagstaff Area National Monuments achieved the International Dark Sky Park award.
"Working with IDA and local partners, we hoped to get the designation as part of our celebration of the NPS Centennial in 2016," said Superintendent Kayci Cook Collins. "The timing is perfect."