News
News
DarkSky Advocate Rosalía Lugo opens teens' eyes to light pollution in Chicago
DarkSky Delegate Rosalía Lugo empowers working-class youth of color through the YOLO program at Adler Planetarium, educating them about light pollution and promoting environmental justice in their bilingual and culturally relevant curriculum.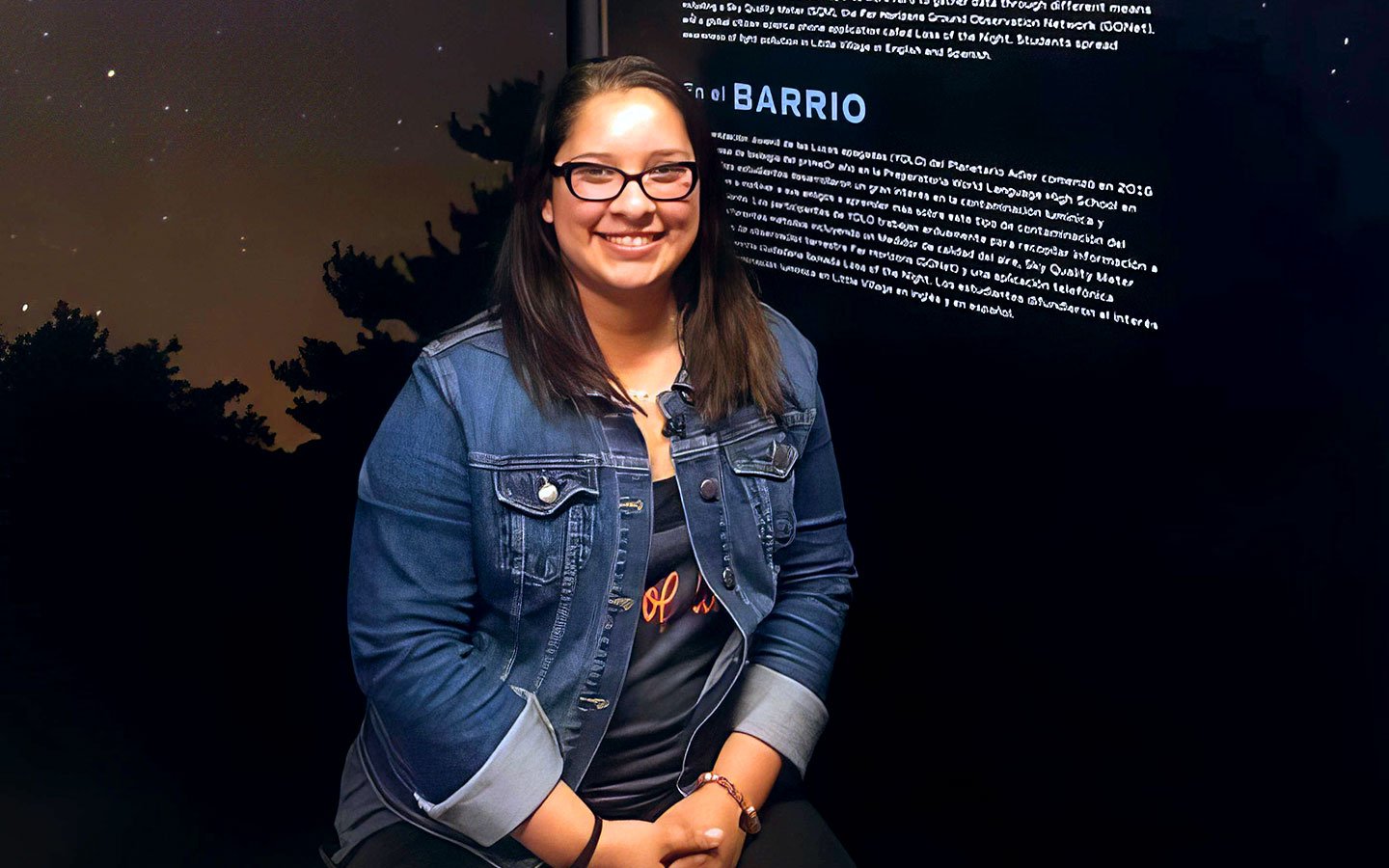 Each month DarkSky International features a DarkSky Advocate from the worldwide network of volunteers who are working to protect the night. This month we're highlighting the work of DarkSky Delegate, Rosalía Lugo.
Self-described as "a true believer in the potential of working-class youth of color," DarkSky Delegate Rosalía Lugo works as the teen programs manager at the Adler Planetarium in Chicago, Illinois. With a Master's in education policy, organization, and leadership from the University of Illinois at Urbana-Champaign, Lugo says she likes working with young people "because they are so smart and want to learn." She also says that the teens she works with open her eyes to seeing other views and understanding things differently.
Through the Youth Organization for Lights Out (YOLO) program that she manages, Lugo is helping dozens of teens open their eyes to the problem of light pollution and see the beauty of naturally dark places.
YOLO started in a biology class at World Language High School in Chicago and is now primarily an afterschool program in partnership with Adler Planetarium's Teen Programs. Through the program, students in YOLO take trips outside of the city to experience naturally dark skies. In August of this year, the teens visited Middle Fork River Forest Preserve, the first International Dark Sky Park in Illinois. Leaving the city is a novel experience for many of the YOLO teens, and they often find dark places scary or bad at first. On another visit to the Indiana Dunes National Park, the teens not only experienced the dark sky above them, they were also able to observe the bright sky over their home of Chicago in comparison.
Lugo teaches the students that light pollution is not just an astronomy issue — it's an environmental justice issue. She helps them understand that the way we use light at night affects habitats, economics, and policy. She encourages the students to get involved and become advocates for their community, the Little Village neighborhood, and stresses that you don't have to be at a planetarium to enjoy or learn about the sky.
Because YOLO operates in a school where many of the students are bilingual and bicultural, the curriculum is designed to be culturally relevant. Lugo makes an effort to understand where the YOLO students come from and to encourage them to share what they are learning in their own neighborhood, which is predominantly Mexican-American. Many parents and grandparents of the YOLO teens do not speak English, so the students are empowered to talk to them about dark skies in their native language.
One of the ways the YOLO teens are doing this is through a bilingual video that is part of a new exhibit at Adler Planetarium. The exhibit, titled "Chicago's Night Sky," opened this fall, and is an interactive exhibit for all ages. It includes displays of different light shielding options, an activity where visitors create their own constellations, and a place for visitors to take a selfie with a high-altitude balloon used for creating pictures from the stratosphere.
Asked where her passion for this work comes from, Lugo says she is driven by a desire to uplift and empower young people, especially working-class youth of color. She says that they are "awesome humans to collaborate with," and that she loves seeing them become experts on light pollution. Her advice for other young dark sky advocates is "If you are curious, explore it. Don't let anyone tell you it doesn't exist."