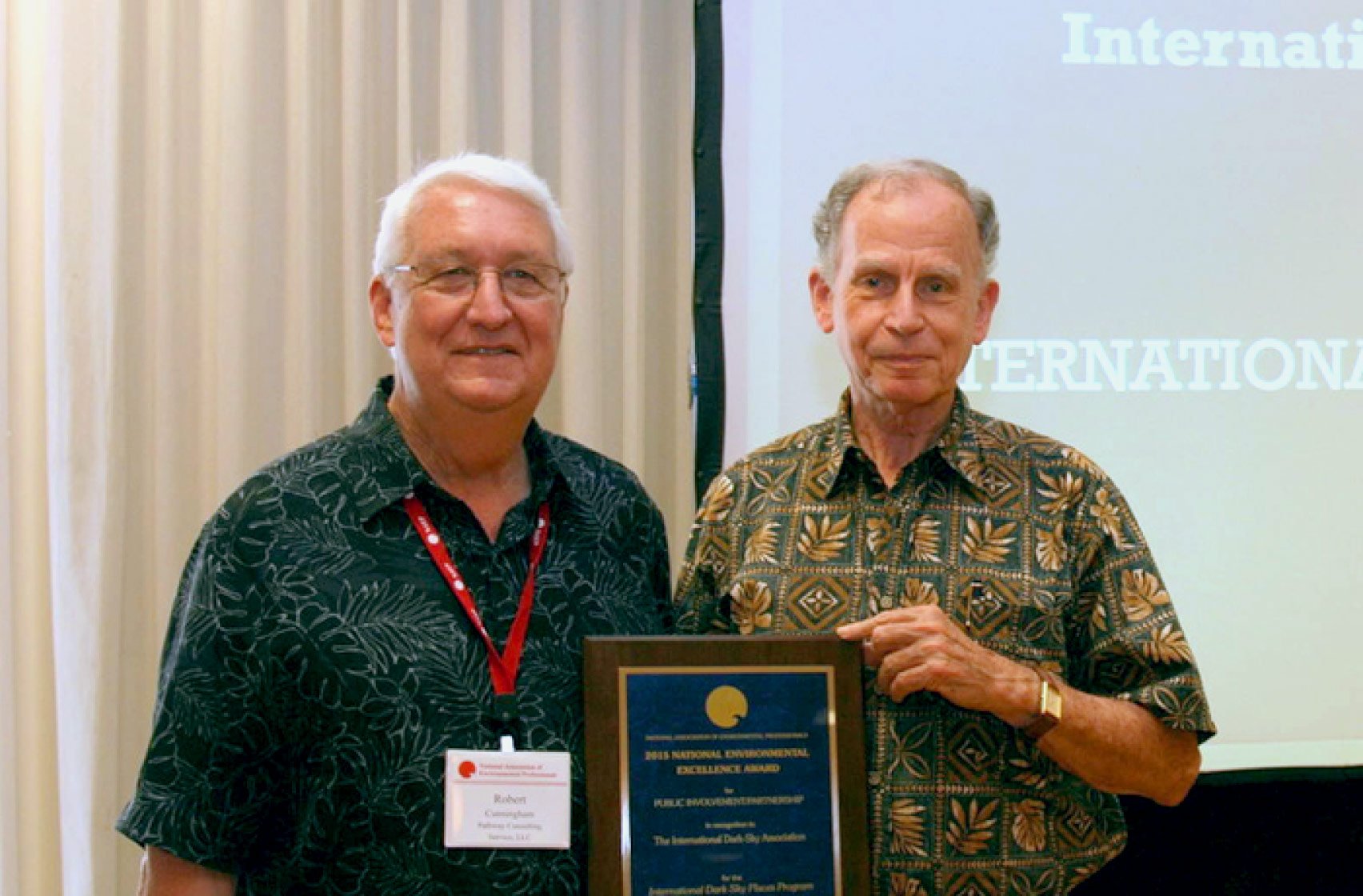 The International Dark Sky Places Program is Recognized for its Innovative Efforts
TUCSON, Ariz. (30 April 2015) –The International Dark-­Sky Association is honored to announce that it has received a 2015 National Environmental Excellence Award for its innovative International Dark Sky Places program. The award, granted by the National Association of Environmental Professionals (NAEP), was given for outstanding environmental contributions in the area of public involvement and partnerships.
The International Dark Sky Places program was established in 2001 to recognize excellent stewardship of the night sky. Designations are based on stringent outdoor lighting standards and innovative community outreach and partnerships.
"We are so thrilled to receive this award and want to applaud all of our Dark Sky Places for their inspiring commitment to night sky protection," said IDA Executive Director Scott Feierabend. "They're the ones on the ground doing this important work."
Efforts to obtain a designation can take up to several years depending on the site and often require significant collaborations with public officials and surrounding businesses and communities.
The program uses a positive reinforcement approach to motivate communities to engage in public outreach and implement dark sky friendly lighting that helps taxpayers' pockets, increases ecotourism, and provides educational and recreational opportunities for locals and visitors.
"Although we are a resource during the application process, the real legs of the program are the individual efforts of local citizens," said IDA Program Director John Barentine. "Volunteers educate their community about light pollution, do night sky quality surveys, and collect donations to support good lighting."
Designations not only help protect the environment, they also help the protected areas and their surrounding communities stay financially viable by providing a new and unique ways to draw visitors and attract government funds.
Since the program began, 10 Communities, 22 Parks and nine Reserves have received International Dark Sky designations, comprising more than 43,000 square km (16,000 square miles) on four continents.
About IDA
The International Dark Sky Association, a 501(c)(3) nonprofit organization based in Tucson, Arizona, advocates for the protection of the nighttime environment and dark night skies by educating policymakers and the public about night sky conservation and promoting environmentally responsible outdoor lighting. More information about IDA and its mission may be found at darksky.org.
About NAEP
NAEP is a national nonprofit association of environmental scientists and professional planning experts dedicated to the advancement of ethical environmental practices in the United States and abroad. Its Awards Initiative recognizes the best environmental work of nonprofits, public agencies and environmental professionals. Learn more about NAEP at naep.org.