News
News
International Dark Sky Week Encourages People Worldwide to "Discover the Night"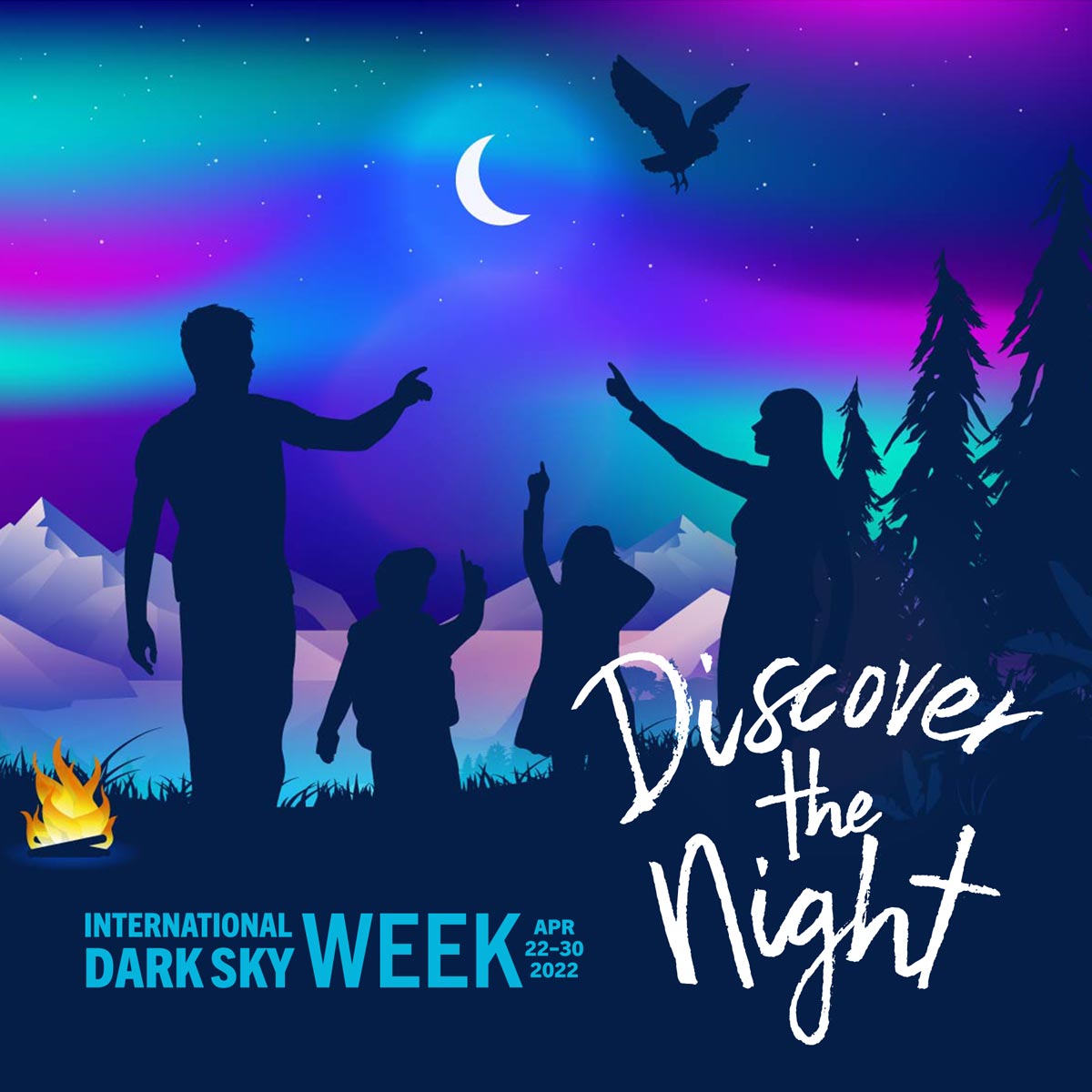 Tucson, Arizona, U.S. – This April 22-30, the International Dark-Sky Association (IDA) encourages people worldwide to discover the night during International Dark Sky Week 2022. This annual week-long event aims to raise awareness about the negative impacts of light pollution, the solutions that exist and simultaneously celebrate the night. 
Light pollution is an urgent environmental threat. It is increasing at a global average of 2.2% per year, threatening wildlife and ecosystems, impacting human health, wasting money and energy, and blocking out our view of the universe. However, unlike other kinds of pollution, we don't have to wait for generations to see a change. Once solutions are implemented, the results are immediate. 
"International Dark Sky Week provides a wonderful opportunity for people to discover value and beauty in the dark," notes IDA's Communications Manager, Lauren Scorzafava. "It's a great time to connect with the night and learn about what is at stake if light pollution continues to increase."
In honor of International Dark Sky Week, IDA maintains a website (idsw.darksky.org). This website provides an overview of light pollution and provides some ways that people can take action in their own communities. It also acts as a home base for the events (both virtual and in-person) being hosted all over the world by Advocates, International Dark Sky Places, other organizations, and individuals. Take a night walk, learn about astrophotography, why wildlife needs the dark, or attend a star party. Learn more and find a list of events at idsw.darksky.org, or follow along on Facebook, Instagram, or Twitter.
Let's discover the night! 
About IDA
The International Dark-Sky Associaton (IDA) is the leading organization combatting light pollution worldwide. Since 1988, IDA has promoted win-win solutions that allow people to appreciate dark, star-filled skies while enjoying the benefits of responsible outdoor lighting.
Our impact reaches 57 countries on six continents, with members, volunteer advocates, and International Dark Sky Places around the globe helping
to preserve the natural nighttime environment. Learn more at
darksky.org
.
About International Dark Sky Week
Every year, the International Dark-Sky Association hosts International Dark Sky Week during the month of April to raise awareness about the adverse effects of light pollution, the solutions that exist, and celebrate the night. This year's celebration will begin on Monday, April 22, and run through April 30. Learn more at
idsw.darksky.org
. 
Resources
B-roll: (please credit Bettymaya Foott): https://darksky.box.com/s/waokhml12hihg1fi2u374bvq3p36y3jb
Official Hashtags: #DiscovertheNight, #IDSW2022, #DarkSkyWeek
Contact
Lauren Scorzafava
Communications Manager
International Dark-Sky Association
[email protected]