News
News
Celebrate International Dark Sky Week 2023!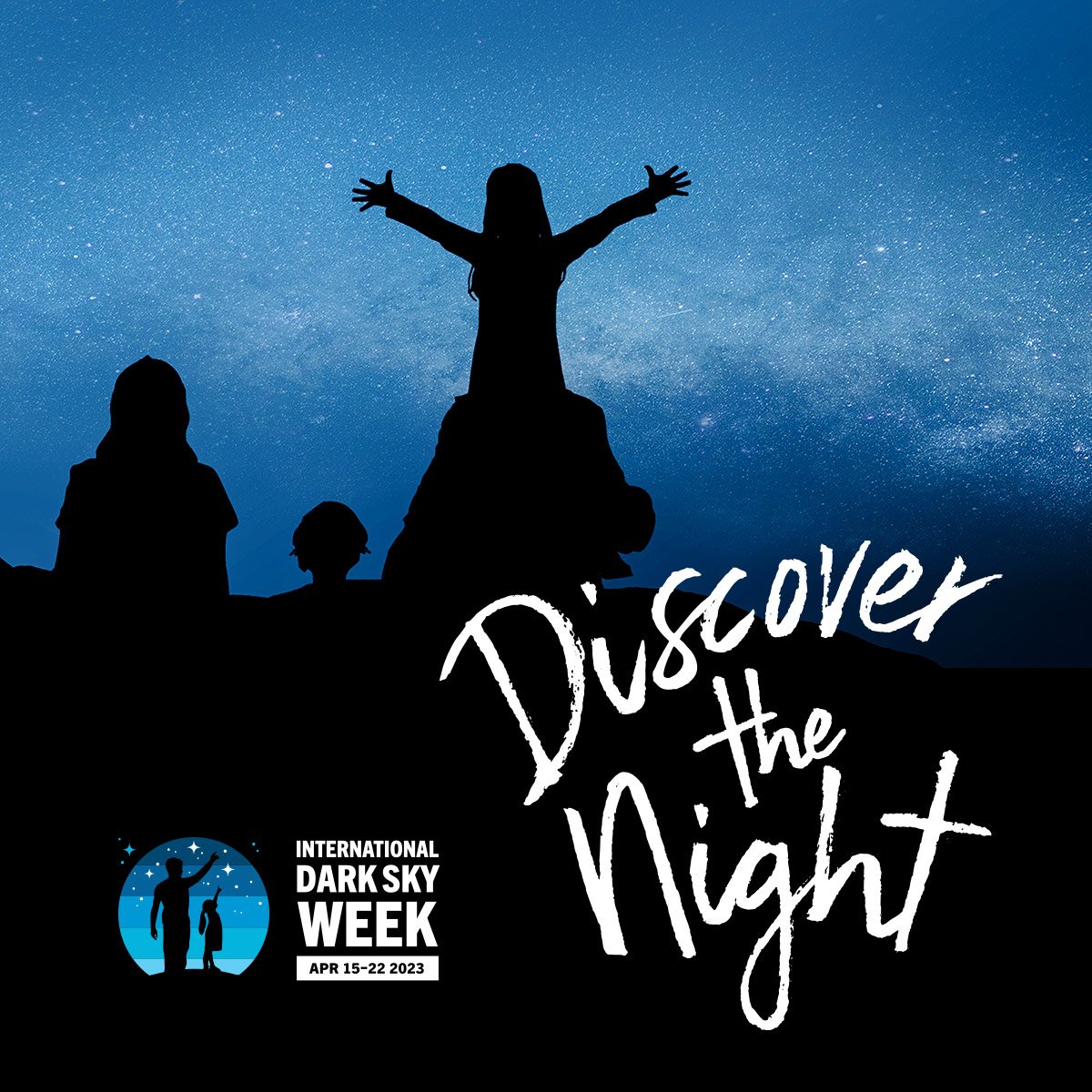 What do you see when you look up at the night sky on a clear and cloudless night? Whether you are accustomed to seeing the luminous edges of the Milky Way or can just barely make out your favorite constellation, the sight of our night sky is not the same for all eyes around the world. While seemingly harmless in our day to day lives, the reality of light pollution comes in the form of far-reaching consequences that are harmful to all living things on Earth.
What is International Dark Sky Week?
International Dark Sky Week (IDSW) is a celebration that occurs once a year with the goal to raise awareness around the harms and realities of light pollution and promote the preservation of dark skies whenever and wherever possible. This year, in 2023, IDSW takes place from Saturday, April 15th to Saturday, April 22nd. During the week, night sky lovers from around the world are encouraged to participate in activities that celebrate the beauty of the night sky and advocate alongside astronomers, environmentalists, and policy makers for the protection of our natural nighttime environment.
Why is it important? 
With technological advances in recent years, the issue of light pollution has increased alongside our world becoming more urbanized and industrialized. Artificial light is increasingly found flooding parking lots and streets at night, in turn obscuring the view of the stars, disrupting natural ecosystems, and affecting human health. Since our view of the night sky is now dependent on our location and the light pollution attributed to the area where our home resides, IDSW provides an opportunity for people worldwide to learn about the impacts of light pollution and take action to reduce it.
What can I do? Take action during IDSW!
Feeling inspired? Check out even more IDA suggested actions.
Mark your calendar! Here are the upcoming IDA Sponsored Events: 
To join these virtual events, we will be live streaming from IDA's Facebook & YouTube pages!
Sunday, April 16 – The Sunday Read
Join us on Sunday, April 16th at 10:00 am PDT (5:00 pm UTC)  for a reading of the

Darkness Manifesto

by author Johan Eklöf, followed by a conversation with author Paul Bogard to celebrate IDSW! Check out this

New York Times article

to learn more. 
Tuesday, April 18th – Dark Sky Trivia Tuesday
Join us on Tuesday, April 18th at 2:00 pm PDT (9:00 PM UTC)  for Dark Sky Trivia Tuesday! Hop online to compete in trivia games and for the presentation of the newest state of the science document!
Wednesday, April 19 – Night Matters: Wildlife Wednesday
Tune in on Wednesday, April 19th at 11:00 am PDT (6:00 PM UTC) to hear Travis Longcore, a long term Professor of the Environment and Sustainability and Co-chair of the Environmental Science and Engineering doctoral program at UCLA talk about the importance of dark skies for ecology and wildlife around the world. 
Friday, April 21 –  Friday Night (No) Lights
Follow along with a guided tour of the night sky on Friday, April 21st at 11:00 am PDT (6:00 PM UTC)! Kelly Beatty of Sky & Telescope magazine will provide a tour of the Northern Hemisphere skies while Samyukta Manikumar of the IDA Board of Directors and the Noctia Institute will take us south to see the Southern Hemisphere. 

Want to meet other IDA advocates around the world? Join IDA's advocate network to get an invitation to an online mixer on Friday, April 21st at 2:00 pm PDT to celebrate IDSW and all of the proclamations that were obtained around the world. 
Want to get your own event started in your community or beyond? Take a look at previous IDSW events and submit your own events and event ideas here!
IDSW is an important reminder of the need to protect our natural environment and promote sustainability on our home planet. By participating in activities during the week and advocating for dark sky preservation, individuals can make a meaningful contribution to keeping our night skies dark for future generations!
Same time next year? Make sure to join us next year in 2024 for IDSW 2024 on Tuesday, April 2 to Monday, April 8, 2024.