News
News
Joining forces to protect the night from light pollution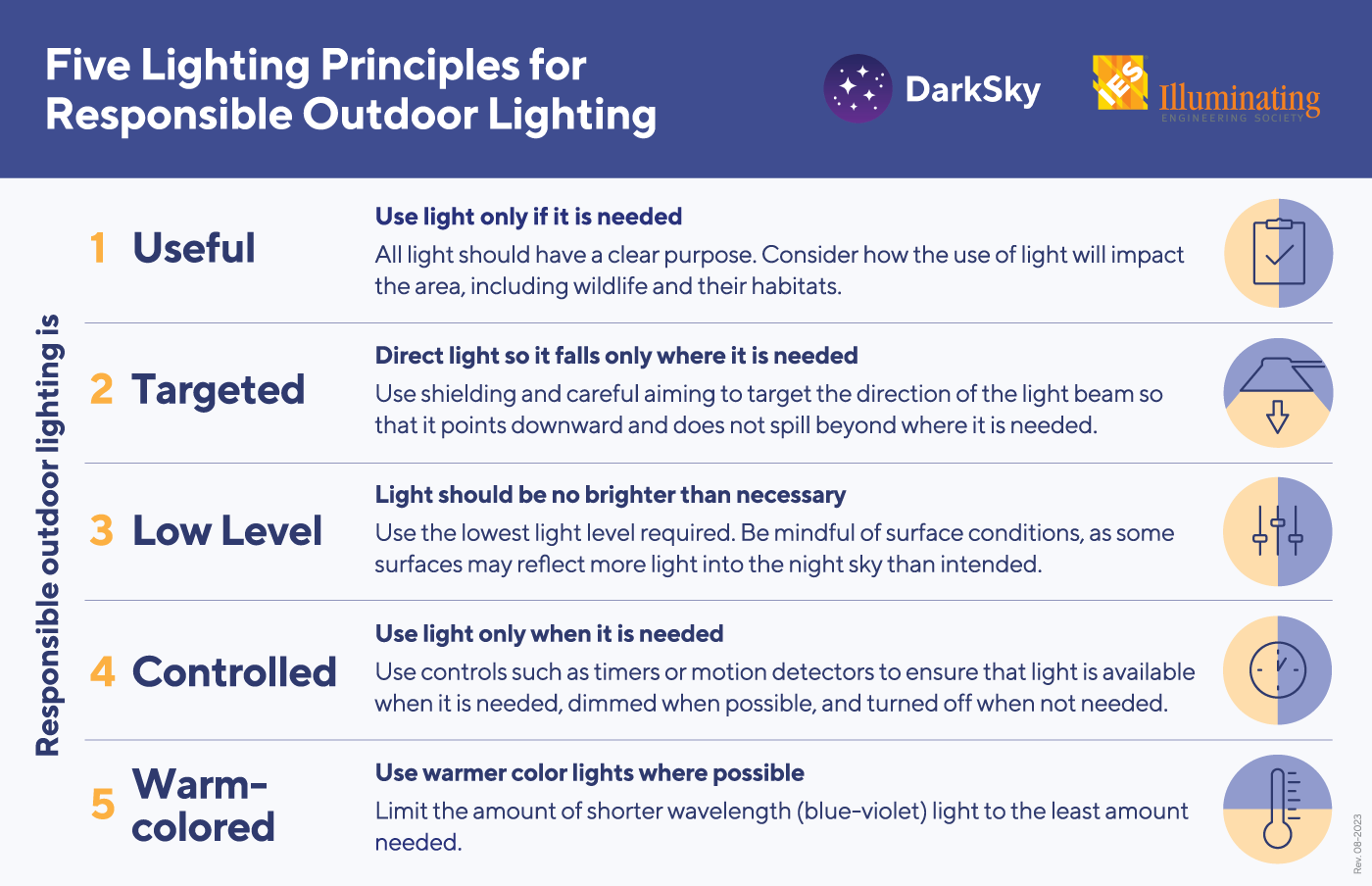 Co-authors:
Ruskin Hartley, Executive Director, IDA
Brian Liebel, Director of Standards and Research, IES
We are delighted to announce that the Boards of Directors of IES and IDA have each unanimously adopted resolutions supporting the Five Principles for Responsible Outdoor Lighting. [see box]
Download the Five Principles in Spanish (Luz para Proteger la Noche)
Too often, outdoor electric lighting installations at night are over lit, left on when not needed, and are harmful to the environment. As a result, light pollution is a growing global issue that can negatively affect our environment and impact our quality of life. By joining forces, our shared goal is to prevent and reduce light pollution through the proper application of quality outdoor electric lighting.
By applying these principles, properly designed electric lighting at night can be beautiful, healthy, and functional. Projects that incorporate these principles will save energy and money, reduce light pollution, and minimize wildlife disruption.
These principles establish a high-level framework for important collaborative work ahead. IDA and IES commit to working together to:
Establish a new metric to more accurately assess the quantity of short-wavelength light

in an electric light source. Research on the effect of nighttime lighting has made it clear that correlated color temperature (CCT) is an inadequate indicator of the impact of light on the environment. The lighting industry needs a new metric to support making informed decisions about the color characteristics of electrical lighting to reduce the impacts of light pollution.

Assess and update the

Joint IES and IDA Model Lighting Ordinance (MLO) to make it easy for cities and municipalities to enact these principles to benefit their residents. When it was adopted in 2011, the MLO was a groundbreaking document to help municipalities incorporate decisions on lighting into their municipal ordinances. After a decade, it is time to update the MLO to bring it in line with the Five Lighting Principles for Responsible Outdoor Lighting, incorporate technological changes, and to make it accessible to more jurisdictions.

Develop educational materials

to help municipalities, individuals, and lighting designers apply the Five Lighting Principles for Responsible Outdoor Lighting in their projects.
About the International Dark-Sky Association: Our volunteer advocates work in 32 countries on six continents to protect the night from light pollution and celebrate the many benefits of a dark, star-filled sky. Learn more at darksky.org.
About the Illuminating Engineering Society: Established in 1906, the IES is the recognized technical and educational authority on illumination. The strength of the IES is its diversified membership: engineers, architects, designers, educators, students, contractors, distributors, utility personnel, manufacturers, and scientists in 64 countries all contributing to the mission of the Society: to improve the lighted environment by bringing together those with lighting knowledge and by translating that knowledge into actions that benefit the public. The IES is a 501(c)(3) non-profit professional society. www.ies.org