News
News
Milton Reimers Ranch Park Certified as a Dark Sky Park in Travis County, Texas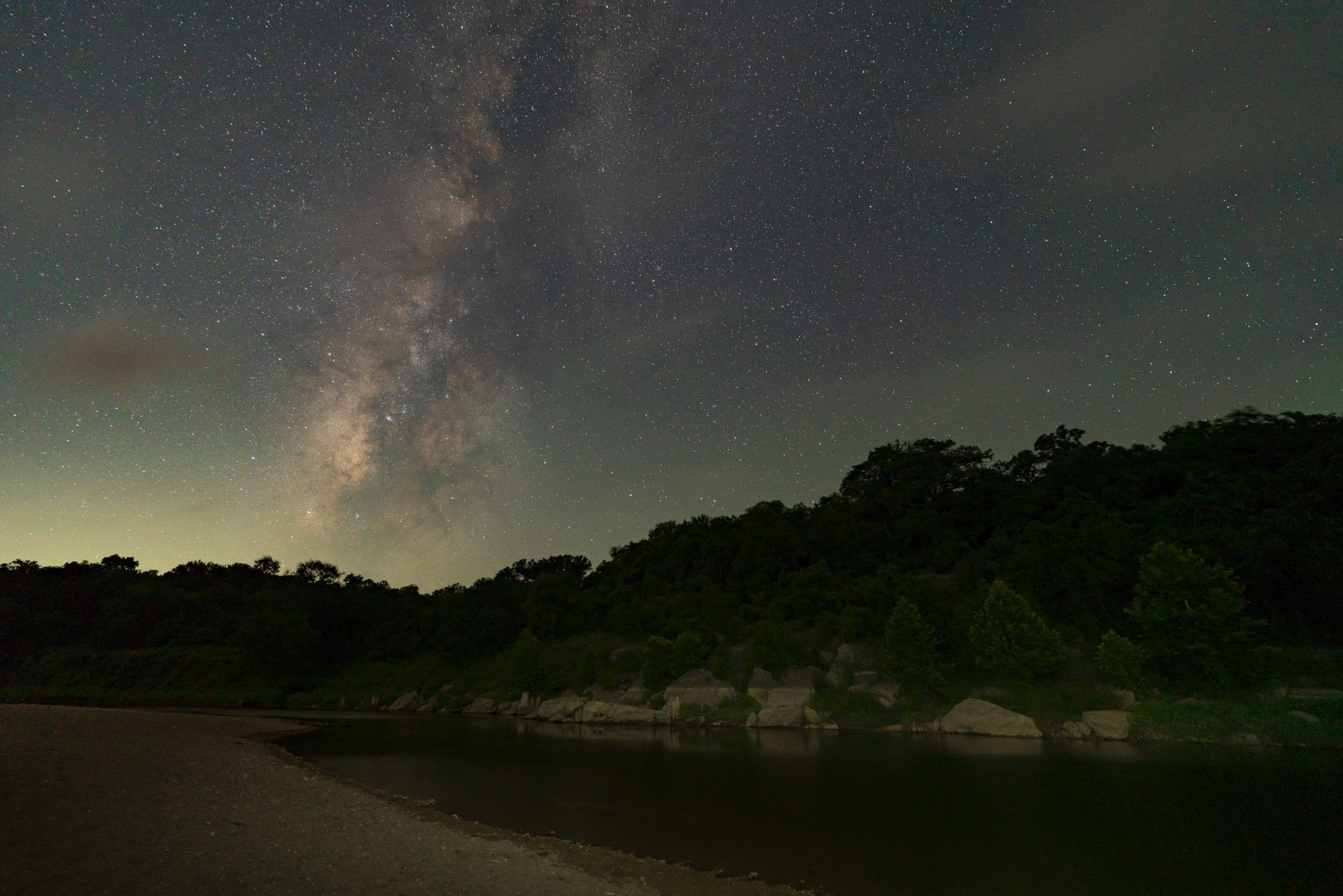 TRAVIS COUNTY, Texas, USA – Travis County and the International Dark-Sky Association (IDA) are proud to announce that Milton Reimers Ranch Park is designated as an International Dark Sky Park. Travis County Commissioners formally accepted the honor by passing a proclamation today.
"Milton Reimers Ranch Park will be another strategic piece in preserving the night sky in Hill Country, Texas," stated Ruskin Hartley, Executive Director of IDA. "Each certified Place continues to raise awareness by providing outreach opportunities and access to pristine night skies, especially for people who live in cities like Austin and San Antonio. As this movement continues to grow and gain traction, our advocates can tackle new challenges and find attainable solutions to protect this resource at the landscape scale."
Reimers Ranch Park is a popular 2,427-acre park in far southwest Travis County and managed by the Travis County Parks system.  The Park features a natural setting and caters to hikers, fishermen/women, rock climbers, mountain bikers, swimmers, birders, and equestrians. As a nature park with minimal development, Reimers Ranch Park hosts an abundance of native Hill Country plants and animals.  Preservation of the natural habitat is a major mission of the park.  Playing a large role in park operations are land management programs, such as prescribed burns, bird surveys, invasive plant removal, and preserving the dark nighttime habitat for the benefit of nocturnal life. Travis County has purchased adjacent land and entered Conservation Easements with neighboring landowners as part of this preservation mission.
The Park also hosts Reimers Observatory, a public astronomical observatory with two large telescopes, one 25-inches in diameter and the other 15-inches in diameter.  Reimers Observatory is located far enough from Austin to show a star-filled sky, yet close enough to allow visitors to return home after the program.  Observatory staff typically provide about 100 public programs per year.  Due to the popularity of the programs, reservations are required to maintain the quality of the visitor experience.
Qualifying for the prestigious International Dark Sky Park designation required Reimers Ranch staff to prove the Park met several criteria.  The nighttime skies at the Park had to be sufficiently free from light pollution – both above the Park at the zenith and light domes along the horizon – to provide impressive views of the stars and the Milky Way Galaxy.  The Park had to implement responsible outdoor lighting practices that minimized effects on nocturnal wildlife and the local neighborhood while preserving the views of the starry sky.  The staff is committed to educating the public about the night sky and the many advantages of dark-sky friendly outdoor lighting.
The universe, however, is not just something you see through a telescope.  The programs at Reimers Observatory focus on teaching visitors about the starry sky they can see with unaided eyes.  Staff use lasers to point out objects of interest in the sky, including areas of encroaching urban light pollution.   Visitors can also learn how to efficiently use outdoor lighting to meet their needs without disrupting the nocturnal wildlife, disturbing their neighbors, or diminishing people's view of the universe above.
In 2018 and 2019, Reimers Ranch Park received letters of support for its IDA application from several entities. Here are some example quotes below:
"The Dripping Springs area is a popular tourist destination and many tourists visit it to view the starry night skies.  Reimers Ranch is just 11 miles from the Dripping Springs city limits and a short drive from other nearby communities.  The park is a popular destination for eco-tourism and astro-tourism and provides opportunities for the public to view a star filled sky and learn about the night sky and its importance." – Todd Purcell, Mayor of Dripping Springs
"Right now, there is a rapidly growing movement in Travis County to preserve, as quickly as we can, the area's night sky from any further light trespass or pollution, as the city of Austin expands its boundaries into the foothills of the Hill Country.  One community after another is seeking to do what it can.  And to have this gem of a park, which already sits near a Dark Sky Community, become part of that growing network of Dark Sky Places would be invaluable in broadening the geographic footprint of protected skies and is most decidedly deserved." – Dr. Susan Silberman, River Hills Neighborhood Association
"The City of Austin Office [of Sustainability] is committed to pursuing Dark Sky efforts throughout our community.  Our Imagine Austin Comprehensive Masterplan mentions Dark Sky goals and our Commercial Lighting Code is very progressive on Dark Sky standards.  Our City Council unanimously adopted the Children's Outdoor Bill of Rights, which states every child's right to gaze at the stars in the night sky…But the City of Austin cannot do this alone; we need committed partners such as Reimers Ranch to lead the way and inspire everyone to step up to take action" – Lucia Athens, City of Austin, Chief Sustainability Officer
"Milton Reimers Ranch Park is one of my favorite local places to enjoy the night sky and I look forward to its designation as an International Dark Sky Park." – Cindy Luongo Cassidy, IDA Texas
Travis County Parks would like to offer our sincere gratitude to Amy Jackson for writing our IDA application.
About IDA: The mission of IDA is to preserve and protect the nighttime environment and our heritage of dark skies through environmentally responsible outdoor lighting. Learn more at darksky.org.
The International Dark Sky Places Program was founded in 2001 as a non-regulatory and voluntary program to encourage communities, parks, and protected areas around the world to preserve and protect dark sites through effective lighting policies, environmentally responsible outdoor lighting, and public education. When used indiscriminately, artificial light can disrupt ecosystems, impact human health, waste money and energy, contribute to climate change, and block our view and connection to the universe. Reimers Ranch Park now joins more than 185 Places that have demonstrated robust community support for dark sky advocacy and strive to protect the night from light pollution. Nearby certified Places include the City of Dripping Springs, which is designated as an International Dark Sky Community, as well as Enchanted Rock State Natural Area and South Llano River State Park, which are both certified International Dark Sky Parks.  Travis County's Reimers Ranch Park is honored to join with the IDA to help preserve views of the night sky for people in the Hill Country.  Learn more by visiting darksky.org/conservation/idsp.