News
News
Two Virginia State Parks Become World's Newest International Dark Sky Parks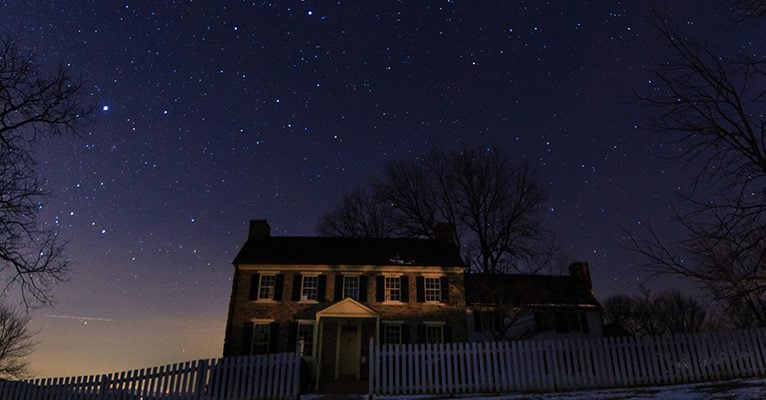 IDA has awarded International Dark Sky Park status to Natural Bridge State Park in Rockbridge County and Sky Meadows State Park in Fauquier County. Both parks are in the U.S. state of Virginia. The announcement was made today during International Dark Sky Week 2021.
With the designation of Natural Bridge and Sky Meadows, Virginia's total of five International Dark Sky Parks surpasses that of any other U.S. east of the Mississippi River
"It's especially rewarding to see Virginia take the lead among eastern U.S. states during International Dark Sky Week," said IDA Executive Director Ruskin Hartley. "It is a prominent demonstration of the fact that nighttime darkness worth protecting still exists in one of the most densely inhabited regions of the United States."
Nighttime light pollution is common east of the Mississippi River, and natural nighttime darkness is disappearing, making stargazing more difficult. IDA accreditation recognizes areas and organizations actively working to maintain spaces where the public can see stars more easily.
Virginia State Parks Director Dr. Melissa Baker applauded the efforts of those involved in today's outcome.  "The designation represents years of hard work and dedication by the staff and volunteers at both parks, Baker said.  "Our commitment to providing visitors with unique opportunities to enjoy and learn about our natural resources is at the forefront of this project."
Natural Bridge is the third park in the Virginia State Park system to be named an International Dark Sky Park. "There are not that many accomplishments that bring recognition of this caliber to the hard work staff put into doing their jobs," said James Jones, park manager at Natural Bridge State Park. "I cannot thank the park staff enough for the hard work they have given over the past three years."
Sky Meadows' process of designation as a Dark Sky Park can be traced back decades to astronomy programs started by volunteers who recognized the park's unique resource of dark skies just outside of a growing urban environment.
Sky Meadows Park Manager Kevin Bowman recognized the value of the work undertaken at the park over many years while also realizing that much still lies ahead. "Though a major milestone, this marks more a beginning than an end to our work in maintaining the dark skies that we and our visitors enjoy," said Bowman.
"It demonstrates that much of what visitors enjoy about Sky Meadows hinges on resources and factors beyond our boundaries, and is a sobering reminder that the designation's longevity must not be taken for granted. We hope it will inspire others to consider the impact that outdoor lighting choices at home and in their communities make on the conservation and enjoyment of our valued resources."
Among Virginia State Parks, James River State Park was designated by IDA in 2019 and Staunton River State Park was designated in 2015.