News
News
Towns of Nucla and Naturita, Colorado, Jointly Designated an International Dark Sky Community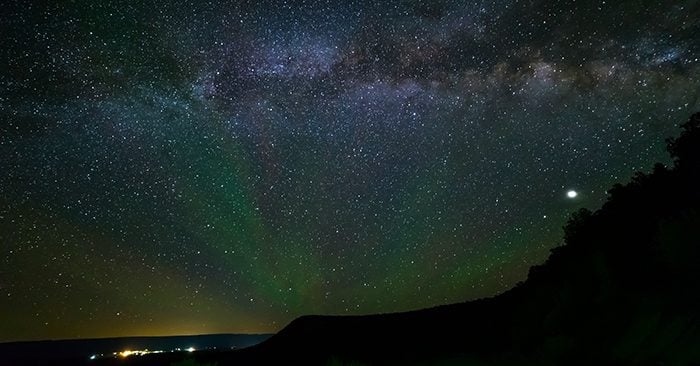 The International Dark Sky Association today announced the designation of the Towns of Nucla and Naturita, Colorado, as an International Dark Sky Community, reflecting the outcome of a rigorous, eighteen-month nomination process. Nucla and Naturita join six other International Dark Sky Places in southwestern Colorado to form an emerging hotspot in the U.S. movement to preserve night skies.
"The news that Nucla and Naturita have joined the family of International Dark Sky Places is especially welcomed as we see western Colorado quickly becoming a national focal point for dark-skies awareness and conservation," said IDA Executive Director Ruskin Hartley. "We congratulate both towns for setting an example that we hope others will study and emulate."
A tale of shifting economic fortunes
Nucla and Naturita are two nearby, small towns in western Colorado, U.S., whose twin histories and evolution through time are closely intertwined. Both towns were founded in the late nineteenth century around the regional economy of agriculture, ranching and mining. The gradual and ongoing draw-down of extractive activities in the area, along with abundant public lands in this part of the western U.S. and a typically low-density, rural scale of development has led to a recognition of the value of abundant and renewable natural resources such as dark night skies.
Realizing the value of this resource, locals formed the West End Dark Sky Alliance (WEDSA) in 2020 with the mission 'to preserve our dark sky resource and reduce light pollution through education and advocacy.'
Deb Stueber of WEDSA described what the designation meant to the towns. "These are exciting times for dark sky enthusiasts in Colorado," Stueber enthused. "We are happy our West End communities are now recognized by IDA as one of the darkest places left on the planet, and that we appreciate and want to preserve as much of our historic, rare, and exceptional dark starry skies as we can."
Following a lead made in Colorado
International Dark Sky Community status is awarded based on exceptional dedication to the preservation of the night sky through the implementation of quality outdoor lighting policies, extensive public outreach and education, and the proactive support of area residents and stakeholders. Nucla and Naturita followed the example of another pair of Colorado towns, Westcliffe and Silver Cliff, that achieved IDA International Dark Sky Community status in 2015.
Ed Stewart, member emeritus of the Dark Skies of the Wet Mountain Valley, Colorado, helped shepherd the Westcliffe and Silver Cliff nomination to a successful conclusion. "During our 2014 IDA community application preparation, we never thought that our dual-town approach to certification would be a motivation for others in a similar situation of towns adjoining or close to each other," Stewart said.
"We are glad that Naturita and Nucla are now part of the many Colorado Dark Sky Places and hope that certification brings them the rush of enthusiasm, support, and recognition that we are still experiencing over six years later."
Sights set on an even bigger prize
Fresh off their success in Nucla and Naturita, WEDSA members already have bigger goals in mind. A result of the increasing regional interest in dark skies may be an eventual 'Western Slope International Dark Sky Reserve,' a complex accreditation intended to bring durable, landscape-scale protections to nights in the area. WEDSA is working with the Norwood Dark Sky Advocates (NDSA) from the nearby town of Norwood, which received its own International Dark Sky Community label in 2019.
Stueber thinks this makes good sense to the community beyond seeing the stars at night. "By adopting 'smart' lighting practices, residents could protect their properties and save money while enhancing their health and wellbeing as well as the health of insects and other pollinators, migrating and hunting birds, other wildlife and stock animals," she explained "There is no downside to good lighting practices!"
Enlisting the help of Norwood, Nucla and Naturita will celebrate their new status at their Starry Skies Fair at the Naturita Community Center from 10:00 a.m. to 4:00 p.m. on Saturday, June 19. The event will feature music, food, crafts, a drawing and a silent auction along with informative displays on dark skies, light pollution and outdoor lighting. For more information call the Nucla-Naturita Area Chamber of Commerce Visitor Center at +1 970-865-2350. (Note: the office is closed Sundays and Mondays.)