News
News
Reclaiming the Night: IDA's 2017 Annual General Meeting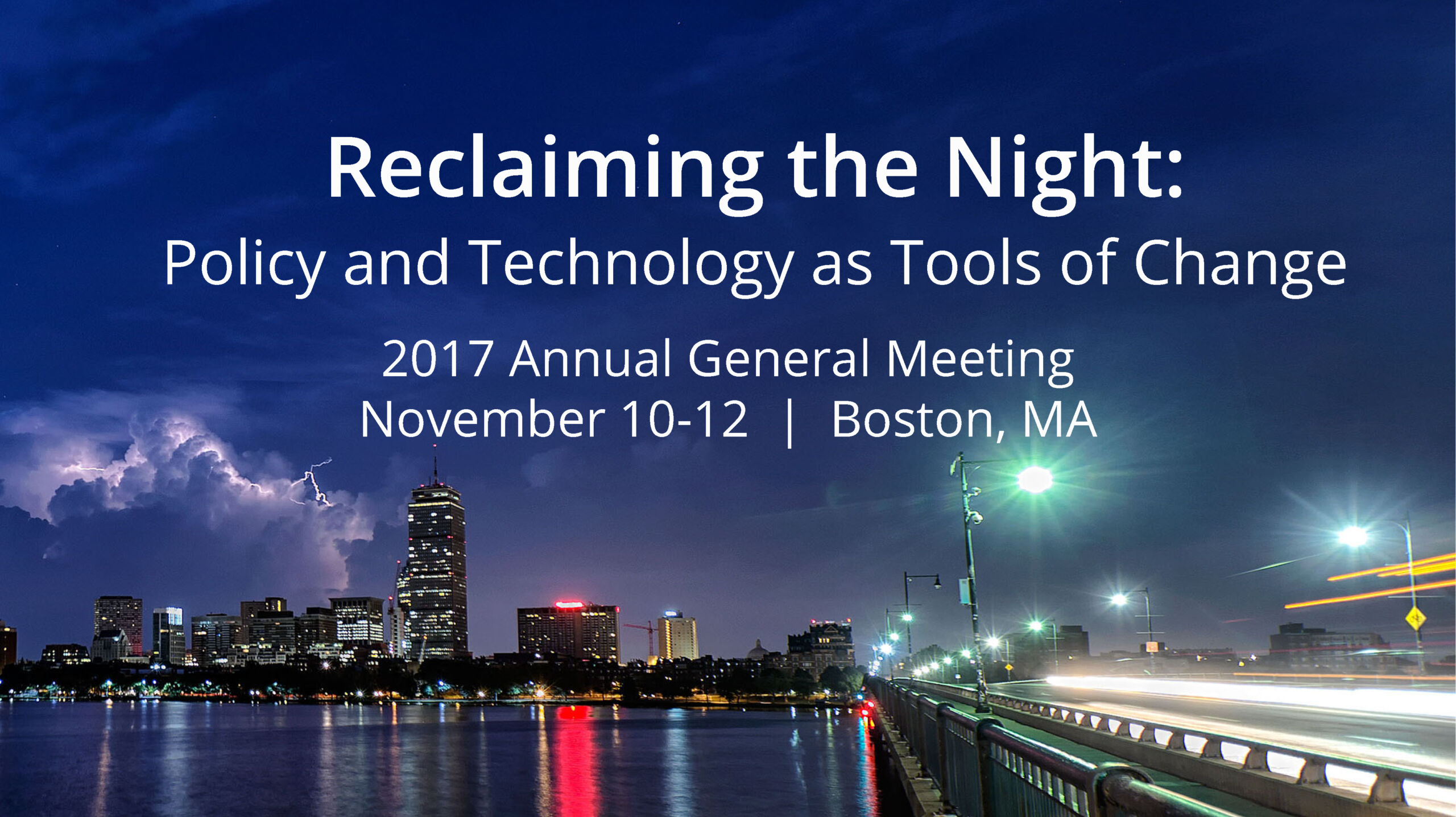 2017 IDA Annual General Meeting & Conference
IDA's 2017 Annual General Meeting presents the people and ideas leading the way in the cause to end light pollution. Join us for an exciting weekend with the agents of change who are passionately working to reclaim the night.
LOCATION DETAILS: 
Hilton Boston Back Bay
Boston, MA
To book with the International Dark-Sky Association Annual Meeting:
Call 617-867-6100 and reference our group code, IDA
Student registration $25
Current member registration $125
Non-member registration $150 (which includes new membership)
NEW! One-day registration for Saturday, November 11 $50! Includes lunch and new membership
PROGRAM DETAILS:
Reclaiming the Night: Policy and Technology as Tools of Change
Friday, November 10
Inspiring Change in Your Local Community | Success Case Studies
SKYGLOW Project: In Conversation with the Authors, Photographers, and Filmmakers behind SKYGLOW
Saturday, November 11
Emerging Technologies Revolutionizing the Nightscape
Policy & Enforcement that Matters
IDA Honors 2017 Award Recipients
Keynote Address: David Owen
Human Needs in the Built Environment
Views from Abroad
Factors that Motivate Change
Understanding Our Society's Fear of the Night and How to Address It
Sunday, November 12
Intentionally Diversifying our Community for Greater Success
Open Forum: At 30 Years, What Does the Future Hold for IDA?
Why should you attend IDA's 2017 Annual General Meeting & Conference?
The International Dark-Sky Association (IDA) is recognized by many as the leading authority on light pollution and is the largest nonprofit organization working to protect night skies and combat light pollution worldwide.
The IDA membership gathers annually to share new ideas and a mutual passion for dark skies. When engineers, designers, planners, architects, astronomers, and dark sky enthusiasts from around the world come together in their passion for the conservation of the natural night, it sparks connections that lead to real change. Members return home invigorated and inspired in their fight to end light pollution.
This year's IDA Annual Meeting & Conference in the Boston area will take place following the Greenbuild International Conference and Expo and the ArchitectureBoston Expo (ABX 2017). These events bring together the foremost thinkers on sustainability and green design.
IDA's Annual General Meeting & Conference will feature inspirational speakers, including experts in policy and lighting technology, who will discuss how to effectively use these as tools to reclaim the natural night environment. The conference will also showcase the future of night sky, wildlife, and neighbor-friendly lighting, and provide plenty of meaningful networking opportunities.
This November, make plans to join hundreds of fellow IDA members and supporters who share your passion for protecting the night.
2017 ANNUAL GENERAL MEETING SPONSORED BY:
*If you or your business is interested in exhibiting or sponsorship of IDA's 2017 Annual General Meeting, please contact Keith Ashley for opportunities.
SPONSORSHIP OPPORTUNITIES: 
To become a sponsor, please contact Keith Ashley ([email protected]) or download our 2017 AGM Sponsorship Options.
You can read more about our philanthropic opportunities here.