News
News
Program Update – 2019 Annual General Meeting and Conference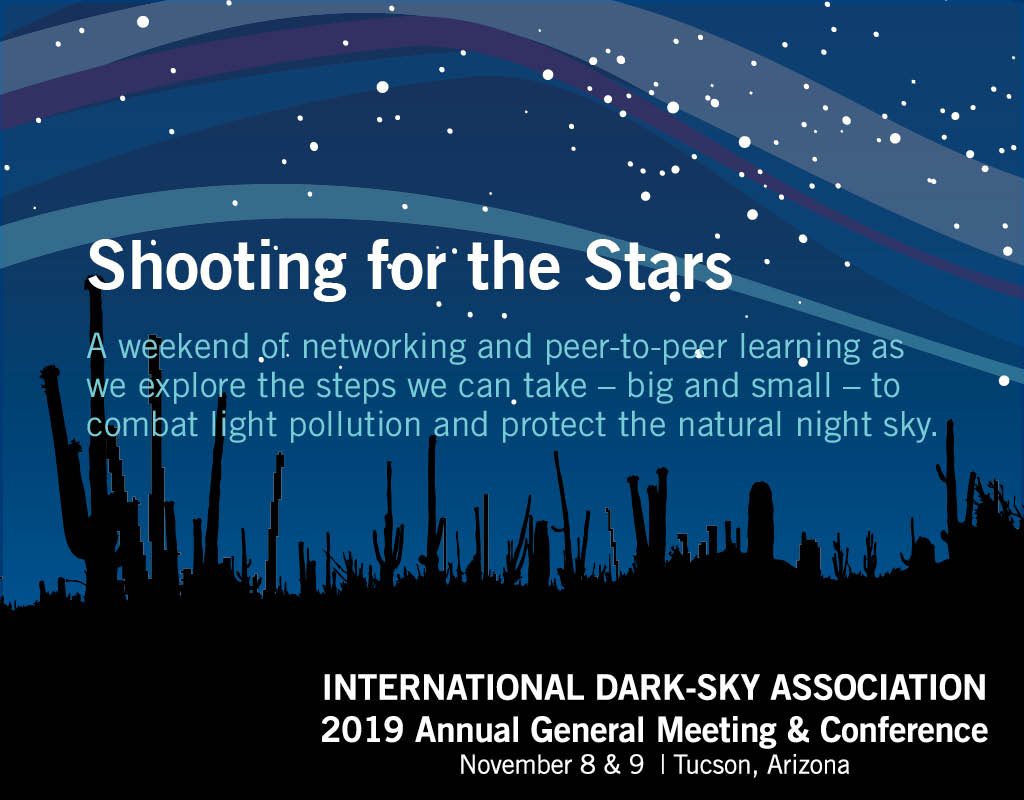 Shooting for the Stars: 2019 Annual General Meeting & Conference
The International Dark-Sky Association is excited to welcome the dark sky community to Tucson, Arizona for the 2019 Annual General Meeting and Conference. During this important event, we'll explore practical tips for advocacy and action to protect the night. Programming will offer collaborative discussions and interactive workshops with the following schedule:
Friday, November 8 – Celebrate the Night 
The Annual General Meeting will kick-off in the morning with a town hall-style membership forum lead by IDA Board of Directors and staff, followed by dark-sky-themed round-table discussions between IDA leaders and members. Friday's conference sessions focus on the knowledge, skills, and tools that help us strengthen our advocacy and build awareness about the need to protect the night. Sessions are organized around strategies to build coalitions, ways to strengthen communications, how to share the benefits of night sky protection, and keeping up the dark sky momentum. The day will conclude with an evening of dark sky celebration where we'll honor our 2019 IDA Award recipients. 
Saturday, November 9 – From Awareness to Impact 
Saturday's sessions move attendees from dark sky awareness to a focus on impact through action. Sessions are organized around how science informs sustainable change, the many ways the movement is using data to address light pollution, a keynote address, and light pollution solutions. Programming wraps up with "sage advice" where a panel of seasoned dark sky advocates offers supportive feedback to an incoming advocate. IDA's Executive Director will send-off attendees with an inspirational call-to-action. The event will close with a Saturday evening star party at Quail Creek-Veterans Municipal Park. 
A detailed program will be announced shortly. Please stay tuned here for updates.
Tickets are selling fast! Register now to reserve your seat today.