News
News
Rediscovering the Night Sky in Middle Age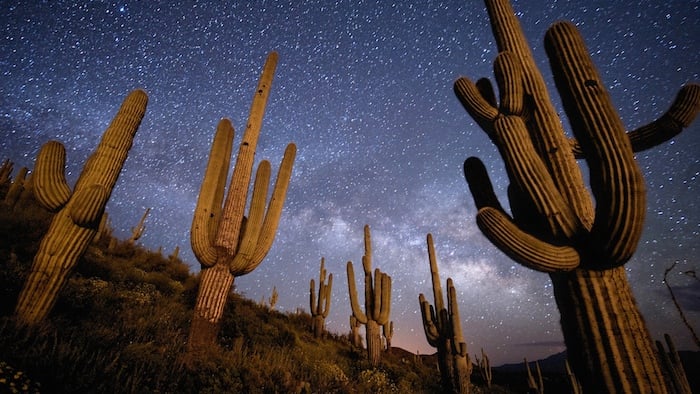 By Guest Writer Suzanne Wright
Before moving to Arizona, I lived my entire adult life in the bright lights of urban big cities: Atlanta, Chicago, Washington, D.C. For the past 20 years, a street light shined so brightly into my bedroom in midtown Atlanta that it necessitated wearing an eye mask and hanging up room darkening shades. I stopped going outside and looking up at the sky because there were no stars. In fact, it felt as if there were no night, just an eerie, hazy, pinkish glow after the sunset.
I longed for the big skies and starry nights of the Western states I had vacationed in over the years: Colorado, Montana, New Mexico, Utah, Wyoming.
So in 2011, lured by the incomparable landscape of the Sonoran Desert, I moved to Scottsdale. It was a short, seasonal stay, but it convinced me I wanted to move further out into less developed territory. I found Cave Creek.
Located about 35 miles north of Phoenix, semi-rural Cave Creek's population hovers at less than 6,000; there are more coyotes and cactus than people. What's especially appealing is the open space: about half the town's land is preserved and untrammeled. I found a wonderful patio home close enough to walk into town. As I reviewed the rental lease documents, I was curious about a legal provision requiring that I only use external light bulbs of 40 watts or less.
Intrigued, I began to investigate.
Turns out Cave Creek is not only about protecting open space and enforcing noise decibel limits, it also values dark skies. My backyard has an unobstructed view of Black Mountain, its silhouette a comforting presence and navigational marker. Far from the city's sirens, I began sitting outside to read, to write, to eat, to watch storms and to daydream, mornings, afternoons and evenings. I became acquainted with the roadrunners and cactus wrens, coyotes, lizards and javelinas that frequented the neighborhood, feeling a kinship with these creatures. I began hiking multiple times a week in the fresh, clear air, sometimes under a full moon without a flashlight, awestruck by what twinkled above.
When my bladder woke at 3 a.m., I didn't reach for my iPad. Instead, I'd belt my robe and walk outside, coming to know the night sky in different seasons, discovering silence and stillness and stars. I call it moonbathing. I traveled unlit roads to places where the night sky was still intact, including Southern Arizona and Big Bend, Texas, where I saw the dazzling Milky Way for the first time in years. I found that when I traveled to areas that were brightly lit—even if briefly—it was jarring.
That's how I came to understand that light pollution was perhaps prevalent, but not preferable.
With a Google search, I found IDA. From there, I read the excellent book "The End of Night" by Paul Bogard and watched an equally excellent documentary, "The City Dark." I learned that bright light does not deter crime. It disrupts our circadian rhythms and threatens wildlife migration, reproduction and hunting. I found out that forward-thinking municipalities around the world are limiting the types of public lighting that most threaten night as we know it. I became a steward at two preserves, understanding the environment I love is knitted of both earth and sky.
I looked for opportunities to discuss what I learned with friends, neighbors and colleagues, many of who were unaware of what's at stake. I attended Town Council meetings in Cave Creek and spoke up against local bars that were not in compliance with lighting codes. I posted to Facebook about the topic. I began to pitch magazine editors stories about the topic. I've written to my legislative representatives.
In short, I got politicized.
Most nights and especially after draining days, I sit in my backyard and marvel at constellations I haven't seen since I was a child. I want—I need—inky, starry skies, in the same way I've grown to need saguaros and mountains and sunshine for my creativity, for my renewal, for my humanity. I don't want to lose them. I don't have children, but if I did, I'd want them to experience the same wonder that the night sky offers.
I'm a glass-half full optimist, but I also know that once lost, regaining dark skies will be nearly impossible. This is a crusade, not unlike civil or women's or gay rights. To gain momentum, we must act and inspire others to act. From small acts come large-scale changes.
Never before have we been more stressed and sick and disconnected from ourselves and others. Mounting evidence proves nature is a powerful physical and psychological curative, something I've come to realize and cherish. I believe there's still time to protect our remaining night skies.
---
Suzanne Wright is a Cave Creek, Arizona-writer who's always looking heavenward for stars. She's published more than 450 articles in such magazines as AAA Highroads Arizona, American Way, Arizona Highways, National Geographic Traveler and USA Today.