News
News
Saguaro National Park becomes world's ninth Urban Night Sky Place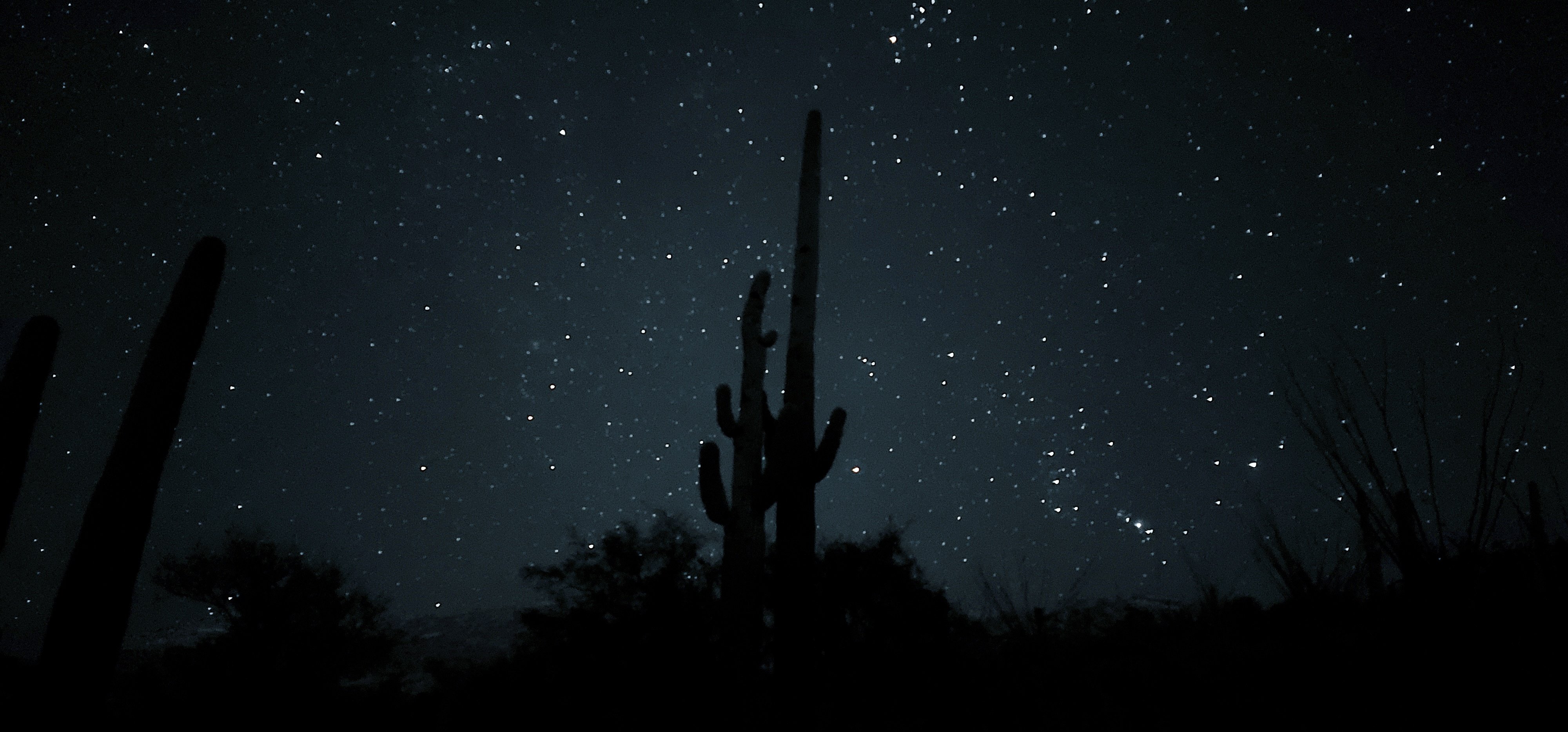 TUCSON, ARIZONA, USA
The National Park Service and DarkSky International are pleased to announce Saguaro National Park's certification as the newest Urban Night Sky Place. This certification recognizes sites that are near or surrounded by large urban areas, and whose planning and design actively promote an authentic nighttime experience in the midst of significant artificial light at night. Saguaro National Park joins eight other Urban Night Sky Places around the world and is only the second National Park Service unit to receive this coveted certification.
"We are excited to share our work to advance the preservation of Saguaro National Park's night skies; we are delighted to provide visitors with opportunities to experience the wonder of starry nights," said Acting Superintendent Jeff Conn. "This recognition is the result of a great collaboration between the Friends of Saguaro National Park and Park staff. National parks are some of the best places in America to see a breathtaking array of stars, planets, and neighboring galaxies."
Saguaro National Park protects more than 94,000 acres of Sonoran Desert habitat, including more than 70,000 acres of federally designated wilderness to the east and west of the City of Tucson, Arizona (metro area population 545,000).
As Tucson has grown in recent decades and steadily expanded closer to the park's boundaries, impacts to the dark night sky have become more of an issue. Dark night skies are one of many natural resources threatened by increasing urbanization near Saguaro National Park. This important certification underscores Saguaro's commitment to preserving dark skies for the enjoyment of park visitors as well as healthy wildlife and ecosystem function.
"This certification is a significant accomplishment that provides a unique opportunity for the public to engage with nature and appreciate the night sky in an urban setting. Park staff and advocates have worked very hard to demonstrate their commitment to protecting the environment and raising awareness of the importance of natural darkness and best practices for outdoor lighting. This is a very exciting achievement for Saguaro National Park and the city of Tucson and Pima County," remarked Amber Harrison, Dark Sky Places Program Manager.
The City of Tucson and Pima County are great partners in helping to curb light pollution and in celebrating dark night skies. The City of Tucson became the first city in the world to have an ordinance to address light pollution for space observation. "Enjoying the beauty of the night sky is one of the ways Tucsonans engage with our natural beauty. Our beautiful sunsets followed by our impressive night skies connect us to our past and our heritage," said Tucson Mayor Regina Romero. "Congratulations to Saguaro National Park on earning this notable certification. Minimizing light pollution honors our desert ecosystems and ensures that the Sonoran Desert remains one of the most unique places in the world," added the Mayor.
Pima County zoning codes are touted as some of the better examples of quality lighting standards and dark sky protection. "I am very pleased that Saguaro National Park is being recognized and certified by DarkSky International for its important contributions to the dark skies we enjoy in Pima County, and that are vital to our astronomy and tourism industries. Pima County, along with our Tohono O'odham neighbors host one of the largest optical telescopes in the world, supporting these research facilities is of utmost importance," said Adelita Grijalva, Chair of the Pima County Board of Supervisors.
While urban lights are an issue, Saguaro National Park benefits from its location within a region that preserves and celebrates dark night skies. The park is surrounded by world-class astronomical research programs and a community of night sky specialists operating from Kitt Peak National Observatory, Mount Graham International Observatory, Fred Lawrence Whipple Observatory, Steward Observatory, Mount Lemmon Observatory, and the headquarters for DarkSky International. Saguaro National Park has an important role in collaborating with these technical experts along with amateur enthusiasts to support the stewardship and promotion of night sky resources.
Numerous neighbors and partner organizations supported Saguaro's efforts to be certified, including Friends of Saguaro National Park, Sky Island Alliance, Tucson Amateur Astronomy Association, the University of Arizona, Pima County, and the City of Tucson. Fred Stula, Executive Director of Friends of Saguaro National Park, added "The Friends Board is happy to support this important collaborative initiative to significantly reduce light pollution and protect the night sky in the park, allow for greater star visibility, and reduce environmental consequences for people, wildlife, and our climate."
The certification does not carry any legal or regulatory authority. The certification demonstrates a commitment by parks to improve night skies through the use of more energy efficient, sustainable lighting. Certification also reaffirms the park's commitment to educate the public and gateway communities about the importance of dark sky-friendly outdoor lighting and opportunities to work together toward common goals.
Saguaro National Park offers public night sky programs throughout the year and is an excellent place to learn about and enjoy the wonders of the night sky. Events celebrating Saguaro's certification achievement are being planned for early next year.
About the International Dark Sky Places Program:
The International Dark Sky Places Program was founded in 2001 as a non-regulatory and voluntary program to encourage communities, parks, and protected areas around the world to preserve and protect dark sites through effective lighting policies, environmentally responsible outdoor lighting, and public education. When used indiscriminately, artificial light can disrupt ecosystems, impact human health, waste money and energy, contribute to climate change, and block our view and connection to the universe. Saguaro National Park now joins more than 200 Places that have demonstrated robust community support for dark sky advocacy and strive to protect the night from light pollution. Learn more by visiting https://darksky.org/what-we-do/international-dark-sky-places/.
About DarkSky International:
The mission of DarkSky International is to preserve and protect the nighttime environment and our heritage of dark skies through environmentally responsible outdoor lighting. Learn more at darksky.org.
Media Contacts:
Amber Harrison
Dark Sky Places Program Manager, DarkSky International
+1 (520) 347-6363
[email protected]
Adam Springer
National Park Service
[email protected]