News
News
Sahuarita Town Council Receives Certificate of Recognition from International Dark-Sky Association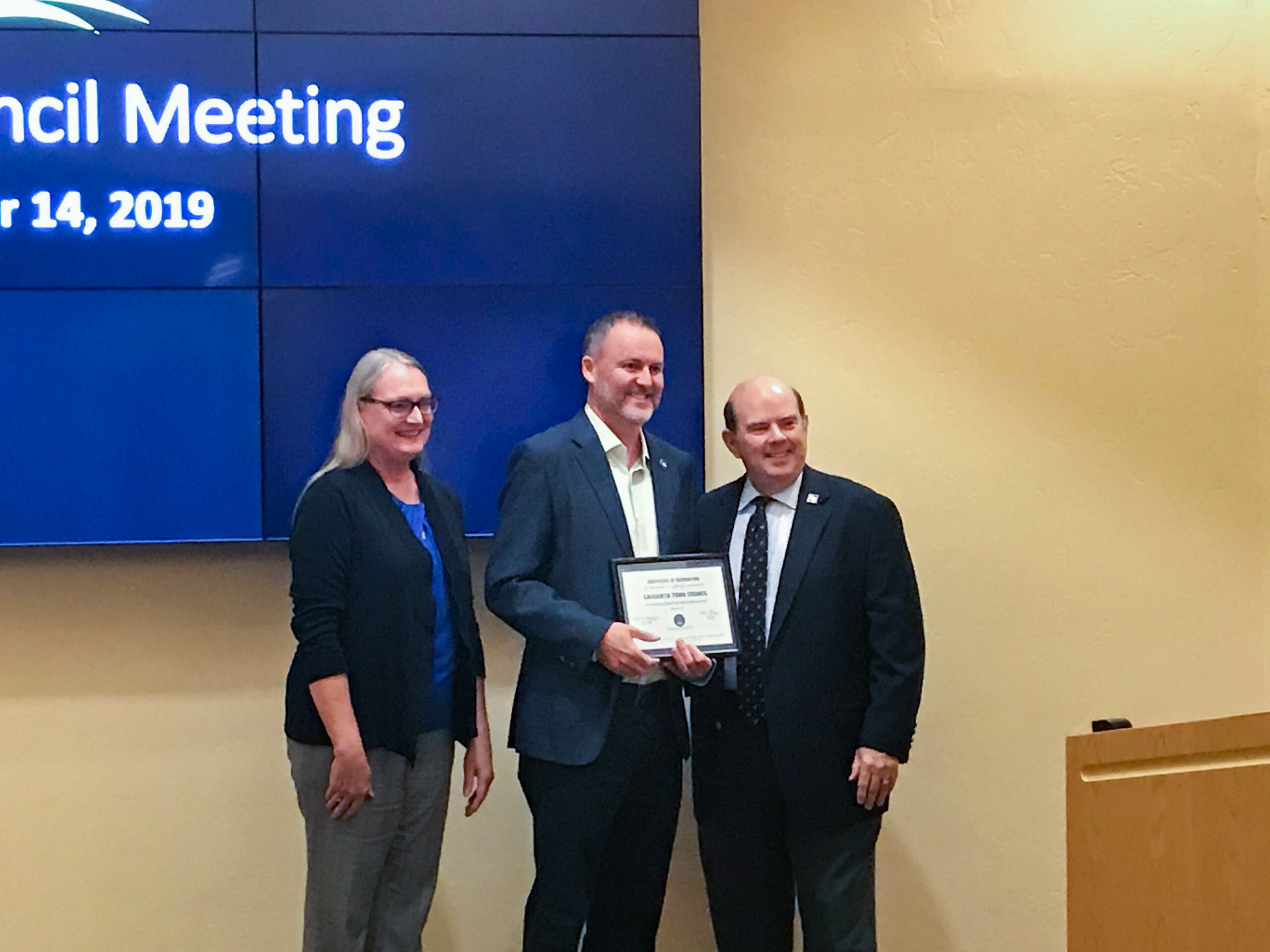 Sahuarita, AZ – The Sahuarita Town Council was recognized yesterday evening by the International Dark-Sky Association (IDA) for Innovation in Lighting for the sports field lighting installation at the Quail Creek-Veterans Municipal Park.
In 2015, due to the funding approved by the Sahuarita Town Council, innovative new lighting was installed at Quail Creek-Veterans Municipal Park. The lighting minimizes glare, saves energy, and eliminates excessive light from the field. The lighting was designed by Christian Monrad of Monrad Engineering and provided by Musco Lighting.
Sports lighting is a growing concern for neighborhoods around the country, and excessive lighting causes glare, harms wildlife, and contributes to a phenomenon known as skyglow, reducing the visibility of the night sky. IDA estimates that more than 2,000 new lit sports fields are installed across the U.S. every year.
The innovative lighting design at Sahuarita's Quail Creek-Veterans Municipal Park demonstrated that playfields can be well-lit, with minimum impact on local communities, wildlife, the environment, and the night sky. "The investment made by the Town Council has made a big difference for our community. The lighting design avoids intrusive lighting into residents' homes," said Nanette Smejkal, Town of Sahuarita Parks and Recreation Director.
In fact, the fields were a major breakthrough for the dark sky community. The lighting installation at Quail Creek Veterans Municipal Park, along with tennis court lighting design at Herbert C. Shipman Park in Keaau, HI, served as a model for a sports field lighting certification program developed by IDA. The Community-Friendly Outdoor Sports Lighting (OSL) program was released late in 2018. Now, park managers and town and city council members around the world can use IDA's guidelines to install sports field lighting that promotes healthy activities while preserving happy neighborhoods, wildlife, the environment, and the night sky. IDA provides independent, third-party certification to fields that meet the OSL guidelines. To learn how to have your community sports field certified by IDA, contact our Technical Director, Pete Strasser, at [email protected]
About IDA
The International Dark-Sky Association protects the night from light pollution by promoting win-win solutions that allow people to appreciate dark, star-filled skies while enjoying the benefits of responsible outdoor lighting. Learn more at darksky.org
###
Contact Information:
International Dark-Sky Association
Amanda Gormley
[email protected]
(520) 347-6365