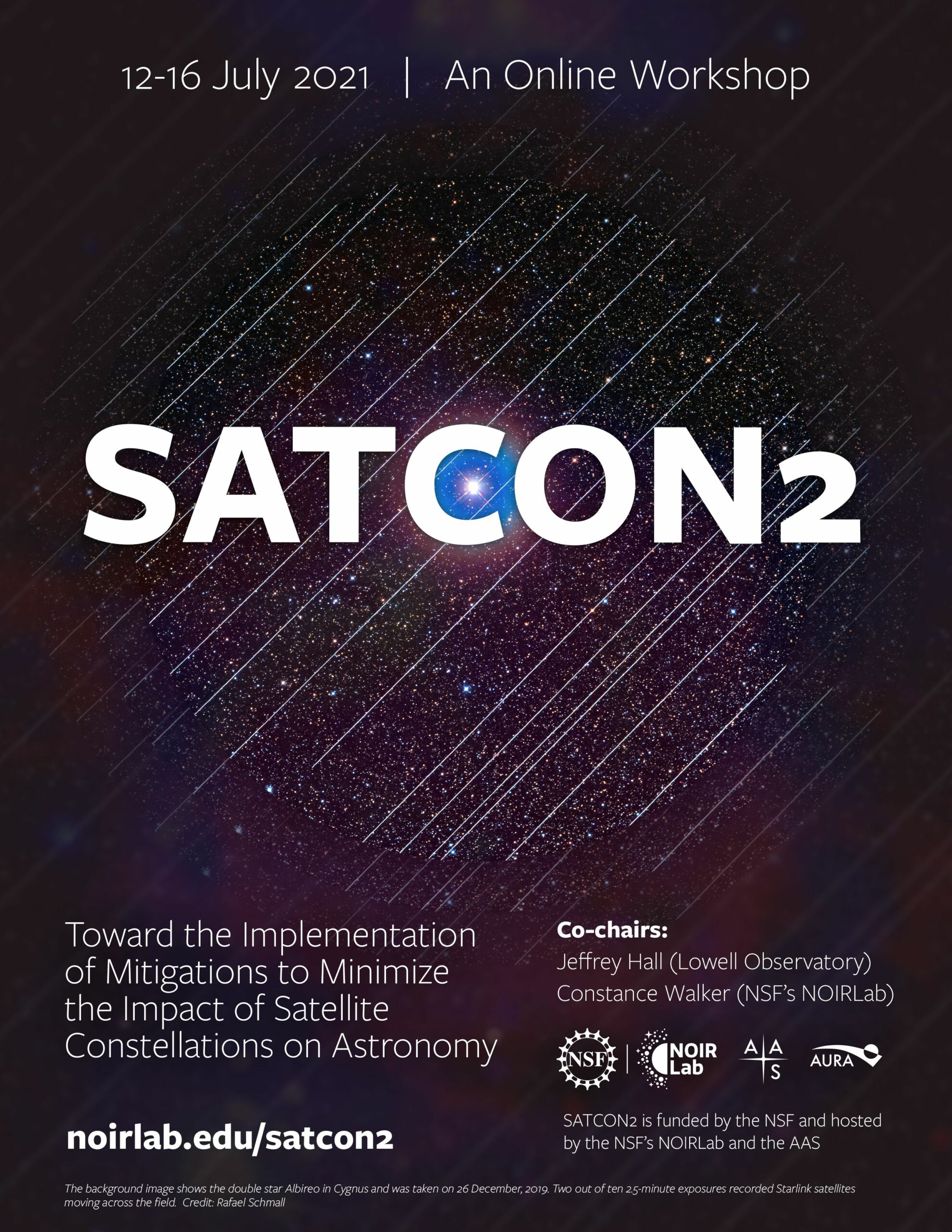 In early 2020, 40 experts came together to assess the impact of satellite constellations on astronomy and to consider possible mitigation solutions. They presented their findings for discussion at the SATCON1 workshop at the end of June 2020. Now, one year later, another group of experts will gather virtually for a second workshop, SATCON2, to take place July 12-16, 2021. This workshop will be a discussion on how to implement the strategies and recommendations emerging from SATCON1 to minimize the negative impacts of satellite constellations on astronomy and the night sky.
Low earth-orbit ("LEO") satellite constellations, also known as mega-constellations, are webs of networked satellites, which orbit the Earth at altitudes of 2,000 km or less. These webs of satellites are intended to offer uninterrupted telecommunication across the globe, bringing services like broadband internet to remote areas.
The sheer number and brightness combined with the frequency of sightings of these satellite constellations have raised significant concerns from the dark sky community. Astronomers, astrophotographers, and stargazers alike have all raised concerns about satellite constellations polluting the night sky.
Registration for SATCON2 is free and currently open. Anyone working in astronomical sciences, the satellite industry, federal government, related fields and organizations, amateur astronomers, astrophotographers, indigenous and spiritual or religious peoples with skywatching traditions impacted by satellites, and all people who enjoy looking to the night sky for inspiration and connection are welcome to attend. 
For more information and to register, click here.
Learn more about the background and our response in past blogs:
Response to SpaceX Starlink Low Earth Orbit Satellite Constellation, May 29, 2019
Why Do "Mega-constellations" Matter to the Dark Sky Community, December 17, 2019
IDA Responds to Satellite Megaconstellations, January 17, 2020
Satellite Constellations and the Night Sky, June 25, 2020
Read the full report here: Impact of Satellite Constellations on Optical Astronomy and Recommendations Toward Mitigation