News
News
Six Ways to Take Action This International Dark Sky Week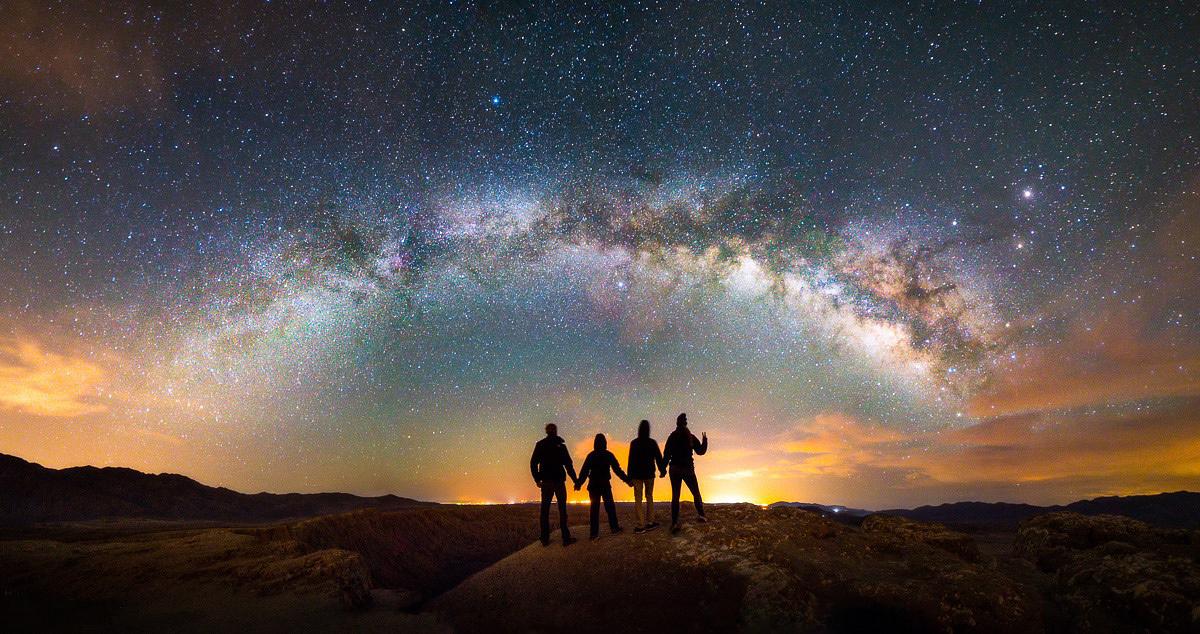 International Dark Sky Week 2022 (April 22-30) will be here before you know it. Whether you live in a rural community, a big city, or anywhere in between, there are so many fun ways to participate in this annual week-long event and help raise awareness about the importance of preserving the natural nighttime environment. This year, we encourage everyone to discover the night with the six actions below. 
Become a Community Scientist
Globe at Night is an international community science campaign organized by NSF's NOIRLab to raise awareness about the impact of light pollution by inviting community scientists to measure and submit night sky brightness observations. All you need to participate is a computer, tablet, or smartphone. And their webapp is available in 28 languages! More than 200,000 measurements have been contributed from people in 180 countries over the last 14 years, making Globe at Night the most successful light pollution awareness campaign to date.
How to Participate:
During the International Dark Sky Week campaign dates, go outside on a clear night more than an hour after sunset and let your eyes adjust to the dark (at least 10 minutes).

Find the constellation you are reporting on. Many smartphone apps or programs can help you locate it if you are unsure where it is.

Go to the Globe at Night report page, make sure you are in nighttime mode, and enter your data.

Choose the star chart that most closely matches what you see in the sky.

Select the amount of cloud cover at the time of your observation and submit your data.
You can find more detailed instructions here and learn more about Globe at Night on their website.
Become a Dark Sky Advocate
If you're looking to take on a more active role in reducing light pollution in your community, join the IDA Advocate Network! When you join, you'll become a part of a global community of passionate individuals united in its efforts to protect the night from light pollution. The process is simple — watch a pre-recorded IDA Light Pollution 101 training, then email Laurin at laurin.hoadl[email protected] to let her know you've completed this step. Then, you will be invited to join IDA's global communication platform, given access to exclusive advocate resources, and invited to join additional monthly advocate trainings on various aspects of light pollution and dark sky conservation.
Inventory Your Home Lighting
Do you know if your home lighting is community and night sky friendly? Use IDA's Dark Sky Friendly Home Lighting Program to find out! Follow these four steps to certify your home as dark sky friendly: 
Evaluate each outdoor light on your property using the

Five Principles for Responsible Outdoor Lighting

, and complete the

home lighting inventory form

(PDF).

Improve any of your fixtures that don't check all five boxes on the home lighting inventory form.

Confirm that your luminaires are now dark sky friendly by recording the date that you took any necessary action.

Submit your results via our

self-certification form

. Then download your Dark Sky Friendly Home certificate and either display it or share it on social media.
Learn more about the Dark Sky Friendly Home Lighting Program here.
Partner with Other Organizations
Connecting with partner businesses, organizations, or clubs is a great way to spread awareness about the adverse effects of light pollution by reaching new audiences. Collaborating with groups with similar values, such as conservation organizations, lighting groups, or environmental justice organizations, helps broaden the larger dark sky movement by bringing the message to new groups who may be interested in the issue but have not yet become aware of it. Additionally, creating alliances with local groups helps engage and educate your community. We have compiled a list of partner ideas to help get you started. One great way to partner with other groups is by organizing and co-hosting an event with them. We have also created a list of event ideas. Looking for public outreach materials to help make your event a success? You can find those here. 
Host a Night Walk
Night walks are guided walking tours that demonstrate how the lighting we add to our communities impacts the way we use them as well as the environment at large. Organizing a night walk is a wonderful way to engage with your community about outdoor lighting and educate them about the advantages of dark sky friendly lighting and the disadvantages of overlighting. During our 2021 Under One Sky conference, we held a workshop on hosting night walks. There's a recording available here. Additionally, there is a how-to guide located here. If you're hosting a night walk, be sure to add it to the calendar of International Dark Sky Week events. 
Join the Scavenger Hunt
Discover the night by taking part in the International Dark Sky Week scavenger hunt! Find as many items on the list as you can during the week. To play, download your scavenger hunt card here and use the markup tool on your phone or place emojis over each thing you find. You can also print it and use a pen or marker if you prefer. If you find them all, IDA will send you an assortment of stickers! All you have to do is fill out this form. Even if you don't find them all, be sure to share what you did find at the end of the week with us on social media by posting your scavenger hunt card and tagging @IDADarkSky, and using the #DiscovertheNight and #IDSW2022 hashtags.
We hope you have fun discovering the night with us this International Dark Sky Week!
You can learn more about International Dark Sky Week here.