News
News
South Australia's River Murray Designated First International Dark Sky Reserve in Australia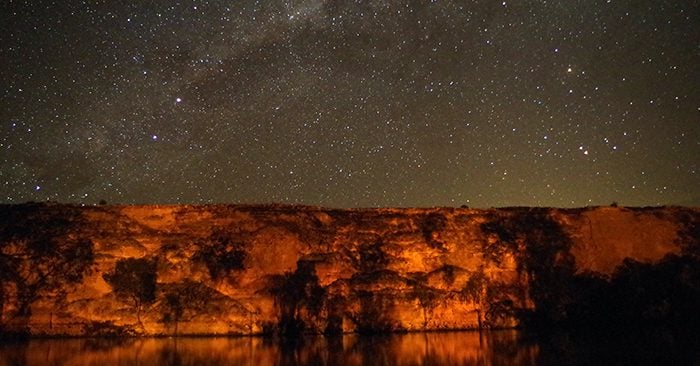 The River Murray region today received its status as the first International Dark Sky Reserve in Australia, only the sixteenth site in the world ever to receive this designation.
"Today's announcement of the River Murray International Dark Sky Reserve is gratifying as the conclusion of a two-year process that has resulted in the accreditation of the first International Dark Sky Place in South Australia," said IDA Executive Director Ruskin Hartley. "We now commence an ongoing and, we hope, mutually beneficial relationship with River Murray in jointly promoting dark skies across southern Australia."
Spanning 3,250 square kilometers of territory in the state of South Australia, the new International Dark Sky Reserve is the fifth-largest in the world and one of only six International Dark Sky Places named to date in Oceania. Managed by the state Department of Environment and Water, the area has a protected status that restricts development only to structures associated with conservation management. This creates a crucial buffer around the Swan Reach Conservation Park, designated as the Reserve's core.
The nighttime conditions at Swan Reach motivated Chris Tugwell, chairperson of Mid Murray Landcare, to seek IDA accreditation of the site. "I'd heard that there were these dark sky places around the world and we've got a property on the river and we always think 'the stars are amazing' and I thought 'why not give it a go'," Tugwell offered. He substantially managed the IDA nomination effort and helped see the project through to completion, calling the experience a "fantastic journey." 
River Murray is especially noteworthy in that it has managed to secure its dark conditions despite being located only 100 kilometers from the South Australian state capital, Adelaide, a city of 1.4 million inhabitants. While much of Australia's land area still experiences pristine nighttime conditions, it is under growing threat even in rural areas due to activities such as mining and oil/gas production that are bringing artificial light to very dark locations. That underscores the need to protect as much of this resource as possible before threats arrive.
Hartley explained that the Reserve's location is especially important: "In addition to raising awareness regionally of the ecological and cultural value of its nighttime darkness, River Murray has demonstrated the potential for meaningful preservation of dark skies on landscape scales in the shadow of major urban centers."
The area is already a popular tourism destination for hiking, wildlife watching, nature photography and river cruising. Increasingly, activities focused on stargazing and nighttime tourism have become important in the region and are contributing to local economic development.
"The [IDA] accreditation, in terms of the tourism industry, is a major asset to us," said Julie Bates, Tourism Development Manager for River Murray with Regional Development Australia. "For us being on the river, people that are hiring houseboats, and having amazing houseboat holidays, can literally go on the back deck and turn the lights out and have a wonderful view of our dark sky."
The River Murray project team are now working to secure funding for an astronomy education center in the Reserve, which they hope will draw young people from Adelaide and beyond. "We've had telescopes donated to us for this Reserve and that means that young school kids can actually get their hands on equipment they'd never, ever get a chance to use otherwise," Tugwell said.