News
Press release
Springdale, Utah becomes Utah's twentieth International Dark Sky Place
Springdale, Utah, near Zion National Park, has been designated an International Dark Sky Community.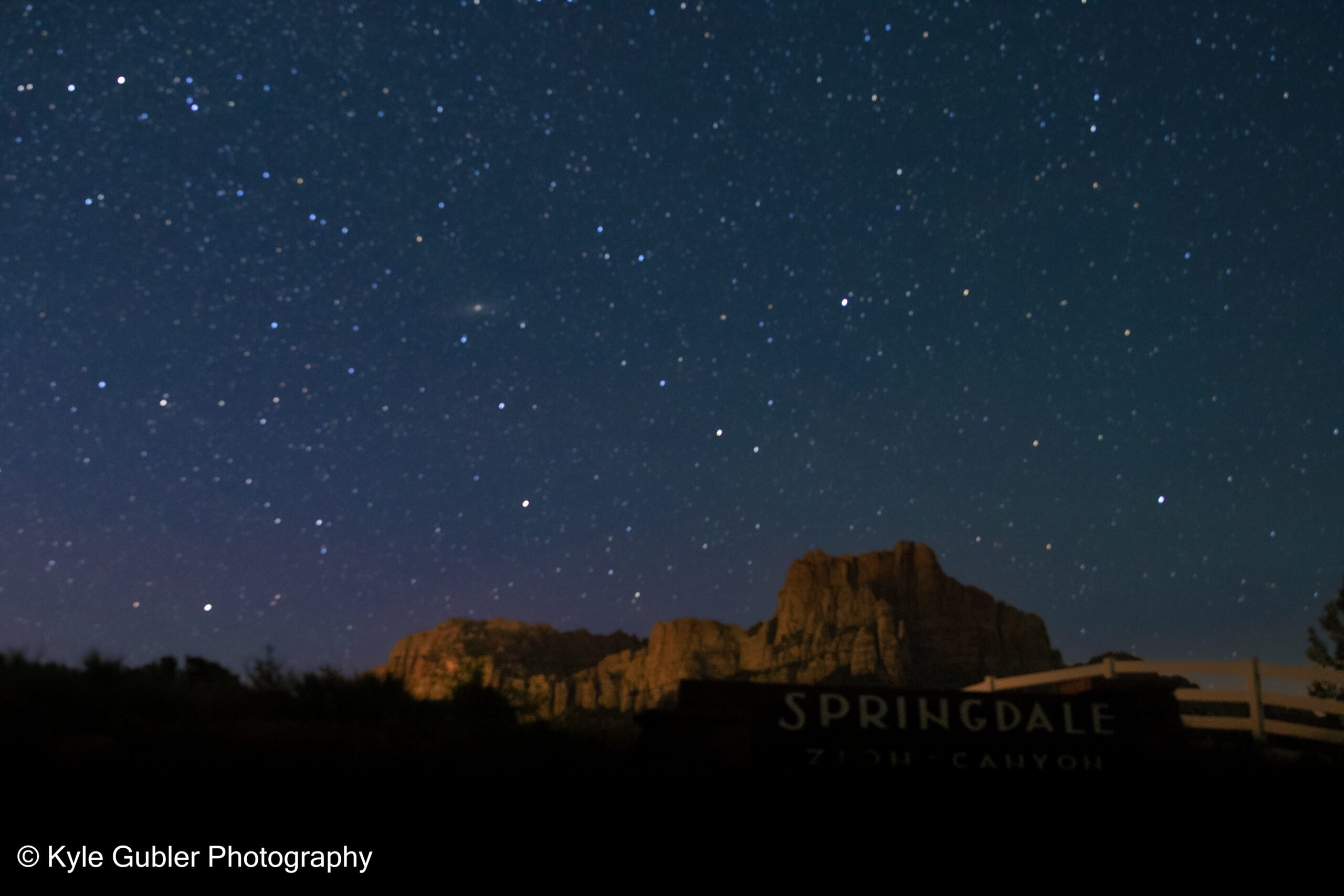 SPRINGDALE, Utah, USA — We are pleased to announce that the town of Springdale was designated today as an International Dark Sky Community by DarkSky International. Springdale, a rural community in southern Utah, is the gateway to Zion National Park. This designation represents many years of concerted effort by the residents, businesses, town staff, and elected officials of Springdale to preserve the night sky.
"This certification makes Springdale the state's twenty-third International Dark Sky Place certified by DarkSky International. Springdale joins 20 International Dark Sky Parks, two International Dark Sky Communities, one International Dark Sky Sanctuary, and one Urban Night Sky Place certified in DarkSky's recognition program, making Utah a leader in dark sky protection. This is an outstanding accomplishment and a testament to what can be achieved through action starting at the local level," stated Amber Harrison, the Dark Sky Places Program Associate.
Nestled between the majestic sandstone cliffs of Zion Canyon, Springdale is home to about 600 permanent residents; it welcomes millions of visitors annually who enjoy Zion National Park. Aside from being a popular tourist destination, Springdale is also a thriving community of neighbors dedicated to preserving what makes their town unique, including the night sky. One of those neighbors is lifelong Springdale resident Louise Excel. She said of the importance of a dark night sky: "Dark skies are a blessing to myriad species of migratory birds who will be less likely to lose their way, and nighttime pollinators, the insects and bats, will thrive. And what a gift to the canyon residents and the millions of visitors to Zion National Park who can now gaze upward to see the full splendor of the Milky Way as it sweeps from canyon rim to canyonrim! Thank you for the return of dark night skies to Zion Canyon."
Zion Canyon has a long history of human settlement, dating back thousands of years. Over this time, it has been home to the Anasazi and, later, the Paiute and Ute Tribes. The modern settlement of Springdale began in the 1860s when Latter-day Saint pioneers established a farming community on the banks of the North Fork of the Virgin River. Other than these hardy settlers, relatively few visitors came to Springdale and Zion Canyon until the establishment of Zion National Park in 1919. Visitor growth to the town and the Park has increased steadily ever since, reaching more than five million people in 2021. With an awareness of the impacts associated with increasing visitation and the need to protect natural resources, the town has long prioritized carefully planning its growth and development. This effort includes planning to preserve the night sky for the benefit of both humans and wildlife.
Springdale's elevation, proximity to Zion National Park, and relative remoteness from large metropolitan areas make it an excellent place for stargazing. However, given the immense pressure for tourism-related development in Springdale, the town realized that increased artificial light pollution could quickly erode the night sky. With strong support from its residents, the town has taken action over the last several years to reverse light pollution and preserve the night sky.
In consultation with DarkSky International, the town has adopted outdoor lighting ordinances which require homes and businesses to use dark-sky-compliant lighting. The town has also promoted awareness of the value of the night sky by holding stargazing telescope events and publishing dark-sky-related articles in the Town Newsletter. As part of applying to become a Dark Sky Community, the town also conducted an extensive sky quality monitoring survey. All these things contributed to Springdale's successful certification as a Dark Sky Community.
Springdale Town Council Member and longtime resident Jack Burns has advocated for dark night skies. He said of the town's efforts to protect the night sky, "I applaud the town of Springdale's efforts to protect our amazing night sky by receiving the International Dark Sky [Community] designation. How fortunate we are to share with the millions of visitors who visit a dark sky that is full of stars, complete with a Milky Way — something many people have never experienced. Dark skies are critical to the natural environment, enrich all of our lives and give us a sense of wonder of who we are in the universe. The threat to dark skies is real, it looms on our horizons, and I'm so grateful Springdale and its supporters recognize this by securing this special designation."
Looking to the future, Springdale will maintain dark sky preservation efforts so that its residents can continue to be inspired by the night sky and that the Canyon's wildlife can continue to thrive. The town also aspires to welcome visitors who are awed by the Canyon's majestic daytime beauty and stay to experience the stars at night. Springdale looks forward to strengthening existing ties with other International Dark Sky Communities to exchange knowledge and ideas.
Joe Pitti, a Springdale resident and business owner, summarized the benefits of dark night skies by saying, "The night sky, as a result of education and ordinance changes, has been transformative in Springdale. Seeing the stars gives us a spiritual sense of place and is humbling as we wonder about the vastness of the universe. The absence of light pollution is calming and provides an opportunity to heighten our five senses as we experience our community in new ways. Unfortunately, some members of our community and outside influences threaten the progress we have made, so we must be diligent in maintaining and fighting for the accomplishments we have made."
About the International Dark Sky Places program
Founded in 2001, the International Dark Sky Places program is a non-regulatory and voluntary program that encourages communities, parks, and protected areas worldwide to preserve and protect dark sites through effective lighting policies, environmentally responsible outdoor lighting, and public education. When used indiscriminately, artificial light can disrupt ecosystems, impact human health, waste money and energy, contribute to climate change, and block our view and connection to the universe.
The Town of Springdale now joins more than 200 Places that have demonstrated outstanding community support for dark sky advocacy and strive to protect the night from light pollution. Learn more by visiting darksky.org.
About DarkSky International
The mission of DarkSky is to preserve and protect the nighttime environment and our heritage of dark skies through environmentally responsible outdoor lighting. Learn more at darksky.org.
Media contacts
Amber Harrison
Dark Sky Places Program Associate, DarkSky International
+1 520 -347-6363
[email protected]
Rick Wixom
Springdale Town Manager
[email protected]
+1 435-772-3434