News
News
The art of darkness: Music and the night sky
Toronto-based musician Nancy Calderon, a DarkSky Delegate, uses music and art to educate audiences about light pollution and promote dark sky protection.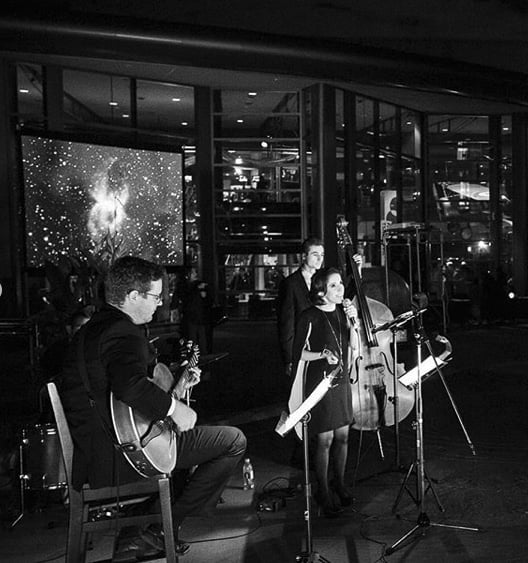 Nancy Calderon is a Toronto-based musician with a passion for dark skies. She became a DarkSky Delegate last November, with plans to use music and art to reach new audiences and convince more people to protect the night. 
Originally from Chile, Calderon has been performing in Toronto for about four years. Her group, The Calderons, plays a variety of musical styles, including jazz and soft rock. Calderon is the singer in the four-piece group, and also works full-time doing data management for a music company. 
An amateur astronomer, Calderon was inspired to use her performances as an opportunity to promote dark skies when she realized how far away from Toronto she had to travel to see the night sky. She says that many people in the city know that they can't see the stars at night but have no idea about the implications of light pollution on the environment and its effects on other species.
Her approach with new audiences is to assume that people don't know anything about light pollution and start educating them with basic concepts. She keeps her messages during her concerts "short and sweet," with the belief that "art can open people's minds and hearts to receive a message." For example, on July 20th, The Calderons played a concert at a star party at the Ontario Science Centre. Before the last song, Calderon paused in "just the right spot" to educate the audience about light pollution. She then invited the audience to learn more by visiting darksky.org or catching up with her after the show to ask questions and gather informational materials. Calderon described the music as "honey", using it to coat her message and bring in new supporters.
Astronomy is a particularly important component of the dark sky movement for Calderon because she believes it helps us develop an awareness of "who we are, where we are, and what the future may hold." She values the night skies because they help us keep things in perspective, help us to see things from a bigger point of view, and help remind us how unique our planet is. Calderon is proud to use both her speaking and singing voice to open new eyes to the importance of protecting the vast darkness of the night.