News
News
Tonto National Monument Designated as International Dark Sky Park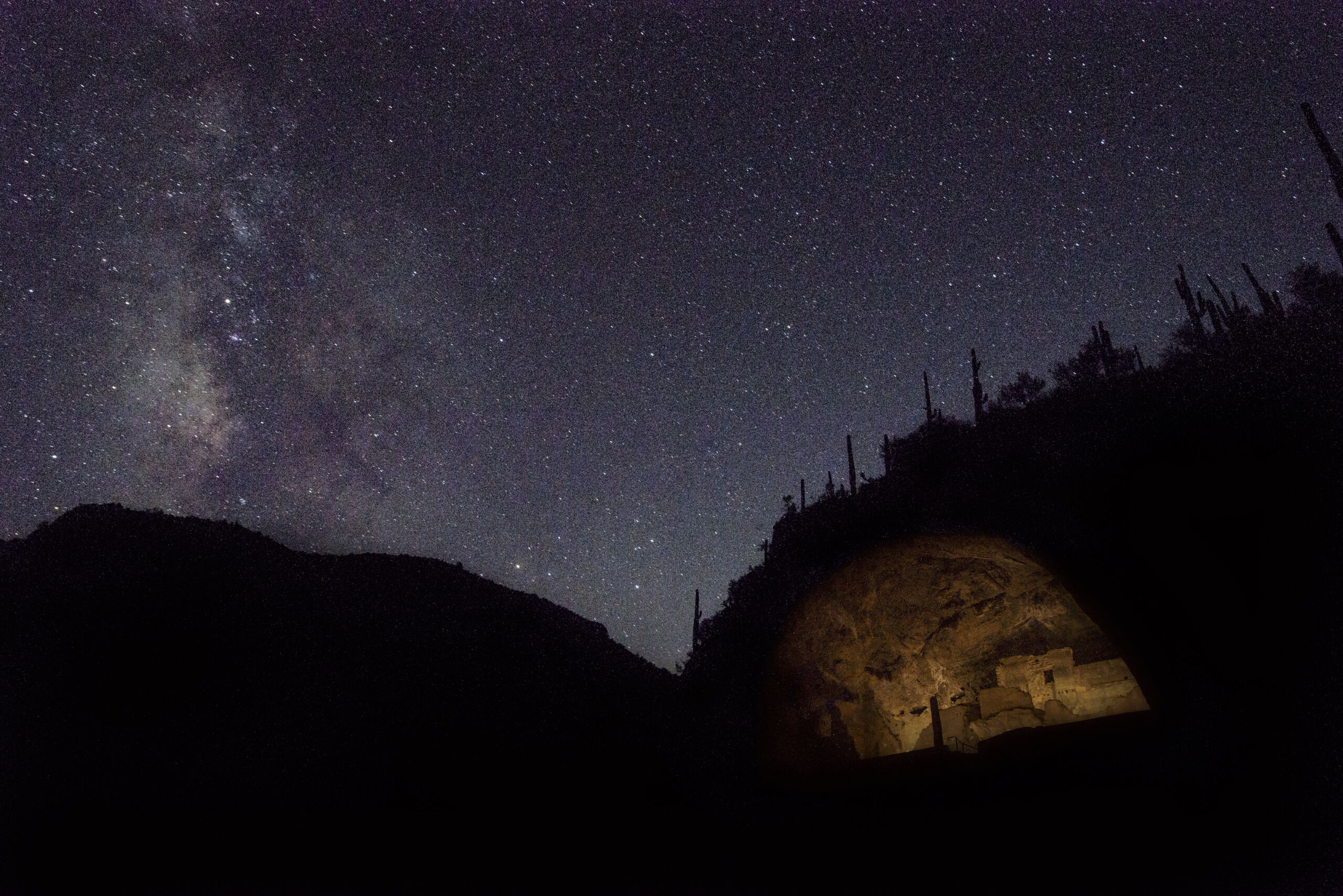 Roosevelt, AZ – On May 7, 2019, the National Park Service and the International Dark-Sky Association (IDA) announced that Tonto National Monument has been designated as an International Dark Sky Park. This prestigious award means that Tonto National Monument has exceptional opportunities to observe the night sky, and has implemented efforts for preservation of the nocturnal environment and educational programs for the public.  

Over the past two years, staff at Tonto National Monument have worked diligently towards completing the application and meeting the standards required for International Dark Sky Park designation. This tedious process involved retrofitting lighting fixtures and bulbs throughout the Monument, acquiring data for darkness analysis and monitoring, and interpreting the importance of preserving darkness. Assistance from staff, the National Park Service Natural Sounds & Night Skies Division, the local community, non-profit partners, and other governmental organizations have made this award possible. 

"With over 10,000 years of documented human history in our park, people have enjoyed the unspoiled night landscapes at Tonto for thousands of years.  The International Dark Sky Park designation is one of my proudest moments as the Superintendent of Tonto National Monument. This designation was one of our primary park goals over the last few years. In addition to clean air and a magnificent soundscape, the night skies at Tonto preserve a setting and feeling rarely found near a large metropolitan city. The leadership in this area by park guide Christa Sadler and the commitment by all of our staff was inspiring. We enjoy beautiful night skies and will continue to open the park to educational evening programs in the future," says Duane Hubbard, Superintendent.

Tonto National Monument strives to preserve the night sky as a resource. Clear nights create opportunities to view constellations, meteor showers, the Milky Way, planets, and other stellar objects. By reducing artificial light emitted from the park, Tonto National Monument provides a more pristine experience for visitors to be able to view the night sky and learn about the universe. This designation will provide residents of surrounding Gila, Pinal, and Maricopa Counties with a stellar sanctuary close to home. 

"Millions of residents from the Phoenix area and millions of other tourists from across the nation will benefit from Tonto National Monument's efforts to preserve its high quality night skies that are less than a 2 hour drive from the Phoenix area," says Robert Hobbins of the IDA Phoenix Chapter. "The park has the potential to educate and engage millions of Americans about the importance of the night sky, light pollution impacts to human health and wildlife, efforts to reduce our impact, and simply providing opportunities to enjoy a high quality dark night sky."

Since 2016, Tonto National Monument has provided educational opportunities for the public to enjoy the night sky and learn about various astronomical topics with the "Park After Dark" night sky program series. Partnerships with local astronomers and specialists, including the Phoenix Astronomical Society, have allowed attendees to view the splendor of the universe through telescopes and have hands-on experiences. 

"Our staff is committed to offering experiences that will help visitors reconnect to their dark sky heritage. Tonto strives to provide opportunities for the public to spend time in true natural darkness. Hopefully visitors will leave Tonto feeling more at home and inspired to preserve the night sky for generations to come," says Eric Schreiner, Chief of Interpretation at Tonto National Monument. 

Tonto National Monument will continue to offer programs and learning opportunities for the public, and educate surrounding communities about light pollution. Annual reports will be conducted and submitted to IDA to ensure consistent darkness quality and continued dedication to dark sky preservation.
About the IDA Dark Sky Places Program
The award-winning International Dark Sky Places (IDSP) Program was founded in 2001 to encourage communities, parks and protected areas around the world to preserve and protect dark sites through responsible lighting polices and public education. For more information about the International Dark Sky Places Program, visit: https://darksky.org/our-work/conservation/idsp/.
About IDA
The International Dark-Sky Association (IDA) is a 501(c)(3) founded in 1988 and is dedicated to protecting the night skies for present and future generations. Today, IDA is the recognized authority for night sky protection and has taken the lead in identifying and publicizing the negative impacts of artificial light at night on human health, wildlife, and climate change. More information about IDA and its mission may be found at http://darksky.org.
For more information contact:
(928)467-2241 and [email protected]or visit:
https://www.nps.gov/tont
https://www.facebook.com/TontoNPS
https://www.instagram.com/TontoNPS|