News
News
Under One Sky 2022 Engagement Workshops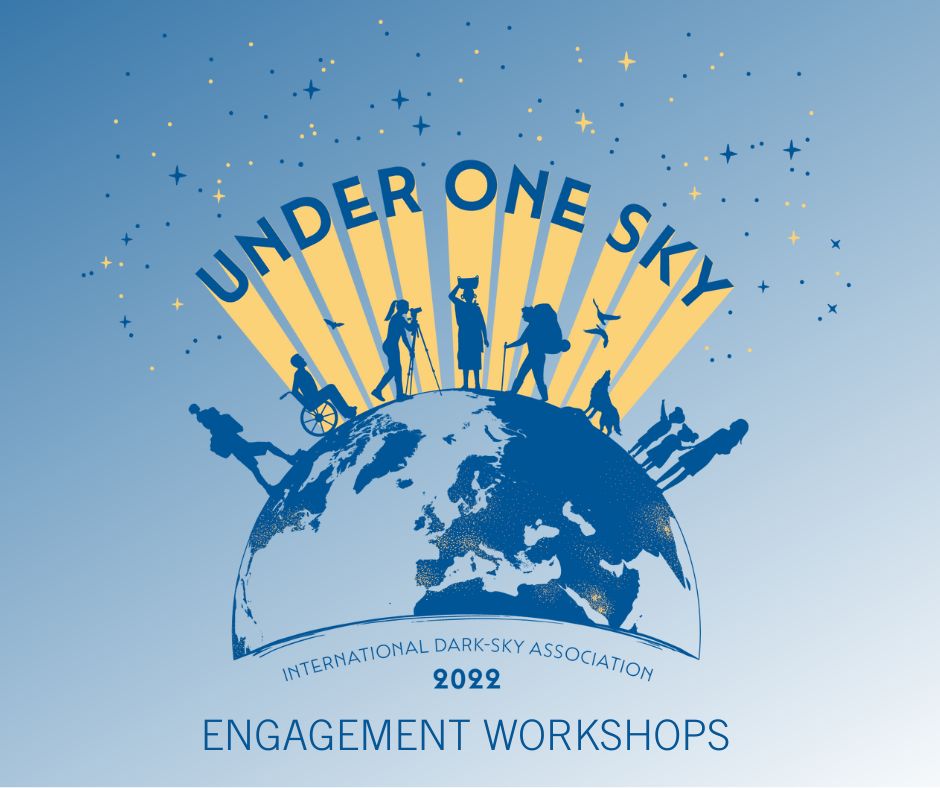 We are very excited to announce this year's engagement workshop for our virtual conference Under One Sky 2022! These workshops will follow each regional session during the conference and last 45 minutes. Each workshop will be a panel of expert individuals and be centered on the following themes community engagement, International Dark Sky Places, and policy. These topics will help you find ways to be more involved in making changes to fight light pollution where you live!
Community Engagement Panel
Saturday, November 12
8:45 PM PST (November 11), 11:45 PM EST (November 11), 4:45 AM GMT/UTC, 3:45 PM AEDT
Engaging your community is crucial to building the momentum necessary to enact change. Learn from the on-the-ground experiences of dark sky advocates who leveraged community engagement to change lighting practices for the better. This conversation will be hosted by Kerem Asfuroglu, a prominent lighting designer who uses art and creativity to achieve lasting results. Joining him is Wayne Gosnell, a Texas-based Advocate who runs a successful dark sky-friendly business award and lightbulb exchange program. Additionally, the panel includes Lya Shaffer Osborn, a multidisciplinary designer and an advocate for design justice to speak to light justice, and Steve Evers, Executive Director of the Friends of Arches and Canyonlands, as well as a former international outdoor guide.
Kerem Asfuroglu

U.K.
Chair/Host
Kerem Asfuroglu is the founder of Dark Source, a London-based lighting design studio driven by social and environmental values. Following his graduation from Wismar University with a degree in Architectural Lighting Design MA, Kerem has worked at Speirs Major as a senior member of the creative team for 8 years. Throughout his career, he has won several design awards, including Red Dot, Vox Juventa, PLDC, and LAMP. Kerem specializes in dark sky-friendly lighting design for the urban and rural public realm. In 2017, he was awarded the title of Dark Sky Defender by the International Dark-Sky Association for advocating the importance of darkness through design. Some of his environmental lighting projects include the Plas Y Brenin Outdoor Center, Presteigne Dark Sky Masterplan, Newport Dark Sky Masterplan, Cloughjordan Ecovillage, Clwydian Range & Dee Valley, and Dark Sky Planning Guidelines for Cumbria.
Wayne Gosnell

U.S.
Wayne Gosnell is a retired United States Army colonel who lives in Blanco, Texas, in the heart of the Texas Hill Country. He holds a Ph.D. in Communications and is the founder and President of the Blanco County (Texas) Friends of the Night Sky. He is a firm believer in the philosophy of Dr. Suess — "Sometimes the problems are complicated, but the solutions are simple." He seeks common-sense solutions to complicated problems. At night sky preservation presentations, he is often heard  saying, "Of all the forms of pollution mankind has foisted on the Earth, light pollution is the easiest and cheapest to fix…and it can be done in our own lifetime."
Lya Shaffer Osborn

U.S.
Lya Shaffer Osborn is a multidisciplinary designer, writer, and advocate for design justice. She is a co-founder of LightJustice.org, a community resource for addressing the social impact of lighting. She also serves as the North America Regional Director for Unolai Lighting Design, where for the past seven years, she has contributed to a wide range of projects and award-winning design efforts on both sides of the Pacific. Lya received a double M.F.A. in Lighting Design and Interior Design from Parsons The New School for Design, where her thesis work challenged the industry norms and incentives that have long defined a designer's role in community and proposed alternative modes of improving accessibility of design resources to the historically underserved. Lya is a member of the International Association of Lighting Designers and the Illuminating Engineering Society and is Community Friendly Lighting Certified.
Steve Evers

U.S.
Steve Evers is the Executive Director of the Friends of Arches and Canyonlands Parks. A former international guide and instructor of various outdoor activities, he is familiar with the night sky in both hemispheres. He resides in Moab, Utah, where he enjoys all things outdoors. As a volunteer in the local county government, he brings a unique perspective to advocacy, governance, and follow-through.
International Dark Sky Places Panel
Saturday, November 12
3:45 AM PST, 6:45 AM EST, 11:45 AM GMT/UTC, 10:45 PM AEDT
Are you interested in learning more about IDA's International Dark Sky Places program? Hear from people who have gone through the application process. They'll tell you how they did it, what challenges they overcame, and what benefits they have seen since certification. IDA's Dark Sky Places Committee Chair, Dan Oakley, who spearheaded the South Downs International Dark Sky Place application, will host the panel. Joining him will be Johanne Roby, who got the most recent Urban Night Sky Place designation in Canada. Additionally, we will hear from Sabine Frank, who worked with Fulda, our largest designated International Dark Sky Communities, and Eleanor Muller, who works with the !Ae!Hai Kalahari Heritage Park in South Africa.
Dan Oakley

U.K.
Chair/Host
Dan is the Dark Skies Officer at the South Downs National Park Authority and International Dark Sky Reserve. He was responsible for creating and submitting the South Downs application to the IDA and continues to manage the National Parks delivery of dark skies. Dan uses his position to promote IDA messages, light pollution, and astronomical opportunities to the residents and visitors of the South Downs. Originally a Physicist with an interest in astrophysics, Dan has further degrees in Wildlife Management and a Master's in Environment, Policy, and Society, but has happily swapped his time as a ranger with a chainsaw to deliver dark skies outreach behind a telescope. Dan is actively involved in enhancing lighting policy in the UK and coordinates a UK Dark Sky partnership with protected landscape partners with the goal of developing specific policies for dark skies. He also currently chairs the IDA Dark Sky Places Committee, is a director of the IDA-UK Chapter and is the director of Darkscape Consulting, which provides specialist services for dark skies and light pollution.
Johanne Roby

Canada
Johanne Roby is a chemistry professor and light pollution researcher at the Cégep de Sherbrooke. She has developed expertise in the field of public and domestic lighting as well as their effects on the nocturnal environment and human health. Johanne, in collaboration with Mr. Martin Aubé, also a professor-researcher at the Cégep de Sherbrooke, is designing a spectral database of all types of artificial lighting. She is also working on the creation of light pollution maps to compare light pollution before and after the creation of the first International Dark Sky Reserve at Mont-Mégantic.
Sabine Frank

Germany
Sabine is the coordinator and star gazing guide of Rhön Biosphere Reserve, also known as Biosphärenreservat Rhön, and with Sabine's help, Rhön was certified in 2014 as an International Dark Sky Reserve donning the new name "Sternenpark (Star Park) Rhön." She works for the county of Fulda, which became the largest International Dark Sky Community in 2019, where she is an active Dark Sky advocate and gives presentations about light pollution and what strategies to use to fight it.
Eleanor Muller

South Africa
Eleanor Muller is an accidental Dark Sky Advocate, a marketing professional with the team that walked the path to creating South Africa's !Ae!Hai Kalahari Heritage Park's International Dark Sky Sanctuary. She will reflect on how the certification process is an education in its own right, her and her group's successes, and some unexpected results of the IDA's requirements. In addition, Eleanor will share her passion for building strong support for a cultural astronomy capacity that promotes the wisdom of the local San community. Also, she will explain the purpose of the exclamation marks in "!Ae!Hai Kalahari".
Policy Panel
Saturday, November 12
10:45 AM PST, 1:45 PM EST, 6:45 PM GMT/UTC, 5:45 AM AEDT (November 13)
Join us for an engaging and interactive conversation about how policy can be an instrument for change to reduce light pollution and promote awareness of the value of dark skies in your community. The panel will be hosted by Yana Yakushina, a lawyer and researcher for the legal protection of dark skies. We'll learn from Amy Oliver, an expert in leveraging proclamations and media for dark sky conservation, Diane Turnshek, who has experience with urban night sky reclamation through ordinances, measurement, and retrofits; and Anna Pasková from the Czech Republic about the EU-wide initiative to regulate light pollution and promote dark sky conservation. 
Yana Yakushina

Belgium
Chair/Host
Yana Yakushina is a lawyer, researcher, and dark sky protection educator. Yana is actively involved in dark sky protection awareness activities by attending international conferences, podcasts, and workshops and providing consulting services. Yana also specializes in space law. She is a Deputy Director of Legal Research and Special Projects at the Space Court Foundation Inc., who develops and manages projects related to regulating space activities across different jurisdictions. Yana has participated in international legal research projects in the field of dark sky protection and space law and collaborated with organizations and government bodies worldwide, including Lomonosov Moscow State University, Ghent University, the EU Commission, Space Court Foundation Inc., International Dark-Sky Association, Starlight Foundation, International Astronomical Union, UNOOSA, and others.
Amy Oliver

U.S.
Amy C. Oliver, FRAS, holds many positions in the field of astronomy: Public Information and News Manager for the National Science Foundation's National Radio Astronomy Observatory, Public Information Officer for the Atacama Large Millimeter/submillimeter Array in North America, Public Affairs Officer and Visitor & Science Center Manager for the Smithsonian Institution's Fred Lawrence Whipple Observatory, and a Senior Instructional Specialist and Telescope Operator for the University of Arizona's Mt. Lemmon SkyCenter. She is also a contractor to NSF's NOIRLab (formerly NOAO). Amy is an internationally-recognized dark sky advocate and policy development specialist, an advocate for the International Dark-Sky Association, and is an appointed member of the Tucson/Pima County Outdoor Lighting Code Committee and the Tucson Sign Design Review Committee. She has affected light pollution policy development in multiple U.S. states and countries. Amy is an active volunteer with the NASA/JPL Solar System Ambassadors—where she helps to lead the Spanish subgroup. She was elected as a Fellow of the Royal Astronomical Society (FRAS) in 2021 for her efforts in dark-skies advocacy, public science education, and astrophysics journalism. She has been recognized internationally for developing the International Livestream Star Party program during the COVID-19 pandemic and the Hablemos de astronomía lecture series to elevate the work of Hispanic scientists to Spanish-speaking audiences around the world.
Diane Turnshek

U.S.
Diane Turnshek's research focuses on measuring the light of cities with drones, aircraft, satellites, and astronauts aboard the International Space Station for use in designing ordinances to reduce light pollution, for example, Pittsburgh's 2021 Dark Sky Ordinances. Diane teaches astronomy at Carnegie Mellon University and the University of Pittsburgh, and she coordinates the long-standing astronomy lecture series at Pitt's Allegheny Observatory. She instituted a summer CMU light pollution undergraduate research class called SKYGLOW and hosted a CMU Dark Skies Conference. Diane is a committee member of the International Astronomical Union (IAU) B7–Inter-Division B-C Commission Protection of Existing and Potential Observatory Sites and an affiliated member of the new IAU Center for the Protection of the Dark and Quiet Sky from Satellite Constellation Interference (IAU CPS).
Anna Pasková

Czech Republic
Anna Pasková is the Director of the Department of Environmental Policy and Sustainable Development at the Ministry of the Environment of the Czech Republic. She graduated from the Faculty of Social Sciences of Charles University and the United Nations University in Environmental Security. In the past, she gained experience at the US Foundation for Environmental Security and Sustainability, the Ministry of Foreign Affairs, and the Technology Agency of the Czech Republic. She has been working at the Ministry of the Environment for ten years and is responsible for the coordination of cross-cutting national strategies such as the Strategic Framework for Sustainable Development Czech Republic 2030, the State Environmental Policy of the Czech Republic, and the National Action Plan for Adaptation to Climate Change. She is also responsible for publications evaluating the state of the environment and sustainable development, support for clean mobility, regulatory impact assessments, application of the DNSH (do no significant harm) principle, or light pollution. 
We hope to see you at some or all of these workshops! In order to participate, be sure to register for the conference today. Also, check out the information on our keynote speaker, Lisa Heschong, here and consider purchasing a piece of Under One Sky merchandise to help support the cost of the conference. A full conference schedule can be found here.