News
News
Utah State Park Designated Newest Dark Sky Park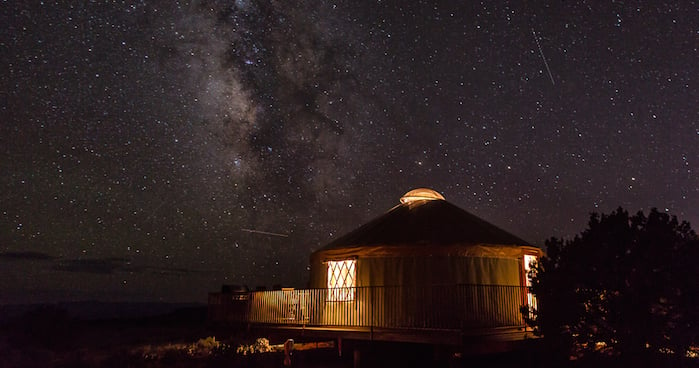 We are pleased to announce the designation of Dead Horse Point State Park in Utah as an International Dark Sky Park, the first such designation for Utah State Parks.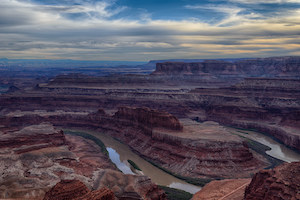 The 5,362-acre park offers stunning views of the adjacent Canyonlands National Park, an International Dark Sky Park, and an iconic gooseneck bend in the Colorado River (see the photo on the right).
Immense vertical cliffs meet with canyons carved by ice, water and wind creating a visual masterpiece. The park's position above the canyon walls makes for spectacular, virtually unobstructed, views of the night sky with sweeping, 360-degree panoramas
Situated on the relatively undeveloped Colorado Plateau, the park is less than an hour from Aches National Park and Moab, Utah. In addition to several overlooks, the park features a visitor center, 21 campsites, three yurts, a picnic area, and a 9-mile loop hiking trail. The park area is best known for its use in the iconic final 'Grand Canyon' scene of the 1991 film Thelma & Louise.
In order to gain this designation, the park had to commit to protecting its natural darkness as well as educating residents and visitors on the importance of natural night skies. Dead Horse Point State Park maintains a close partnership with the National Park Service. Night Sky Rangers from both Arches and Canyonlands National Parks join those from Dead Horse Point State Park each month to present programs to help further public education.
The park joins a growing family of Dark Sky Parks in Utah including Canyonlands, Capitol Reef, Natural Bridges and Hovenweep National Parks and Weber County North Fork Park.
In celebration of the designation, the park is offering an evening night sky program at 9:30 p.m., on Saturday, June 4, at Dead Horse Point State Park's visitor center. To learn more about the park, please visit he park's website and the IDA Dead Horse Point State Park page.