News
News
Zion National Park Accreditation Completes Dark Skies Designations in 'Mighty Five' Utah National Parks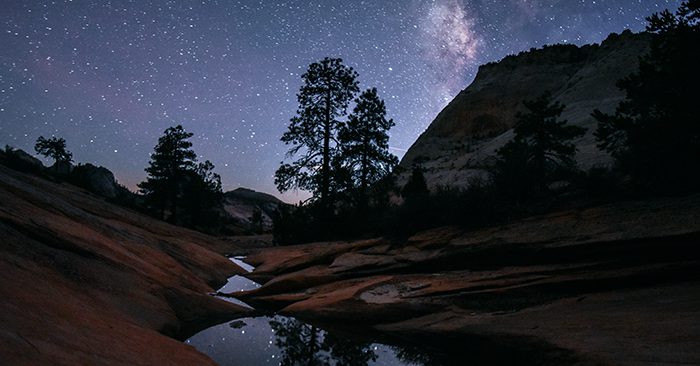 The National Park Service and IDA announced today that Zion National Park in Utah, U.S., has been designated as an International Dark Sky Park. Following Arches, Bryce Canyon, Canyonlands and Capitol Reef National Parks, Zion is the last of the so-called "Mighty Five" U.S. national parks in the state of Utah to achieve the designation.
"Zion has taken its place alongside the other 'Big Five' parks that are rightly counted among the crown jewels of the U.S. National Park Service," said IDA Executive Director Ruskin Hartley. "The high degree of international visibility of these parks and their popularity ensures that over 10 million visitors a year will learn about the importance of protecting their night skies."
Zion National Park in particular is known worldwide as a geologic wonderland of towering cliffs, deep and narrow canyons, and sweeping expanses of bare sandstone slickrock. Due to its location near the junction of three great geographic provinces of the American West (the Colorado Plateau, the Great Basin and the Mojave Desert), the Park protects a remarkable diversity of plant and animal species inhabiting several different life zones. It also preserves evidence of nearly 8,000 years of human habitation, including the Mormon settlers of the mid-nineteenth century who gave the area its name.
The Park's forbidding terrain allowed the area to largely resist settlement in the nineteenth century. Over 500 square kilometers of land in and adjacent to the Park is designated by the U.S. government as a wilderness subject to protection against future development. In these ideal conditions, natural nighttime darkness is protected and nocturnal wildlife flourishes.
Zion's new IDA status is a reflection not only of its exceptional night skies, but also the Park's sustained efforts to protect and celebrate them. It enlisted the support of many different local and state government agencies, as well as private conservation groups, to achieve today's result. The town of Springdale, Utah, situated near the Park's southern entrance, was a key partner.
"Springdale has long had an abiding mutual interest in helping to protect natural resources of this incredible public land," explained Springdale Mayor Stanley Smith. "We value the beauty of our night sky and understand the need to protect it in a collaborate effort. We applaud and wholeheartedly support Zion's efforts to preserve this ethereal gem."
Although the Zion's new status reflects the completion of a years-long certification effort, the park realizes that the work needed to secure the value of its night skies is in many ways just beginning.
"Zion National Park is committed to preserving the park's night skies for all future generations and to educating visitors about the importance of this valuable resource," said Jeff Bradybaugh, park superintendent.