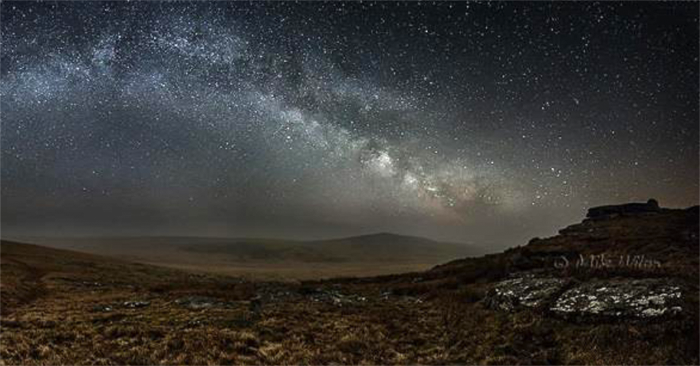 About
Bodmin Moor is a remote, rugged, heather-covered upland granite moorland in Cornwall, England. The Moor is the largest unit of the Cornwall Area of Outstanding Natural Beauty (AONB), which spans a number of mostly coastal areas in southwest England. It is the first AONB, a type of landscape in the United Kingdom designated for conservation due to its significant value, to receive IDA accreditation for its dark skies.
Bodmin Moor describes itself as a "working agricultural landscape" where traditional land uses persist. As part of an AONB, it enjoys protections against many of the forms of large-scale development that would tend to bring new lighting to the area. Although most of the its land is privately owned, since 2000 much of Bodmin Moor has been designated open access. The landlocked Moor abounds with daytime recreation activities, including hiking, bicycling, fishing, and rock climbing. In the last decade, the local offerings have extended to the nighttime hours, as the Moor increasingly draws tourists from across the UK and Europe who come to see its dark night skies.
The Cornwall Council, its governing authority, has demonstrated its commitment to protecting the night skies over Bodmin Moor, and locals have undertaken a program of education and outreach to show area residents the economic and cultural value of dark skies in this part of England.
Designated
2017
Category
Dark Sky Park
Address
Cornwall
England
Google Maps
Contact
Land Area
208 km2
Documents
Application
Announcement
Annual Reports
Weather
Click here to find ideal environmental conditions for viewing the night sky at Bodmin Moor Dark Sky Landscape (50.54572,-4.55889). Don't forget to plan your trip during the new moon and astronomical twilight to enhance the viewing experience!