About
Clayton Lake State Park, located in Union County, New Mexico, is a place of rolling grasslands, volcanic rocks, and sandstone bluffs on the edge of the American Great Plains. The area around the Park was a stopover point for travelers along the Cimarron Cutoff of the Santa Fe Trail during the 19th century; today the Park hosts approximately 65,000 visitors per year, many of whom attend star parties at the Park's observatory facility.
Park staff and volunteers worked closely with the Town of Clayton and the New Mexico State Parks system to ensure quality lighting guidelines both within the park and in the surrounding community. In 2010 the park completed lighting retrofits to conform 100% with the shielding and spectral considerations for low-light areas.
Designated
2010
Category
Dark Sky Park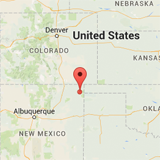 Address
New Mexico, USA
Google Maps
Contact
Land Area
1.9 km2
Documents
Weather
Click here to find ideal environmental conditions for viewing the night sky at Clayton Lake State Park (36.5758, -103.30611). Don't forget to plan your trip during the new moon and astronomical twilight to enhance the viewing experience!