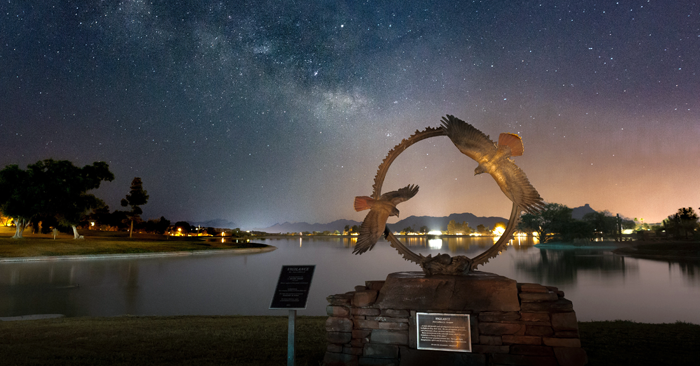 About
The Town of Fountain Hills, Arizona, is an incorporated municipality of approximately 25,000 inhabitants situated at the edge of the greater Phoenix, Arizona (U.S.) metropolitan area. The Town derives its name from a fountain in the manmade lake at its center, which pushes 379,000 liters (100,000 gallons) of water to heights of up to 170 meters (560 feet). The community was founded in 1970 by Cornelius Vanderbilt "C. V." Wood (1920 – 1992), an American developer of amusement parks and planned communities best known as the chief developer of Disneyland. Incorporated in 1989, it has since become known for its affordable living and small-town charm.
Fountain Hills' situation at the edge of the 12th largest Metropolitan Statistical Area in the United States makes for surprisingly dark nights, given the screening effect of the neighboring McDowell Mountains. Town residents have come to appreciate the typical nighttime conditions of their neighborhoods, where the night sky brightness is low enough to afford occasional glimpses of the Milky Way. Locals interested in preserving these conditions, even as the metro area to their west grows, took up the cause of IDA certification in early 2015, forming the Fountain Hills Dark Sky Association as a community ambassador organization. They secured comprehensive improvements to the Fountain Hills outdoor lighting ordinance in 2016 and have undertaken on ongoing program to educate residents on the benefits of dark skies and quality outdoor lighting.
Designated
2018
Category
Dark Sky Community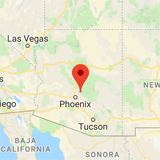 Address
16705 E. Avenue of the Fountains
Fountain Hills, AZ 85268 USA
Google Maps
Contact
Vicky Derksen
Website
Tel.: +1 480 816 5100
Land Area
52.7 km2
Documents
Weather
Click here to find ideal environmental conditions for viewing the night sky in Fountain Hills (33.60489, -111.7212). Don't forget to plan your trip during the new moon and astronomical twilight to enhance the viewing experience!
Media