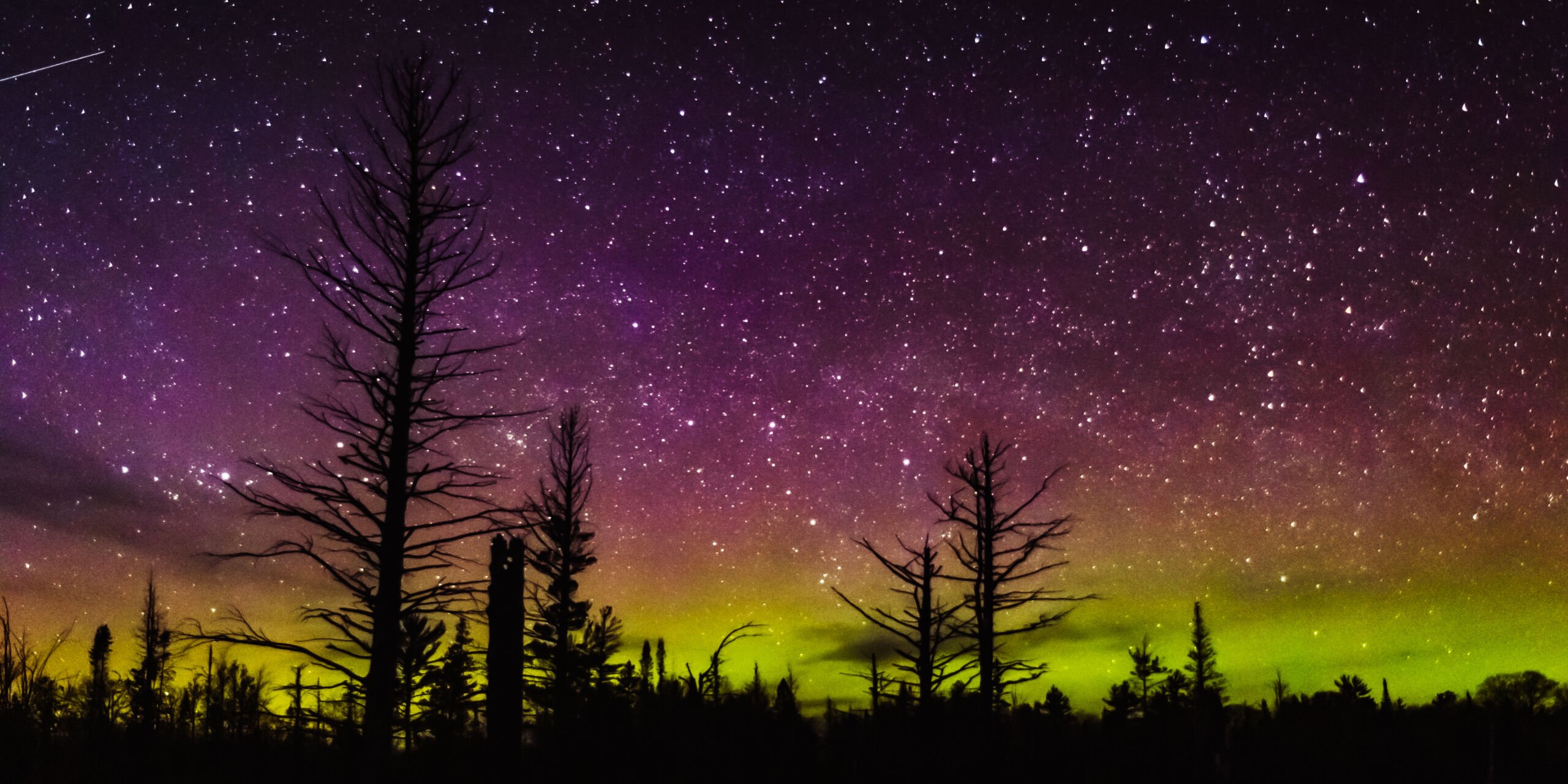 About
The Keweenaw Dark Sky Park is located at the top of the Keweenaw Peninsula in Michigan, U.S. Surrounded by Lake Superior on three sides, the peninsula is a wonderful place for stargazing and exploring. The park is headquartered at the Keweenaw Mountain Lodge, which is open to the public and accessible year-round, 24-hours a day, and is surrounded by largely undeveloped wilderness. Natural resources and habitats of the old-growth pine forests are home to bald eagles, owls, woodpeckers, deer, wolves, bears, coyotes, and more.
Keweenaw Mountain Lodge is historically significant with structures designated under the Works Progress Administration (WPA) and the Civilian Conservation Corps (CCC) programs developed during the Great Depression. The Lodge is listed on both state and national registries of historic places. The historic deed and conservation easement of the property offer added protections against overdevelopment in the area and maintain a remote wilderness feeling for anyone who wants to enjoy the natural and cultural setting of the Upper Peninsula.
Keweenaw Mountain Lodge's Outdoor Activities Center provides experiences through access to its recreational trails and wilderness areas. Outdoor activities include mountain biking, hiking, trail running, golfing, birdwatching, and stargazing. The remoteness and ease of access to the site provide ideal conditions for observing the night sky.  Overnight lodging is not required to spend an evening under the stars at the Keweenaw Dark Sky Park. 
The Park's leadership team is committed to raising dark-skies awareness and recognizes the importance of the preservation of the nocturnal environment. The organization's philosophy is that the night sky should be considered an important natural resource, an approach that can be cultivated and fostered accordingly through on-site educational activities and community outreach. To demonstrate these values and to show the organization's commitment to preserving the natural night sky, much of the outside lighting was upgraded to be dark-sky friendly. Most notably, the Park worked with Michigan's Environment, Great Lakes, and Energy Department energy reduction initiative to replace 28 inefficient high-pressure sodium street lights with 3,000K, fully shielded lights that reduce excessive light pollution. 
Designated
2022
Category
International Dark Sky Park
Address
Keweenaw Mountain Lodge
14252 US HWY 41
Copper Harbor, MI 49918
Google Maps
Contact
John Mueller
Website
Tel.: +1 906-289-4403
Land Area
2.26 km2
Social Media
Keweenaw Dark Sky Park
(Facebook Twitter Instagram)
Keweenaw Mountain Lodge
(Facebook Twitter Instagram)
Documents
Weather
Click here to find ideal environment conditions for viewing the night sky at Keweenaw Dark Sky Park (47.45999, -87.90996). Don't forget to plan your trip during the new moon and astronomical twilight to enhance the viewing experience!