About
The Town of Torrey is a small municipality in rural Wayne County, Utah, U.S. It was established by Mormon settlers in the 1880s, who were drawn to the reliable waters of nearby Sand Creek. The town's name traces to Jay L. Torrey (1852-1920), a rancher and former Wyoming legislator. Today, Torrey is best known as the gateway community to nearby Capitol Reef National Park, which was designated an IDA International Dark Sky Park in 2015. Its tree-lined main street, Utah Route 24, draws Capitol Reef visitors, and tourism remains the largest contributor to the local economy.
The Capitol Reef IDSP designation inspired interest among locals about an IDA certification for the Town in its own right as a demonstrable commitment to the long-term protection of dark skies over the national park. Residents have improved their outdoor lighting ordinance, raised funds to retrofit Town-owned street lighting to achieve dark-sky compliance, and undertaken an impressive outreach and education campaign in conjunction with the park and a local nonprofit organization. As a strategy, this is an effective way to deal with the most significant external source of artificial light at night affecting the night sky quality over Capitol Reef.
Designated
2018
Category
Dark Sky Community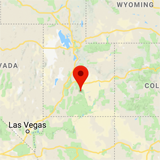 Address
100 North 75 East
Torrey, UT 84775 USA
Google Maps
Contact
Ms. Mary Bedingfieldsmith
Website
Tel.: +1 435 425 3600
Land Area
1.3 km2
Documents
Weather
Click here to find ideal environmental conditions for viewing the night sky in Torrey, UT (38.30117, -111.41953). Don't forget to plan your trip during the new moon and astronomical twilight to enhance the viewing experience!