About
The cities of Wimberley and Woodcreek (collectively known as "Wimberley Valley"), are neighboring incorporated municipalities in Hays County, Texas, U.S. Including both cities' large extraterritorial jurisdictions, Wimberley Valley is home to around 14,000 people. The area economy is strongly rooted in tourism in the surrounding Hill Country of central Texas, and hosts both a thriving arts community and a diversity of native plant and animal species. Wimberley Valley also serves as an exurb of the greater Austin-San Antonio region and a 'bedroom community,' many of whose residents commute to work in those larger cities.
Inspired by the success of the nearby City of Dripping Springs, which achieved International Dark Sky Community (IDSC) status in 2014, a group of volunteers formed the Wimberley Valley Dark Sky Committee a year later and began foundational work for an IDSC bid. While lobbying for changes to existing outdoor lighting regulations in both Wimberley and Woodcreek, the Committee took on the task of raising the public profile of the area's night skies and educating residents about the benefits of quality outdoor lighting. They have recruited the participation of an array of partner organizations to help spread the word about the value of the community's generally dark nighttime conditions and to actively solicit support for the nomination from a diversity of local stakeholders. By any standard, this strategy has been a success.
Designated
2018
Category
International Dark Sky Community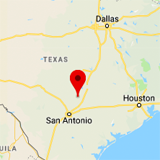 Address
Wimberley and Woodcreek
Texas, U.S.
Google Maps
Contact
Greg Webb , Wimberley Valley Dark Sky Committee
Website
Land Area
97.6 km2
Documents
Application
Wimberley Lighting Policy
Woodcreek Lighting Policy
Announcement
Annual Reports
Weather
Click here to find ideal environmental conditions for viewing the night sky in Wimberley, TX (29.98717, -98.09143). Don't forget to plan your trip during the new moon and astronomical twilight to enhance the viewing experience!