News
News
The IDA 2015 Annual General Meeting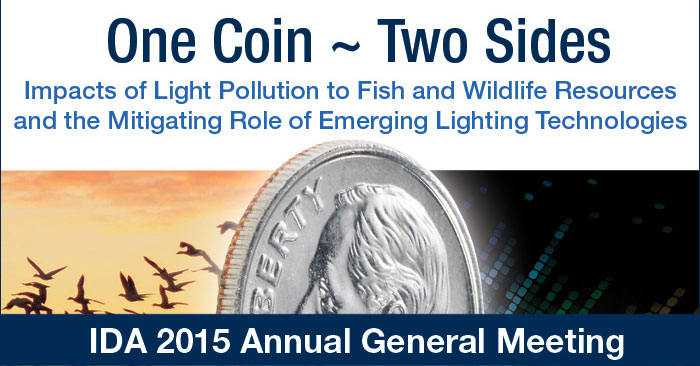 November 14 and 15, 2015 | Embassy Suites | Phoenix, Arizona
The International Dark-Sky Association hosted our 26th Annual General Meeting November 14-15, 2015, in Phoenix, Arizona.
The 2015 conference theme was "One Coin ~ Two Sides: Impacts of Light Pollution to Fish and Wildlife Resources and the Mitigating Role of Emerging Lighting Technologies," and was a must-attend event for anyone concerned about the ecological impacts of artificial light at night.
Registration included:
Access to all sessions and presentations
Meeting program and participant registration contact information
Complimentary tote bag loaded with conference materials – designed for grocery shopping and other great "post-conference" uses after the meeting
Meet and greet with authors and conference speakers Travis Longcore and Paul Bogard
Complimentary "no host" cocktail hour and reception
Complimentary luncheon
Full course complimentary breakfast
Speakers Highlights:
Travis Longcore, co-editor of the "Ecological Consequences of Artificial Night Lighting,"
Paul Bogard, author of "The End of Night: Searching for Natural Darkness in an Age of Artificial Light,"
Tom O'Hallaren – Former Arizona State Senator and Dark-Sky Advocate
David Crawford and Tim Hunter – Co-founders of the International Dark-Sky Association
Karen Trevino – Chief, Natural Sounds and Night Skies Division, National Park Service
Joelle Gehring,Biologist, Federal Communications Commission, Washington, DC
Tom Davies – University of Exeter, Exeter, UK
Senior federal policymakers, and
Many of the world's foremost scientists and thought leaders on the subject.
Click here to see the AGM Program.
The conference attracted a diverse array of scientists, lighting professionals and designers, astronomers, educators, university representatives, policy makers, opinion leaders, city planners, government officials, concerned citizens and the general public.
Gold Sponsors – $5000
Individual Gold Sponsors




Jim Dougherty
Silver Sponsors – $2500
Individual Silver Sponsors


Bill Flanagan
Nels Leutwiler
Bronze Sponsors – $1000
Individual Bronze Sponsors




Tim Hunter
Academic Partners