News
News
Community of Xichong recognized as first International Dark Sky Community in China


XICHONG, Shenzhen, China — Xichong, Shenzhen, is now an International Dark Sky Community certified by DarkSky International. Becoming the first International Dark Sky Community in China, this recognition is a milestone for Shenzhen to achieve equilibrium between urbanization development and dark sky protection and promote green urban development while retaining the coexistence of humans, nature, and the city. Building such a pilot project contributes significantly to Shenzhen's vision as a paradigm for "Chinese City." The community is dedicated to protecting the dark sky, preserving the local nighttime ecological environment, and creating a beautiful dark sky community environment with quality artificial lighting accompanied by flying fireflies. It is a destination where residents, tourists, and astronomical enthusiasts can enjoy well-curated night cultural life and public activities together.
The Xichong International Dark Sky Community is located at the southeast end of Shenzhen and covers an area of approximately 10.9 square kilometers. The community is about 60 kilometers away from the Shenzhen urban center and holds Shenzhen's most well-composed natural ecosystem. It is semi-enclosed by mountainous surroundings with one way facing the sea and is well-shielded from urban light pollution.
"The Xichong International Dark Sky Community demonstrates that creating a safe, nocturnal environment that benefits the community and protects the natural world using thoughtful lighting design is possible. The Xichong Dark Sky Community brings people and nature together and sets an example for others to follow," remarked Amber Harrison, DarkSky's Dark Sky Places Program Associate.
The Xichong Community is administered by the Nan'Ao Office of the Dapeng New District, Shenzhen, having amounted to about 2500 villagers from 8 villages. The earliest village was built in the late Song Dynasty (mid-13th century), with many cultural relics withstanding in the Xichong Community.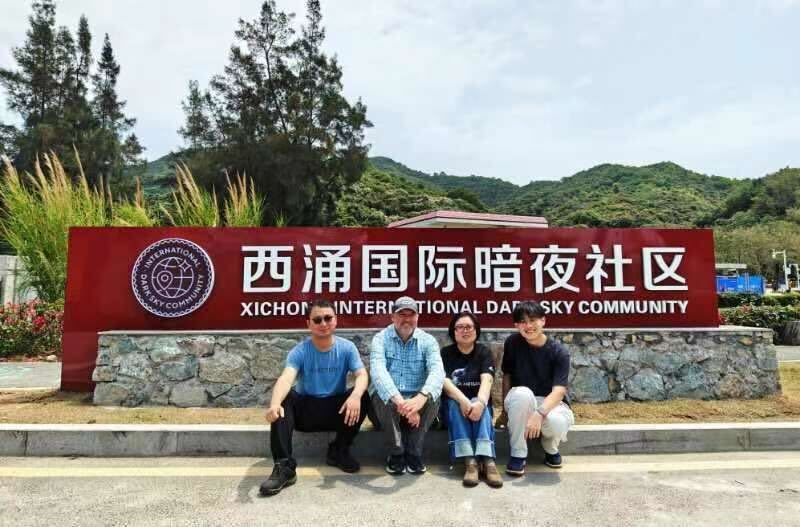 Xichong Beach is located on the south side of the Xichong Community and is the largest beach in Shenzhen. It has a gentle beachscape, with clear waters and white sands, providing a pleasant experience for tourists staying overnight, and attracts 1.6 million tourists every year. The Shenzhen Astronomical Observatory, built in 2010, is in Yatouding, Xichong Community. It is an observation and research base integrating comprehensive observation types such as optical, ground-based solar surface activity and high-resolution spectral, space weather, marine meteorology, ecological meteorology, etc. It is the only Observatory in the Southern China region. As the only astronomy-themed science education base in Shenzhen, the Observatory is open to the public all year round.
In the vision of building an International Dark Sky Community, Shenzhen proposes a multipath approach encompassing policymaking, lighting renovation plans, event curation, public promotions, etc. Firstly, the project team produced "The Management Regulations on Lighting Environment in Xichong Dark Sky Community," ensuring the orderly progress for both improvements works and major constructions of the Xichong International Dark Sky Community.
Secondly, Shenzhen conducted lighting surveys and improvement works within the community on public and private lighting facilities, following requirements set by DarkSky. After the first round of improvement works, 877 out of 1715 lighting fixtures (51%) successfully met the DarkSky 's requirements. The Xichong International Dark Sky Community's nighttime and ecological environments are significantly enhanced. On clear nights, the night sky background brightness was reduced, and the limiting magnitude improved, which also considerably boosted the firefly population and attracted the special attention of residents, visiting tourists, and social media.
Thirdly, Shenzhen was devoted to curating dark-sky-themed events as effective means of public promotion. As a collaborating member, the Shenzhen Observatory carried out a range of on-site live stargazing activities and popular science lectures in the past five years, which caught the widespread attention of mainstream media, including China Central Television. Notably, the "Greater Bay Dark Sky Astronomical Science Festival" hosted every January effectively promoted the concept of the International Dark Sky Community and called out to citizens to join in the making of the Xichong International Dark Sky Community. The Festival was widely praised and received a positive response from citizens. Furthermore, the Xichong International Dark Sky Community team was invited to participate in The 9th Shenzhen-Hong Kong Urbanism Architecture Bi-City Biennale (Shenzhen) and Glow Shenzhen 2022. This participation is another testimony to its achievements in urban dark sky protection. The exhibition showcased the works taken by the team on Xichong's community outreach and lighting rectification through multi-media forms, including prints, video, art installations, and popular science lectures, hoping to further promote the idea of dark sky protection to a broader audience.
Lastly, to obtain support from residents and business owners in the Xichong Community, our team deployed multi-faceted approaches to promote concepts to and receive comments from the public by preparing questionnaires, videos, brochures, posters, and on-site presentations. As a result, many local businesses joined our "Starry Sky Observation" homestay network and actively participated in the works of dark sky protection.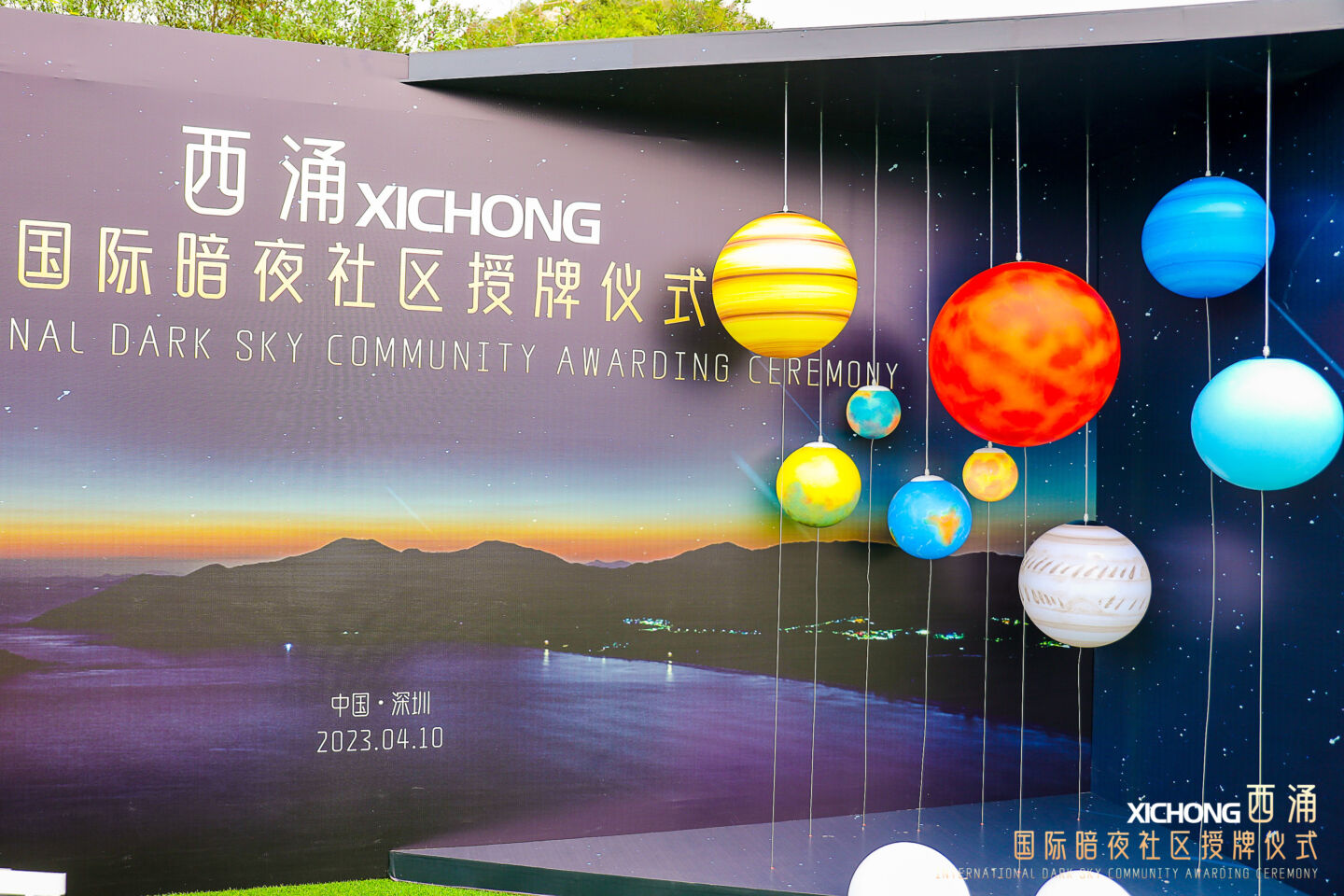 Chunhai Wu is the deputy director of Shenzhen Urban Appearance & Landscaping Affairs Center, which administers Shenzhen's urban lighting. He stated, "The lighting renovation works of Xichong International Dark Sky Community solved the excessive lighting problem, helped the remediation of Shenzhen's nighttime ecology, and raised citizens' awareness of dark sky protection."
"The Shenzhen Astronomical Observatory and the Xichong Community is the best spot for stargazing in Shenzhen. Shenzhen Astronomical Observatory is open to the public all year round, attracting more than 30,000 visitors per year," said Lin Mei, a research associate at Shenzhen Astronomical Observatory. "The application of the International Dark Sky Community status has effectively reduced the night sky background brightness for Shenzhen Observatory, facilitated astronomical observation and research, and created an excellent stargazing destination for all citizens."
Zheng Liang, director of the China Academy of Urban Planning and Design's Research Center for Urban Lighting and Planning, which is responsible for urban lighting planning in Shenzhen, stated, "The developments of urban lighting in Shenzhen has always adhered to the principle of 'ecology first,' and puts urban light environment protection as a top priority. The designation of Xichong International Dark Sky Community is expected to raise Shenzhen's international influence further. It will demonstrate China's endeavor in dark sky protection and dark sky economy development to the rest of the world."
In the future, Xichong International Dark Sky Community will complete upgrading all outdoor lighting fixtures in stages. Shenzhen will complete the "Construction Plan for Shenzhen Dapeng Starry Sky Park," "Standards on Dark Night Community Light Environment," "Standards on Dark Night Community Astronomical Observation Signal Issuance," and "Guidelines for Xichong International Dark Sky Community Lighting," etc. It will gradually transform the entire Dapeng New District into a sky park based on continuous improvement of the dark sky environment in Xichong. Shenzhen will carry out the construction of astronomical science venues and dark sky campsites. Taking dark sky astronomy as an event theme, the project team will also set out plans for dark sky bus routes, dark sky music festivals, and other forms of nighttime activities as a branding practice.
About the International Dark Sky Places Program:
The International Dark Sky Places Program was founded in 2001 as a non-regulatory and voluntary program to encourage communities, parks, and protected areas worldwide to preserve and protect dark sites through effective lighting policies, environmentally responsible outdoor lighting, and public education. When used indiscriminately, artificial light can disrupt ecosystems, impact human health, waste money and energy, contribute to climate change, and block our view and connection to the universe. The Xichong International Dark Sky Community now joins more than 200 Places that have demonstrated community support for dark sky advocacy and have gone above and beyond to protect the night from light pollution. Learn more by visiting darksky.org/conservation/idsp.
About the DarkSky International:
The mission of DarkSky is to preserve and protect the nighttime environment and our heritage of dark skies through environmentally responsible outdoor lighting. Learn more at darksky.org.
Media inquiries:
Place Contact:
Jianchuan Zheng
Phone: +86-0755-88398137
Email: [email protected]
DarkSky Contact:
Amber Harrison
Dark Sky Places Program Associate
Phone: (520) 347-6363
Email: [email protected]