News
News
IDA Announces Engagement Workshops for Under One Sky 2021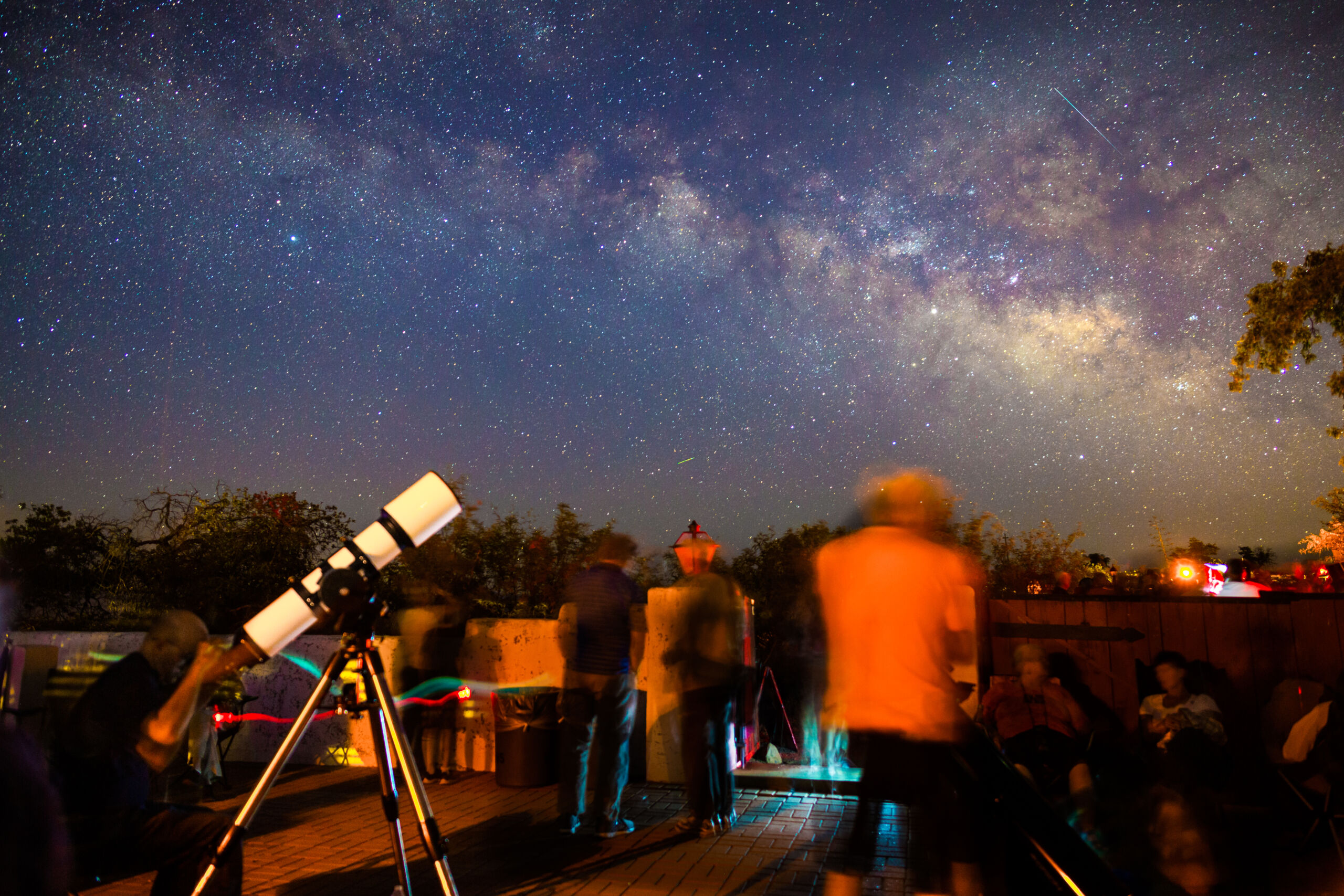 This year, we are very pleased to introduce engagement workshops to our Under One Sky conference! These workshop sessions will follow each of the regional sessions during the conference and last for about 45 minutes. They are broken into suggested skill levels but feel free to attend any session that piques your interest! Whether you want to learn how to find a dark sky-friendly light, leverage social media for your advocacy work, or install a data-logging sky quality meter. There is something for everyone's comfort level and interest.

Session 1

Saturday, November 13th
8:45 PM PST (November 12th)
11:45 PM EST (November 12th)
4:45 AM GMT/UTC
3:45 PM AEDT
Convert to your local time.
Come to the Dark Side with Globe at Night
with Connie Walker
Beginner
If you are an amateur astronomer, an upper elementary, middle school, high school, or college teacher, an informal educator in a museum, planetarium science center or national park, a Girl Scout leader, a science communicator, an astrophotographer, or someone who simply enjoys a starry night sky, you are invited to our workshop. There you will find ways to get involved in the easy-to-do, international community science campaign, Globe at Night, where you rate the brightness of your night sky and compare it to other locations worldwide. Come learn how to start a project with Globe at Night or to incorporate it into your existing programs. Communication and education staff at your national observatory, NOIRLab, have extensive experience partnering with individuals and a wide variety of organizations. Examples of past and current projects will be given to facilitate discussion.

About Connie
Connie has been a scientist at NSF's NOIRLab (the USA's national optical astronomy observatory) for almost 20 years, creating programs on dark skies education (e.g., Globe at Night) and sharing them via workshops, talks, and events all over the world. She is president of the International Astronomical Union (IAU)'s commission on light pollution, and chair of the IAU Executive Council Working Group on Dark & Quiet Skies Protection. In 2020 and 2021, she has been co-chair of the two SATCON workshops and of the Dark & Quiet Skies workshop & conference. She is thrilled now to be back on the board of directors of the IDA. For her efforts in bringing dark skies awareness to the public, the IDA awarded her their Hoag-Robinson award. Asteroid 29292 Connie Walker was named by discoverers, David Levy and Carolyn Shoemaker, for her efforts in educational outreach. Her amazing astronomer-husband, daughter, son, and cat thankfully tolerate her interest in the dark side of astronomy.


The Magic of Astrophotography (in Mandarin)
with Jeff Dai
Beginner
Capturing the dark at night is a public interest for all stargazers. Using a digital camera or a smartphone it is easy to capture amazing astronomical events and objects such as the Milky Way, meteor showers, and star trails.
About Jeff
Jeff Dai is a member of The World At Night project. He seeks unexplored night scenes, from the remote wilderness of the Himalayas to the still pristine night sky above cultural heritage sites around the world. Jeff is also a dark sky activist in IDA Beijing, trying to preserve the remaining natural skies in his home country.




Tips and Tricks for International Dark Sky Place Applications
with Ashley Wilson
Intermediate
Nothing quite embodies the dark-sky movement as one of IDA's prestigious International Dark Sky Places (IDSP), but starting a nomination from scratch is no small feat. In this workshop, Ashley Wilson, IDA's own Director of Conservation, will lead an engaging conversation to provide tips and tricks on how to find resources, support, and insight on how you can successfully nominate and lead your own Dark Sky Place application.
About Ashley
Ashley is a Tucson, Arizona native and has always been enamored with the natural environment and its dark skies. Ashley's passion for encouraging people to learn and care about the world around them led her to pursue an undergraduate degree in Ecology and Evolutionary Biology with Honors from the University of Arizona and later a master's degree in Biological Sciences concentrating in Sensory Ecology from California Polytechnic State University. Her various internship and working experiences provided opportunities to lead public outreach events, interpret lighting ordinances, conduct lighting inventories, and retrofits, and monitor night sky quality — all critical components of an International Dark Sky Place application. As IDA's Director of Conservation, Ashley guides applicants to use their own skills, values, and experiences to promote effective uses of outdoor lighting and protect pristine dark skies around the world.

Dark City Walks
with Landon Bannister
Intermediate
Sometimes when it comes to selling the issues of light pollution, sometimes it is a case of seeing is believing. This workshop is aimed at sharing some of the successes and mistakes that we've learned from running dark city walks over the last 4 years. We'll cover how to structure a dark city walk, as well as the type of learning outcomes you can find and how best to present them to your audience.
About Landon
Landon Bannister has been working in the lighting industry for over 20 years. He is a passionate advocate of the important role light plays in influencing human health and emotion, and how this relates to the natural world. He sits on the local Chapter Management Committee for the Illuminating Engineers Society VIC/TAS, is the founder of Dark Sky Tasmania Inc., and is a board director of the Australasian Dark Sky Alliance.


Sky Quality Meters for Dark Sky Certification and Tracking Change Over Time

with Bill Kowalik & Mike McKeag
Advanced
Participants will learn how to continuously record the sky's brightness overhead through days, weeks, seasons, and years of time. Bill and Mike will show you how to set up and deploy a recording sky quality meter, how to download the data and extract useful information from it for Dark Sky Place certification, and for tracking light pollution over time. All in 45 minutes – don't miss it!
About Bill
Bill Kowalik is a founding board member of the Oregon Chapter of the International Dark-Sky Association (2019) and is currently the Board Chairperson. With colleagues in IDA Oregon, he facilitates the certification of dark sky places in Oregon and coordinates the measurement of light pollution at key sites across the state. In previous volunteer work in southern California, Bill created educational video documentaries titled Saving Open Space, Living on the Urban Edge, and The Story of La Habra Heights. Bill is an earth scientist with 35 years of industry experience and degrees in geology and applied earth science from the University of Pittsburgh (BSc), Pennsylvania State University (MSc), and Stanford University (Ph.D.). Originally from Pennsylvania, Bill lives in Bend, Oregon.
About Mike
Michael McKeag is an IDA Delegate and co-founder of IDA Oregon where he serves as Director and board member. Following retirement (2013) after 30 years as a semiconductor process development engineer at Intel Corporation specializing in electron microscopy, he has pursued a range of interests and volunteer commitments, including youth science education, amateur astronomy, and public outreach, natural habitat restoration, photography (terrestrial and astronomical), and dark sky advocacy. Michael and his wife (and the birds and wildlife they consider their nearest neighbors, some almost family) live on 40 acres of oak woodland in the Columbia River Gorge National Scenic Area, near Mosier, OR.

A Retrofit Gone Right
with Tim Brothers
Advanced 
Many of us have been frustrated with the all-to-common bad streetlight retrofit from HPS to LED technology. The results are often the same: high glare, excessive brightness, increased quantity of blue light, and disappointed residents. We also find that many of these failed projects correlate with a lack of public engagement. Here we will examine how inclusion of public opinion and how pivoting from activist to adviser resulted in the most nighttime-friendly streetlights in the northeastern United States. After summarizing the approach, we will discuss your city's future lighting project and how to get a seat at the table.
About Tim
Tim is the Observatory Manager at MIT's Wallace Astrophysical Observatory where he teaches students how to observe the night sky with robotic telescopes. He is also the Vice President of the Massachusetts chapter of the IDA and a member of the Model Lighting Ordinance working group. He and his wife are also quite busy raising their two kids (and quite a few animals) on their rural homestead where they can just barely still see the Milky Way.
Session 2
Saturday, November 13th
3:45 AM PST
6:45 AM EST
11:45 AM GMT/UTC
10:45 PM AEDT
Convert to your local time.
#SharingOurStars
with Deep Anand
Beginner
Social media has emerged as the most efficient way to connect and share with people all around the globe. These platforms provide a wonderful opportunity for us dark sky enthusiasts to share the word about light pollution and dark sky advocacy with more people than ever. Through social media, we get a much greater possibility of reaching out to an audience that stands apart from the astronomy, stargazing enthusiasts. In this workshop, Deep will be covering the different yet simple methods to use social media as a tool for dark sky advocacy. The workshop will include a basic explanation of producing creative yet factual content that easily appeals to the audience.
About Deep
Deep Anand is the founder-president of the Save Our Stars initiative working to spread awareness and educate the general public about the problem of light pollution and dark sky advocacy. He believes in following ingenious and unconventional methods for outreach and education. One of the ways he advocates is the powerful tool of social media platforms. Deep tries to provide creative insight into appealing and reaching out to the public.

Educate People About the Dark Skies, We Must
with Dajana Bjelajac
Beginner
If you are a beginner in the dark sky movement or you're feeling alone in your surroundings where too few people care about the night sky, this workshop will provide you with the tools and ideas for fun and engaging events where you can turn people to the dark side! And then, once you gather a group of enthusiasts such as yourself, you have to keep them inspired and teach them how to be leaders themselves. As Master Yoda said "Smaller in number are we, but larger in mind", so even if you start with a small group, you can teach them about the importance of the dark skies, and big changes will definitely be on their way.
About Dajana
Dajana Bjelajac is a Ph.D. student and a teaching assistant at the Faculty of Sciences in Novi Sad (Serbia). Her main areas of research are the issue of light pollution and astronomy/dark sky tourism, but in addition to her scientific work, she also deals with the non-profit organization "Carpe Noctem". As a founder of this NGO, she organized numerous popular science events under the clear dark sky with the aim of educating people about light pollution. But she is not alone, she also has a great team of dark skies enthusiasts, and together they are working relentlessly on educating people about light pollution and astronomy tourism through podcasts, sci-pop shows, workshops, lectures, and so on.
Discovering Stargazing Locations with the Meet Star Gazers Mobile App
with Sujay Patil
Beginner
Amongst amateur astronomy circles, it is well known that the best telescope is not the biggest one but the one that you use most often. It is my personal conviction that the same reasoning applies to stargazing locations. The best stargazing location is not necessarily the darkest one but the one that you can access and visit most often. In this workshop, I propose to take our participants through the process of characterizing any stargazing location. As a result, participants will get to know the Meet Star Gazers mobile app and understand its usage to find locations for stargazing.
About Sujay
Sujay Patil fell in love with astronomy as a kid because of his mother. He loves observing the night sky through binoculars. He likes to create tools and content to help beginners get started on their journey in astronomy and also raise awareness about light pollution. Sujay hosts the Meet Star Gazers podcast where he covers topics like stargazing, nightscape astrophotography, astrotourism, and light pollution. He grew up in Pune, India, and lives in Paris, France.
The Current Status of Light Pollution Research: A Presentation of the ALAN Literature Database + Q&A
with Christopher Kyba
Beginner
In this workshop, Christopher Kyba will present a condensed summary of "what we know, and what we know we don't know" when it comes to light pollution in the fields of biology, ecology, health, and physics. He will then present the publicly available Artificial Light at Night (ALAN) literature database, which was developed and supported by IDA and LoNNe. The session will conclude with an open question-and-answer session, where Christopher will do his best to answer any and all audience members' questions related to academic light pollution research.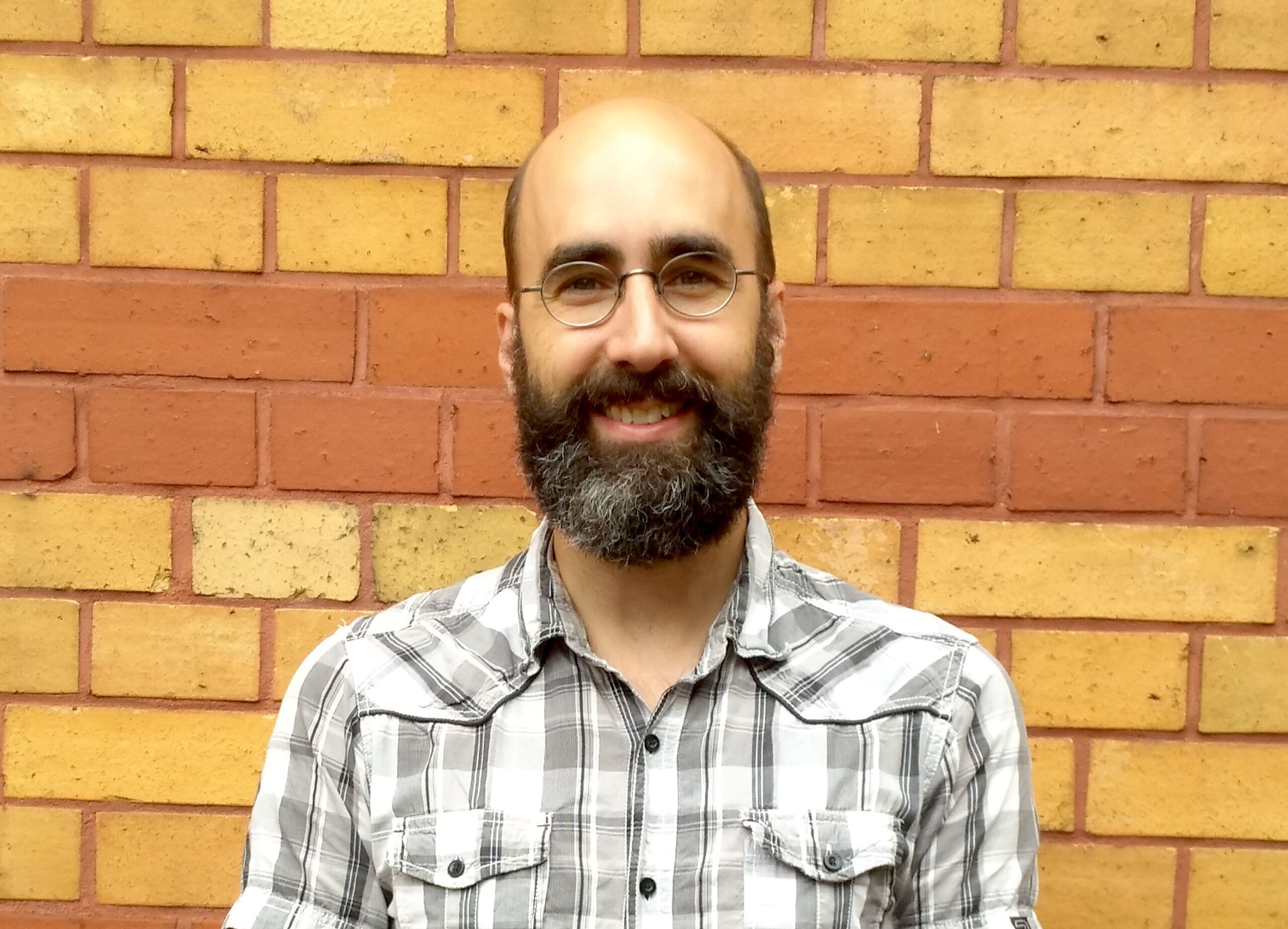 About Chris
Christopher Kyba is a physicist who has been studying artificial light in the outdoor environment for over a decade. He is based at the German Research Centre for Geosciences in Potsdam, and chairs the steering committee for the Artificial Light at Night (ALAN) conference series. He has published dozens of academic articles about outdoor light and manages the ALAN literature database together with John Barentine.
Finding Values in the Dark: Exploring Dark Skies Through Art and Design

with Taylor Stone
Intermediate
How can we draw attention to the value(s) of darkness, especially for those who may not have regular access to dark skies? One powerful tool is art and design, which can provide a lens through which to see nighttime lighting from a new perspective. This workshop will discuss and analyze projects that reflect upon the profound effects of artificial illumination and the state of the world after dark. We will discuss the different values, and value conflicts brought to light via the work of different artists and photographers, and how such projects could contribute to advocacy work and policymaking.
About Taylor
Dr. Taylor Stone is a Research Fellow at the Institute of Science and Ethics, University of Bonn. Originally from Canada, he studied architecture and worked in the environmental non-profit sector before completing his Ph.D. in Ethics of Technology at TU Delft. His research focuses on the ethics of urban lighting, and what it means to value – and ultimately design for – darkness. Taylor's writing has appeared in a variety of academic journals, and in 2019 he received the Award for Research from the Professional Lighting Design Convention (PLDC).

Session 3
Saturday, November 13th
10:45 AM PST
1:45 PM EST
6:45 PM GMT/UTC
5:45 AM AEDT (November 14th)
Convert to your local time.

Letter to Your Neighbor
with Adam Kreuzer
Beginner
 Adam will share information, including his letters, about his current successful two-year campaign to persuade his neighbors to be more dark sky friendly. As a result of his letters and interactions with his neighbors, Adam's neighbors have responded favorably. Not only are his neighbors more dark sky friendly, but they are also more aware of how artificial light at night affects our wildlife friends, including our nocturnal pollinators.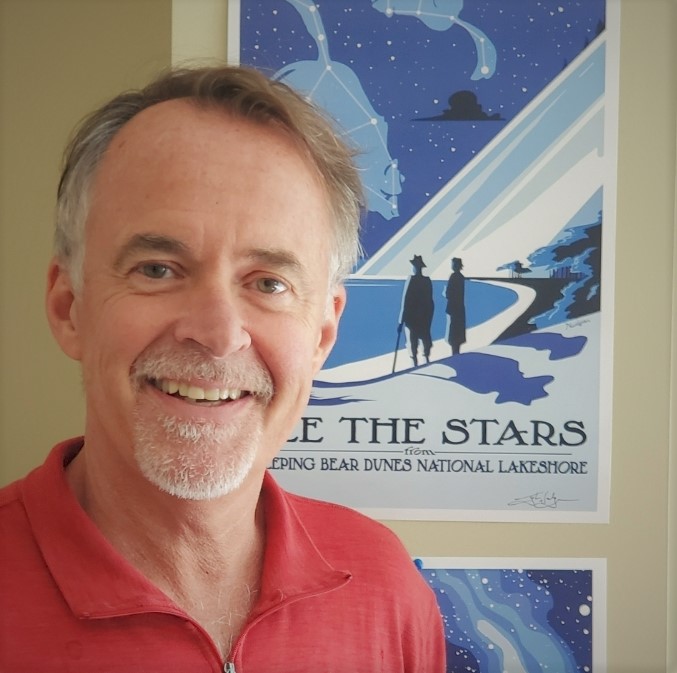 About Adam
For about two years, Adam has been an IDA delegate serving the Chicago area. He has presented to many groups, by Zoom and in person, including most recently, a live presentation at the Morton Arboretum in Lisle, Illinois that was followed by a dark sky hike lead by Morton's naturalists. When not advocating for Dark Skies, Adam is a practicing attorney. He has been the Chair of the Glen Ellyn Environmental Commission, a volunteer with the DuPage County Forest Preserve District, and a spokesperson for Sierra Club Cool Cities. Adam is married to Nancy and resides in Glen Ellyn, Illinois.
Where Can I Find a Dark Sky Friendly Light Fixture?
with Pete Strasser
Beginner
We hear this question on a daily basis from concerned homeowners, architects, electricians, and from many other places, worldwide. These products are out there, but often they are more elusive than they should be. Pete will talk about where and how to look for good products, products that are described as friendly but aren't, and explain how even poorly designed products can be modified or retrofitted to become a truly dark sky friendly fixture.
About Pete
An astral photographer since age five, Pete Strasser has long been interested in the practical and aesthetic effects of light. His degree in Plant Pathology from the University of California, Davis, imparted detailed insight into the composition and effects of different light sources. This knowledge proved invaluable during his work as IDA's Technical Advisor and then Technical Director from 2006-2011. After a five-year hiatus, Pete returned to his position in 2016 as the IDA Technical Director. In this role, Pete oversees the IDA Fixture Seal of Approval program, which certifies compliant lighting products as "dark sky friendly," the Community Friendly Outdoor Sports Lighting Program, and educates the public and the lighting industry about smart lighting choices. Pete serve on the Illuminating Engineering Society of North American (IESNA) – IDA joint Model Lighting Ordinance task force, for which he received the IESNA President's Award. Currently, Pete is Liaison Officer for IDA for the International Commission on Illumination Division 4 outdoor lighting committees. Pete's technical expertise in LED technologies has helped many individuals and institutions promote and implement efficient, appropriate, and effective lighting practices.

Pasos Simples
(Simple Steps)
con Sergio Emilio Montúfar Codoñer
(with Sergio Emilio Montúfar Codoñer)
Principiante
(Beginner)
Los métodos de captura de luz en ambientes de poca luz, se reducen a la comprensión técnica del equipo que tenemos disponible y comprender la naturaleza del entorno que nos rodea. En este taller, aprenderemos a realizar una astrofotografía de paisaje siguiendo una serie de pasos simples y fáciles de aplicar en cualquier ambiente de poca luz.
Light capture methods in low light environments boil down to a technical understanding of the equipment we have available and understanding the nature of the environment around us. In this workshop, we will learn how to make landscape astrophotography by following a series of simple and easy steps to apply in any low light environment.)
About Sergio
Sergio is a recognized light pollution activist, multi-award-winning astrophotographer, that was born in Guatemala City. At a young age, he showed a great passion for astronomy. His life full of life-changing experiences, Sergio quit his job to move to Argentina and learned astronomy at La Plata University Astronomy Faculty. Here, he developed his skills as the official astrophotographer for the institution. Over the years, Sergio has collaborated with cultural, scientific, conservation, public, and private institutions around Latin America, including the European Space Agency. He focuses on documenting astronomy heritage and promoting sustainable activities, science, and dark sky conservation through events and art exhibitions. UNESCO Guatemala has recognized Sergio's efforts. FORBES credited him as one of the most creative minds in the region. Sergio is currently a part of the Board of Directors of the International Dark-Sky Association and collaborates with the Ministry of Culture and Sports of Guatemala.
The Stargazer as Storyteller
with Mary Stewart Adams
Intermediate
From the civilization-forming influence of the stars evidenced in ancient cultures to the dramatic shift in humanity's relationship to the celestial world dating from the 16th century's scientific revolution, we arrive in the 21st century, where light pollution diminishes views of the sky for most of the world's population. In this session, Star Lore Historian Mary Stewart Adams will share how to make use of humanity's rich cultural arts to inspire advocacy, both in relation to our natural environments and particularly in relation to the night sky. Once upon a time, every star had a name, and in every name was a story. What consequence in contemporary human culture, and for the Earth, that we are being cut off from this source of inspiration?
About Mary
Mary Stewart Adams is a Star Lore Historian and host of the weekly public radio program and podcast "The Storyteller's Night Sky." Through her research in spiritual science and her education in literary arts, Mary has developed a unique, humanities-based approach to understanding our relationship with the stars. Her work is further augmented by an extensive knowledge of ancient mythologies and fairy tales, which she relates to the research and ideas borne of contemporary culture, in order to cultivate a human-centered astronomy. As a global advocate for starry skies, Mary led the team that established the 9th International Dark Sky Park in the world in 2011, which later led to her home state of Michigan protecting 35,000 acres of state land for its natural darkness.
Lighting for Safety and CPTED (Crime Prevention Through Environmental Design)
with Art Hushen
Intermediate
With increased emphasis on the night sky and lighting, CPTED strategies are often overlooked as part of the process for lighting design. Issues with light pollution, glare, and light trespass are not thoroughly addressed as part of lighting and safety. Under the CPTED model, lighting is used for the illumination human activity. Where this activity takes place and the type of lighting provided are critical when it comes to improving the overall feeling of safety. As people use the space and take ownership, there are fewer opportunities for crime.
About Art
Art is the President/Owner of the National Institute of Crime Prevention (NICP, Inc.), a global training and consulting company specializing in Crime Prevention Through Environmental Design. (CPTED) Started in 1999, the NICP has continuously provided CPTED training and in 2014 designed the internationally recognized CPTED Professional Designation (CPD) Program. Art is also the lead CPTED Instructor for the Florida Attorney General's Office where he assisted in the creation of the state standards for the Florida CPTED Designation (FCP) Prior to the creation of the NICP, Art was a Police Officer assigned to the Tampa Police Department's Special Operations Bureau/CPTED Section where he was instrumental in the creation of the Department's CPTED Unit, first of its kind in the United States. His Department of Homeland Security and Special Incident Management skills also enable him to effectively advise on risk assessment, prevention, and response. He has conducted numerous CPTED site assessments in commercial and government corridors, critical infrastructure, neighborhoods, and public transportation. Special training in planning and zoning, lighting standards, commercial and residential design standards, domestic and workplace violence, terrorism, weapons of mass destruction and behavioral health awareness position him as a distinctly qualified adviser. He retired from the Tampa Police Department in 2006. His educational background includes a BA degree in Criminology from the University of South Florida. Art serves on the IES Security Lighting Committee, is Past Chairman of the Florida Design Out Crime Association (FLDOCA), Past Board Member of the International Society of Crime Prevention Practitioners (ISCPP), Past Board Member of the International CPTED Association (ICA), and is a member of ASIS International & past member of the ASIS Physical Security Council. Art has conducted seminars and training through the United States and has been a guest speaker/trainer in Canada, the West Indies, the United Kingdom, and Europe. He is the recipient of the Florida Design Out Crime Association "Lifetime Achievement Award."

Your Path to a Fun Festival Celebrating the Night
with Cindy Luongo Cassidy
Advanced
Want to organize a festival where delight, intense interest, joy, amazement, concentration, laughter, dancing, and a growing appreciation for the night are exhibited by attendees? Where the most common comment is "Amazing Event"? Where the experience will help people change their habits? Start here and add your imagination.
About Cindy
Cindy Luongo Cassidy is a leader within the Texas Chapter of the International Dark-Sky Association, a founding member of the Hill Country Alliance Night Sky Team, President of the Board for the Hays County Friends of the Night Sky, and a Hays County Master Naturalist.
She was the key player in positioning the City of Dripping Springs to receive the prestigious International Dark Sky Community designation, the first in Texas, and has assisted numerous other International Dark Sky Place applications in Texas.
In 2019, Cindy was awarded the Crawford-Hunter Award, the highest honor that the International Dark-Sky Association bestows to individuals who, during their lifetime, have contributed an extraordinary effort to light pollution abatement. Cassidy lives in Driftwood, TX, and was the creator and Executive Director of the hugely successful Texas Night Sky Festival®.
Additional Resources:
Learn more about the conference and register for free here.
Meet our keynote speaker for the Global Open here.
Meet our regional session speakers here.
Pick up some Under One Sky merchandise here.