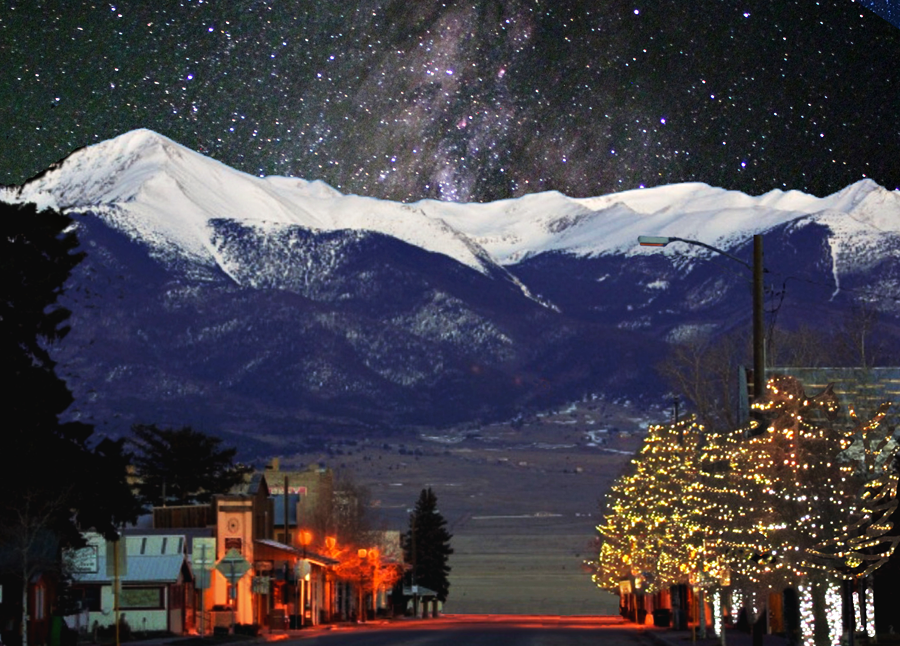 By Ed Stewart, Dark Skies, Inc., of the Wet Mountain Valley
The 2015 designation of the adjacent Colorado towns of Westcliffe and Silver Cliff as an International Dark Sky Community is the direct result of an active dark skies organization. Formed in 1999, the Dark Skies, Inc., of the Wet Mountain Valley is made up of residents of the Wet Mountain Valley area including Westcliffe and Silver Cliff.
In the ensuing 15 years, the organization embarked on a long process of public education about the importance of dark skies that included fundraising, lobbying public officials, retro-fitting outdoor fixtures, an advertising campaign in the local newspaper, a school art contest, and many, many meetings. We would like to share our journey with you in the hopes that it might serve as a roadmap for accomplishing similar goals.
If you are an individual wanting to start a dark sky group, you should first educate yourself in the many aspects of light pollution: crime versus lighting, dark sky friendly lighting (shielded) fixture design, the economics of new technology (LED) lighting, arguments for and against, and more.
Armed with information, approach others to develop a core group that can work together and support each other, because the "fight" is going to require patience, a thick skin and polite courage. By forming a group, you're letting others know that you're not alone in your views giving your ideas more credence.
Once you have a strong core of individuals, approach a reporter with the local media about doing an article about your group and its purpose. If it's a newspaper, create an insert in the same edition that the article runs polling readers on their willingness to support your initiatives. And make use of any town or regional Facebook group page to solicit support, too. Over time, this builds awareness about dark skies at the earliest stages and creates a positive public image for the dark sky group.
In dealing with commercial businesses, it's important to personally communicate to owners or managers how shielded lighting can offer better illumination for customers to navigate outside areas, especially parking lots, while at the same time reducing their power bills. For electrical contractors, hardware stores, and home improvement centers, provide a vendors list for dark sky friendly fixtures. Additionally, contact the power company's director of operations to see if they are offering incentives or discounts on LED fixtures for those who convert. Always state in positive terms the advantages of new technology lighting and the cost/energy savings.
In dealing with governments, it's wise to privately approach the trustees or council members individually to determine if they are receptive to fighting light pollution. If you determine that the majority of the panel is against your goals (claiming they want less government, less regulations, less restrictions on personal rights, etc.) then it's not a good idea to proceed with trying to get a lighting ordinance passed. You'll want to take the long range approach of supporting those who are running for office that are in favor of your group's goals. We worked for 15 years to build a strong public support network so that the trustees and council members knew we had public support and that passing an ordinance would not create a public backlash. We went from being regarded as "tree huggers" to protectors of the rural environment.
From what you've read, it's obvious that a great deal of personal, positive contact with the general public, businesses and government officials is the key to success. And expect it to take some time to win them over. If you're lucky to be in an environmentally aware community, then the time might be much shorter.
For more detailed advice, including lots of examples and great ideas, read Ed's full version here.