News
News
Night Lights and Prosperity Don't Always Go Hand in Hand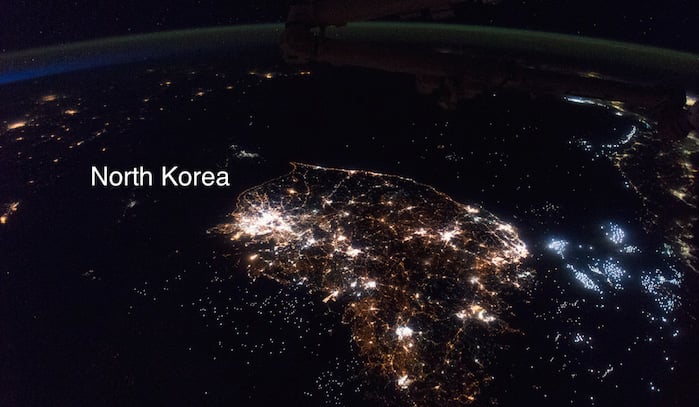 By guest writer Chris Kyba
North Korea is famously dark compared to South Korea and China at night, and images like the one above are often used to demonstrate the consequences of its "unenlightened" policies.
I certainly wouldn't want to live in North Korea, but is it an absolute truth that bright lights indicate prosperity, and lack of bright lights poverty and backwardness? The border between Germany, Belgium, and The Netherlands would suggest otherwise:
The area of Germany shown in the photo is part of the Ruhrgebiet, home to 8.5 million people and one of the most industrialized areas in Europe. While the Ruhrgebiet is not quite as dark as North Korea, the comparison of Germany to Belgium and The Netherlands is nearly as visually striking as that between North and South Korea. This is at least partly due to German lighting policy: Germany rarely lights its Autobahns (highways), and cities and towns are conservatively lit, often intentionally not following the European (DIN) norms for street lighting.
Last year I and fellow researchers published a paper that examined the differences in lighting between cities and towns in the U.S. and Germany. U.S. towns with populations of 10,000 emit on average three times more light per capita than German towns and cities with populations of 100,000. That's five times more light per capita!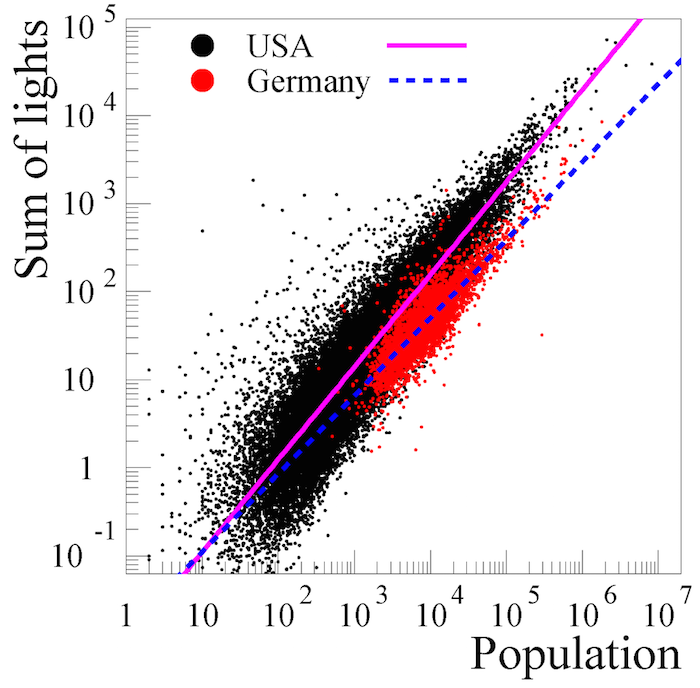 Germany uses far less light than its neighbors as well as the U.S. Despite this, it is a prosperous country that is highly visited by tourists. It has low crime rates (the burglary rate is only one-third of that in the brightly lit Netherlands and just over half that of Belgium) and low rates of death due to traffic (about one-third less per 1 billion vehicle kilometers than the U.S. or Belgium).
So, if bright lights aren't needed to attract tourists, reduce crime, or make driving safer, then why do so many cities have such bright lights? Now that's a $100 billion question.
Note: Thanks to Alejandro Sanchez de Miguel of the Cities at Night project for sharing the two ISS images with me.
Update: If you liked this post and want to learn more, check out my Loss of  the Night blog's "view from your app" photo series, that often highlights how good lighting is about more than the brightness of the lights.
---
Christopher Kyba is a former IDA board member who studies the ecological impact of artificial light in the nighttime environment at the German Research Center for Geoscience in Potsdam. His work mainly focuses on quantifying the flux of light emitted upward by cities (using aerial or satellite observations), and the light that is returned back to Earth as skyglow. One of his current research interests is examining observations made by citizen scientists in order to understand how skyglow is changing with the introduction of LED lamps.
A version of this post originally appeared on the Loss of the Night blog.