News
News
Owls and Stargazing at the Headlands Dark Sky Park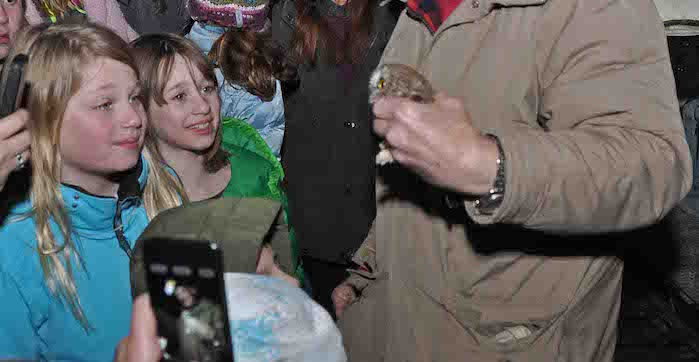 The Headlands, a 600-acre IDA International Dark Sky Park on the Straits of Mackinac in Michigan will be hosting two evenings of "Owl Banding and Stargazing" during International Dark Sky Week. The events will be held during the waxing Crescent Moon at 8-10 p.m., Friday and Saturday, April 8 and 9, and include professional birder Ed Pike and Dark Sky Park Program Director Mary Stewart Adams.
Each year the entirely nocturnal saw-whet owl migrates through the Northern Michigan area, helping us remember why protecting natural darkness is so essential to a vibrant world. Professional birder Pike will set his mist nets in the woods and Adams will lead guests on a guided tour of the seasonal constellations and celestial objects overhead, especially those connected with mythical and earthly birds like Cygnus the swan and the owl nebula in Ursa Major.
"This is a terrific program for children and adults alike because it includes not only the joy of learning about the night sky, but it demonstrates in a hands-on way why dark sky protection is so vital to a healthy world," Adams explained.
"We start with an introduction indoors, where Ed describes his practice and passion, then we head along the McCormick Pond Trail to where he sets up the nets and the bird call. Once that's done, we come back to the shoreline viewing area to take in the stories and wonders of the night and to give the owls time to 'answer Ed's invitation' to appear. It's really very exciting and informative!"
The programs are free of charge and will happen rain or shine. In the case of inclement weather, the nets may still be set, and the accompanying program will happen indoors at the Guest House with hands-on demonstration of the tools of Pike's trade, star maps, and interactive activities.
Though these are FREE, reservations are necessary to limit the number of people in the owl habitat area. Make your reservations now at (231) 348-1713 or email [email protected] for more information.