News
News
Arizona's Petrified Forest National Park Becomes World's Newest International Dark Sky Park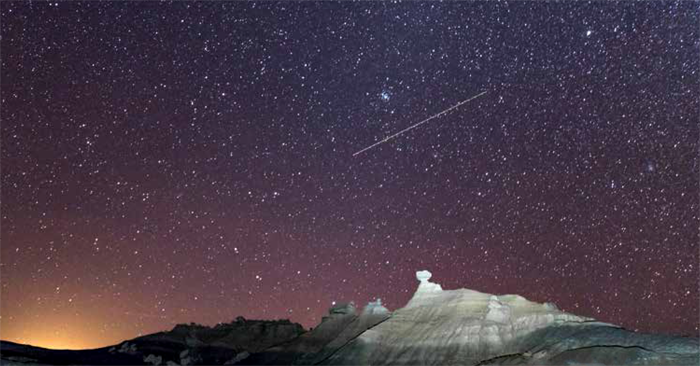 The National Park Service and IDA are pleased to announce that Petrified Forest National Park has been officially designated as an International Dark Sky Park.
An IDA International Dark-Sky Park (IDSP) is a land possessing an exceptional or distinguished quality of starry nights and a nocturnal environment that is specifically protected for its scientific, natural, educational, cultural heritage, and/or public enjoyment. As such, Petrified Forest National Park joins an exclusive but growing list of certified IDA International Dark-Sky Parks.
"Petrified Forest National Park is a fantastic place to see the stars at night," said John Barentine, Director of Conservation at IDA. "Its ancient landscape reminds us that the need for nighttime darkness is nearly as old as life on Earth itself, and today the park leads the way forward in preservation of this crucial, but threatened, natural resource."
"Being designated as an International Dark Sky Park is an expression of the park's continuing efforts to diversify reasons the American public may find to enjoy this remarkable piece of northeastern Arizona. We thank the IDA for the help they provided us in achieving this goal," says Brad Traver, park superintendent. "Visitors can expect to see more opportunities to enjoy the dark skies of Petrified Forest in the coming years."
Achieving official Dark Sky Park status is an extensive process, and park staff worked for years to gather and interpret night sky data, make lighting retrofits, meet all criteria for official IDA designation, and prepare the 100+ page application.
"It took many in the Petrified Forest community to achieve this prestigious status," says Jacob Holgerson, park ranger and author of the park's application. "From every division within the park, our neighbors, partners, volunteers, and experts all aided in preserving our dark skies for future generations to enjoy. It is fantastic to be welcomed into this Dark-Sky community."
In honor of International Dark Sky Park designation Petrified Forest National Park will celebrate this fall with a star party, valued partner Petrified Forest Field Institute is planning to ramp up night-sky related programming, and visitors who backcountry camp in the park's Wilderness areas continue to have nightly access to the park's dark skies.