News
News
Remembering Robert Edward (Bob) Mizon MBE FRAS, 1946–2023
Bob Mizon was a mammoth influence on the U.K. and global dark sky movement.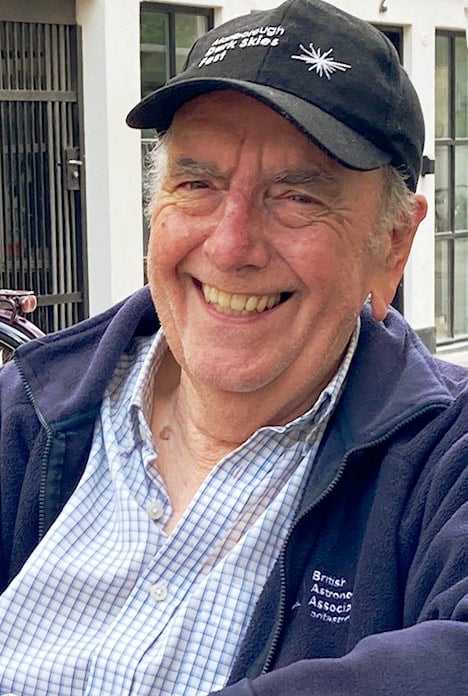 It is with heavy hearts that we report the very sad news that Bob Mizon, whom many will know from his outstanding efforts to protect the night from the scourge of light pollution, died suddenly at home on April 19, 2023.
For the last few decades, Bob has been the National Co-ordinator of the British Astronomical Association's Commission for Dark Skies (CfDS), which he helped to establish, but his astronomical interests ranged far wider than light pollution, as the many astronomical societies to whom he has given talks will attest.
Bob was born in Dagenham in London and was educated at East Ham Grammar School (London) and Adams Grammar School (Newport, Shropshire). He became passionate about education and, after graduating from King's College, London, where he studied French and German, he had a 26-year career as a French teacher. He satisfied his love of astronomy by running the school's astronomy club, translating astronomy books from French, and becoming an active member of the Wessex Astronomical Society.
A major change came when, in 1996, he bought a mobile planetarium, which he named the Mizar Travelling Planetarium (Bob loved puns!), with which he took the wonders of dark night skies to nearly 150,000 children and adults all over Britain. In 2010, his work was officially recognised when he was awarded a Member of the Order of the British Empire (MBE) with the citation, "For voluntary services to Astronomy and the Environment."
More recently, Bob was one of the instigators of the UK's All-Party Parliamentary Group for Dark Skies, and was one of the people behind the establishment of the UK Dark Skies Partnership. He was instrumental in helping Cranborne Chase AONB achieve its status as an International Dark Sky Reserve. Bob was awarded the International Dark-Sky Association's Galileo Award in 2006 and the David L. Crawford Lifetime Achievement Award in 2016. In 2017, he was was a presenter at IDA's Annual General Meeting and was among five leading dark sky policy advocates invited to a session in which they shared their policy strategies, wins, and challenges on abating light pollution in Greece, Canada, México, Germany, and the U.K.
Early in 2023, ill health caused Bob to cease his planetarium shows, but he continued to advocate for responsible outdoor lighting and represented the CfDS at the British Astronomical Association's "Winchester Weekend" only the weekend before his death.
His friends knew Bob as a kind, gentle man, who was dedicated to his family. Decades before the term "rewilding" entered common parlance, Bob had applied it to his garden, where he would enjoy the birds and insects that took advantage of this sanctuary that he had allowed to remain for them.
He leaves his wife, Pam, their three children, and a granddaughter…and the many of us who were privileged to have had our lives touched by his. The stars have lost one of their greatest friends on planet Earth.
---
Photo of Bob Mizon courtesy of the Mizon Family.