News
News
Texas' South Llano River State Park Designated an IDA Dark Sky Park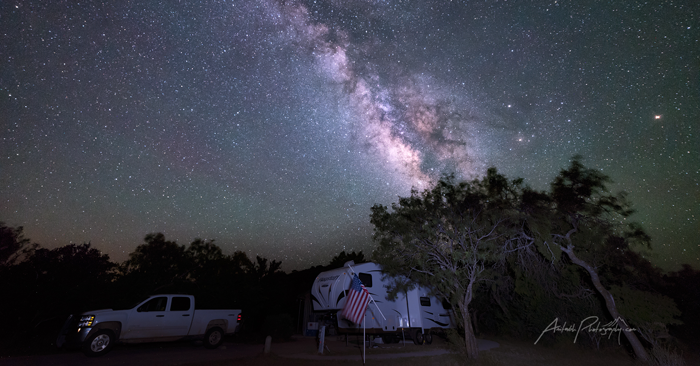 Nestled just off Interstate 10 on the western edge of the Texas Hill Country is the International Dark-Sky Association's newest appointee – South Llano River State Park, located just outside of the city of Junction. The International Dark Sky Park designation will ensure the protection of the park's dark skies not only for the park's natural resources, but also for the local community and out-of-town visitors to enjoy.
"Today's designation of South Llano River State Park as an IDA International Dark Sky Park is a testament to the rapidly maturing dark-skies movement in central Texas," says J. Scott Feierabend, IDA Executive Director. "The park has set a leadership example in pursuit of dark skies and quality outdoor lighting we hope others in Texas and around the world will look toward for inspiration. We're excited to welcome South Llano River into the Dark Sky Park family, and we look forward to a long and productive working relationship with the park."
South Llano River State Park is the third Texas state park to be designated as an International Dark Sky Park, joining Copper Breaks State Park located in the Texas Panhandle and Enchanted Rock State Park in the Hill Country.
Located five miles from the nearest town, the South Llano River State Park ranks as a "3" on the Bortle Scale which ranks skies from 1 to 9, with one being the darkest skies and nine being the least dark. The darkness at the park provides visitors with a spectacular view of the stars.
As part of the dark sky initiative, a stargazing tab was created on the park's webpage where visitors can find out more about the efforts being done at South Llano River State Park to protect dark skies. Resources found there include a clear sky chart and real-time dark sky monitoring from the parks permanently installed Sky Quality Meter.
For anyone wanting to learn about the skies found at the park, regular Dark Sky programming like star parties will be hosted throughout the year.
Local astronomers and park staff partner with the Mason Star Gazers, a regional astronomy club, and Texas Tech University at Junctions Outdoor School to provide the star parties, where visitors can learn about the importance of dark skies to wildlife and people. It also allows the public to view the night sky, celestial objects and constellations free from light pollution.
For more information on the dark skies at Texas state parks, visit the dark skies program page on the TPWD website.